My morning ritual (in Santa Barbara) goes like this: 1) wake up and snuggle next to my warm boyfriend with big strong shoulders as he snoozes away, 2) snuggle with Emma, whose tail wags as I approach her doggie bed in our bedroom, 3) smoke cigarette on the upper balcony with ocean views, 4) make coffee in J's beautiful stainless steel Keurig (the old ones are ugly, my friend at the Cape has one of the early models), 5) check Facebook notifications.
I love this routine and while in 2011 I spent nearly 2 months in the city, 3 months in LA and 7 months in SB–which I love and intend to replicate in 2011, with slightly less time in LA (unless tutoring jobs come through) and slightly more time back East (the Cape this summer and DC in the March), my SB routine with J, Emma and Ollie is an unending sourcde of joy.
Victorian Chick has been a godsend for me. I had written some 300 notes on FB and J pushed me to get a blog and put up "The Random Review" in March. I soon changed that to Victorian Chick in April after seeing the sign of the bankrupt storefront on 58th and Lex and being told by FB friends that Victorian Chick was far catchier. And of course I caught the eye of the literary editor at The Weekly Standard not through FB generally, but through Victorian Chick blog I posted on a friend's wall. He read the piece I did for Philadelphia Junto (www.junto.blogspot.com) about Chaucer's Books and asked me to write for them. My Bridesmaids and Go the F*** to Sleep blogs were picked up by Junto and I hope to write more for Richard's excellent literary blog (that's of course not for pay).
My FB friend Jacqueline Lang, a Ph.D in business (which is quite rare for a woman) has been posting me on her website, www.jblangconsulting.com for a long time as the resident fun culture chick and I look forward to making her readers laugh and think about cultural topics they might–as intensely political people–otherwise miss. Plus I am something of a savant with designer resale stores, outlets and other clothing bargains and for a girl who never went to beauty school or "cosmetology" as it is called in our PC world (remember Grease and that cute Didi Conn number, "Beauty School Dropout"?), I think I know a fair amount about skin care and dermal fillers.
Like my dear FB friend in Boca Raton, a mother, wife and doctor who revels in her femininity too, I love jewelry and other girly things. Honestly, I can find ZERO upside in being a boy/man. It doesn't sound at all fun to me and also it's far too much responsibility and work for someone like me! (Being a girl is not that much responsibility if you refrain from having kids; then you have even more responsibility than a man, much if not most of the time.)
And I think one reason people find me amusing on FB and Victorian Chick is that I make no attempt to efface my femininity or sexuality. It's fun being a girl! It's fun to dress up and while "I seldom prance" (a great line from a truly great romantic comedy–Aaron Sorkin's The American President, notwithstanding the cantakerous dismissal of this fairytale my parents and I adore and watch together on a regular basis), it's fun taking pictures and having fun with jewelry, making, hair, and clothes. I did my first sort of Chictopia blog on Victorian Chick this week and will start getting J to shoot me with his fancy camera and upload pictures of me for www.chictopia.com in the New Year. I found the uploading difficult the first time but surely now that I'm a technological and blogging whiz, haha, I'll be able to do it.
Last night, there was riotous thread on my wall re my attire at aqua aerobics (yes, I admit it, a thong and camisole, but hey, they matched and it's all grandmas in that class anyway) and four of five of my closest friends–all at least phone, three in person–were having fun mocking me for what my FB mom calls "utter inattentive to task-completion" and my Ashton Kutcher impression: "Dude, where's my shit?"
I joked on FB a few months ago that I should be in a movie if his passport to stardom was a stupid film whose title was about losing one's car. In fact, I have a FB friend in Europe, a lovely blonde German plastic surgeon, who regularly posts that she cannot remember where in the structure she parked her car. And with me, the possibilites would be endless: "Dude, where's my glasses?", "Dude, where's my wallet?", "Dude, where's my keys?" and so on. A FB friend I rarely talk to but met very early on through a shared love of Rescue Me liked this idea very much.  But I rarely lose things: as a good girl raised around the TV industry, I merely go "on hiatus." Loss is "a permanent separation from one's material possessions." That's not common with me; I can, however, become temporarily placed at a remove from my material possessions and almost always they turn up.
Now, everyone in my life knows I live out of my car. At the moment, it really is a FEMA area. I haven't unpacked the suitcase or carry-on from NYC and there is, well, about 1/3 of a trunk-full of dry cleaning, laundry and clothes in the trunk (God bless Saabs, very roomy trunks!).  I am in three places constantly and I would never have anything I need when I want it, if I kept things in closets. Why have a stationary storage facility–a closet–when one can have a mobile one? My FB aunt, as I have recently dubbed her, said she didn't expect a Manuel Canovas (my fantasy suit, even on sale this summer, it was 225): "just a fucking swimsuit!!!"
Here is a picture of my beloved used Saab, 2007, creatively parked in Ventura this Spring when I visited the sister of a friend who had just gotten a pitbull puppy named Cubby.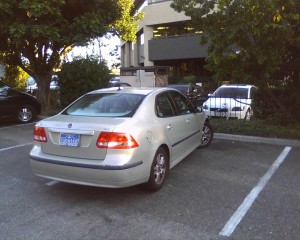 Cubby has brindle fur and it was unbelievably soft as a puppy of 3 or so months.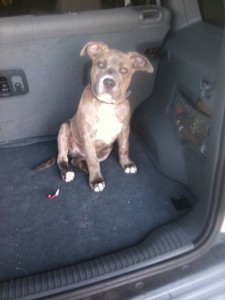 Cubby is now the dog of my friend (and ex-Elite runway model years ago) whom I rarely see now but with whom I hung out some earlier this year and this is the two of us at her old place–so gorgeous, just a room with balcony and bathroom in a large San Roque home–in one of my typical "Homeless Chic" outfits.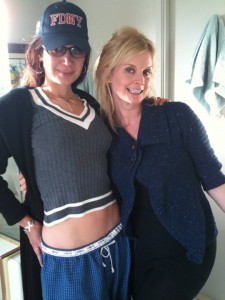 My FDNY hat is  one of my two most-worn hats, along with Life in the Theater hat I got in September, 2011 when I went to see the Mamet play with Patrick Stewart and T.R. Knight (George on Grey's Anatomy) but it is an ill-fitting hat. My Denis Leary "FU" fell in the water in the Dominican Republic and shrunk and my Yale hat got swallowed by the bathroom in Jetblue on a flight in late 2010. The top is this super cute hand-me-down from my ex-best friend's daughter. I have a ton of cute Anthropologie and other brands because when her daughter discovered the 60s, she became something of a flower child (albeit a highly literate one, total auto-didact, no formal schooling, in poetry, painting, music, and language). Tweed, v-necks and anything else which smacked of prep became mine. Sadly, the Anthropologie tweed pants which hung on me, are now by my standards hip-huggers and I will not wear them unless I am wearing a large sweater or jacket. The PJs are as you can see J's Old Navy flannels and I swim in them.
The sweater is J Crew, to the knee, and I call it my "statute of limitations" sweater. J's ex-wife left it (and a cat of which J was less than fond) when she moved out and she never did pick up her shit. I posted this as a warning to FB friends: if you move out of your spouse's home or vice versa, make sure you get all your shit or it will devolve to future partners. I love this though his ex is a hardcore marathoner and much thinner than I am, certainly now, in this to me unpleasant curvy incarnation but even at a size 2.
All my FB friends know that my beloved ex-caretaker/nanny and current housekeeper at my parents' house tossed my dream suit, a 50% off Trina Turk.  Full disclosure: I am heavier/curvier now. This was summer 2010 for a bikini contest at the Majestic Punta Cana which my then boyfriend taped on video (all that work I did at the gym!) and then stupidly erased by mistake. He was an older, very successful businessman, boarding school kid etc., and he used to call me his "sweet and useless creature" or "absentminded not quite professor" so it was completely atypical behavior for him to make such an error.
I placed 2nd out of 10 with a bunch of young Dominicans and tourists and lost in the run-off because apparently stripper ass-shaking played better than splits (even in a bikini) and yoga/ballet moves.  I was a geniune size 2 until one year ago, when all hell broke loose and I am a 4/6 now in dresses and pants but still a 2/4 up top. In part, I haven't bought a new suit because the weight gain is not felicitous to me whatever others thing about it  (nice, womanly, curvy is good etc.) and I am still sad that Hilma tossed all that stuff and know I will never, short of buying a Manuel Canovas or receiving one as a gift, ever find such a fabulous suit.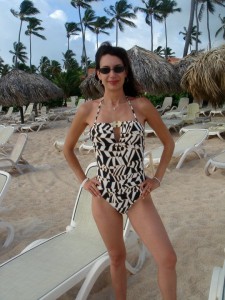 If you ignore the nails, it's pretty much a perfect shot. I hope I can get back to this weight, the same as I have been all of my adult life pretty much before this year. So without further ado, here is Victorian Chick's month-by-month chronicle of the best year of her adult life.
JANUARY: A Morning at the Coffee Bean in Montecito Which Changed my Life.
One morning early in January, something happened which changed my life forever. I was at the Coast Village Road Coffee Bean in Montecito around 6:30 AM and I see I have over 30 friend requests on FB, along with many private messages telling me to check Greg Hilton's wall. I do, and lo and behold, this is what I find with an absolutely hilarious and long post (all of which is true except that I am a Ph.D. candidate in East Asian studies, which Greg thought because I had been tutoring a kid at UCSB win that subject).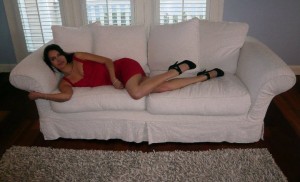 Unbeknownst to me, Greg posted this as a gag, saying that with a mother who was a former U.S. Attorney and nearly Attorney General for Clinton and a father who was a federal bankruptcy judge and WWII veteran (B 24 pilot), I would be the perfect choice for Obama's new social secretary. Our poor beleaguered and besieged President (much less fortuitous for us all than "Bewitched, Bothered and Bewildered"), seems to have had as much difficulty with social secretaries as cabinet ones, alas. It was hilarious and some women were quite catty and mean, making Monica-type comments about kneepads and the like (which elicited a follow-up post and spirited defense by Greg who is a total sweetheart, in spite of what are to me some quite peculiar political views). I have two very close female friends who rushed to my defense against these women, one of whom claimed to be married to an English professor and took me on about Kant. Bitch doesn't begin to describe it.
This photo was the one which launched not a 1000 ships but a few hundred FB friendships, some of which morphed into real-life friendships on both coasts, as well as many more phone friendships with people I would see in real life if they didn't live in places like Michigan, Minnesota, Texas or North Carolina. I am not likely ever to visit any of those places. My Minnesota friend, however, promises to come visit me in Southern California sometimes in 2012 and I hope my Michigan friend will find a way to get out to California as well.
January was also the month my boyfriend finally sold a large and gorgeous house in Goleta and moved to the condo on the border of Montecito, with ocean views and 2 acres of hilly land around it. It's a four-unit complex, attached, and his is the one highest up, so we have the best of the four views. That picture of me on the couch was a CL ad with a clever caption: "Woman not included with couch. For illustration purposes only." Greg must have thought that was amusing and intended, as he is wont to do, to "help a damsel in distress."
I wasn't in distress of course, happy as a clam when we met, but certainly unknown on FB, with a mere 100 friends. He forgot to wish me a happy birthday but did wish my DC friend one–Jin Ah–and I wrote on her birthday thread that she should feel honored because Greg didn't wish me a happy birthday! And he wrote that I didn't need his help anymore, or something to that effect. He knows how very grateful I am to him for all he has done and I will post this to his wall when I finish the blog.
Here is another "garage sale" shot, me helping my boyfriend sell his washer (or is it a dryer–I know I'm a horrible JAP on some level but I don't do laundry and even in college sent to a fluff and fold). It worked and he did sell it for a fair price.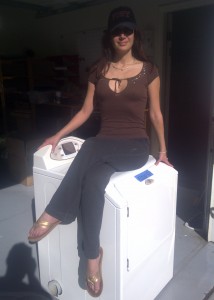 FEBRUARY: My 39th Birthday and Louie Zamperini Meeting at USC.
February was really great. J and I went to Bouchon for Valentine's Day. His parents had given him a gift certificate once to this very elegant French restaurant and sadly I do not think we took any pictures. But it was a great month and it was my first birthday on Facebook and the notes and wishes filled my heart in ways hard to describe. Greg Hilton posted about me again because Paris Hilton and I share a birthday ten years apart. I have said that the coincidence of my birthday with Paris Hilton's, ten years earlier, represents definitive proof that the whole thing is a crock of shit. Reagan is another Aquarian and so is a cool but not close FB friend of mine in CT who owns a pole dancing gym for mostly middle-aged surburban affluent or at least comfortable women to get in shape and have a bit of sexy fun while doing so. It's in Trumbull and it's called The Girl Spot for any of you in CT looking for a bit of fun in your workouts.
I bought, but did not wear till February, my first black tie gown. I spotted it in the window in Victoria Court's Lola, sort of Santa Barbara's answer to The Cottage in Pacific Palisades, also owned by a lovely blonde woman  with a lot of style and class.  (I don't think it's a rule you have to be a very thin and pretty blonde to own a designer resale in Southern California but it is odd how similar these two women are!) Here is the dress with which I fell in love in the window after the Christmas Rock 'n Roll show my friend's friend played in 2010.
It is a Monique Lhuillier, a designer favored by my elementary school classmate, Gwyneth Paltrow, which I learned when visiting the FB page of this talented designer.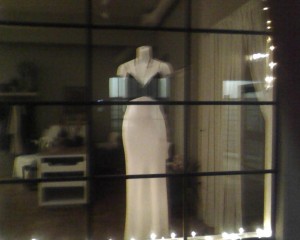 It was some 75% less than the dress new and it is a stunning Sharon Stone-inspired dress. She wore something like this for the Golden Globes when she won her much-deserved Best Actress award for her stunning performance in Casino. She told James Lipton in her Inside the Actor's Studio interview that she was quite flummoxed and that Tom Hanks whispered in her ear that she deserved it, that her fans expected a good speech and that she had to knock it off and pull it together, which resonates with all we know about Hanks, a wonderful actor and human being with a commonsense and service-oriented approach to life.
Here is the picture taken on the owner's iPhone, extremely flattering and even in January/February when I was thinner, the picture probably shaves off 5 pounds. I have a shiner from my first Perlane injection which makes the picture Greg posted even funnier. J didn't want to go out in public with me for a few days as he said it looked like I'd been clocked by my boyfriend! The Perlane was in December, before my 2010 NYC Christmas trip and this photo taken in January, but Greg posted it around my birthday in Februrary so I am including it in February not March.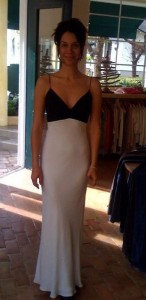 I wore the dress for my first time on my birthday, when J and I met my parents at an old Malibu Italian called Tra Di Noi I used to go with one of my two boyfriends in 14 years, the summer before grad school (1996). I was dating a really nice guy from Malibu I met in Al-Anon and we used to eat there a lot. I got a lovely picture with J and my parents but my mother is intensely private and while she adores and is proud of her only natural daughter, I horrify her somewhat as the literary equivalent of Madonna in a movie I adore: Truth or Dare. When Warren Beatty, one of my all-time favorite actors since childhood (due to Heaven Can Wait) sits uncomfortably in the corner of the doctor's office, slumped in the chair, the doctor asks Madonna if she might not prefer to have her throat exam with the camera turned off. Beatty, with strong disapproval, sort of grunts and says, "She doesn't want to live off-camera!" But here is one of me with J.
I realize this is sideways but all my FB albums prior to June are gone. J said it was a server thing and that they are there but I'm very annoyed that I cannot access them. I had two pages of albums and there is now no option for "next" or "2." But this is sort of fitting as I have been known to post sideways photos of myself and when helpful FB friends turn them right side up, I reject them because I think they add 5 or 10 pounds and are more flattering sideways.
February was also memorable because I met the WWII hero and POW, Louie Zamperini. I must try to call the USC professor I met at the Peninsula bar in Beverly Hills and check in. I brought Zamperini Dad's book and got to speak with him briefly. They are making his harrowing, inspiring, belief-defying story told by Laura Huillenbrand in her NYT bestseller, Unbroken, into a movie and I hope it comes out soon. Here I am with Zamperini at USC's Annenberg School on February 23rd (adorable picture of him but not at all good of me, in a score from the Neiman outlet in Camarillo, 30 down from 248 in the store).
I wrote a blog about Zamperini which you can find in March archives.
March: New York City and the Birth of my Blog (the first one): The Random Review (www.random-review.blogspot.com)
I was in the city from March 11th to March 22nd and it was a spectacular trip, the first of four in fact (July/August, October, December the other three). This is one of about ten blogs I posted before we started Victorian Chick: http://victorias-random-review.blogspot.com/2011/03/worlds-apart-and-world-among-italian_20.html. It was a paper from Yale, senior year, for American Religious History, with Jon Butler and I very much enjoyed the course which took Gaustad's "Religious History of America" as the central basic text and included about 10 other books including Ann Braude's Radical Spirits, William James's Varieties of Religious Experience and a book about African-American spirituality and religion by a woman named Higginbotham, but must look her up to find its title.
It's hard with the New York months to pick a few pictures, but here are some of my favorites. Oh, but I should note, Greg plugged my trip in another hilarious post with the caption: "West Coast Report." Here is the link to his little narrative and his wall is public so you can visit and read (and now I think "like" and "comment" even if you are not FB friends with him): http://www.facebook.com/#!/photo.php?fbid=1860846251054&set=a.1661415305405.91063.1537875164&type=3&theater.
He posted a picture from my birthday in the Monique Lhuillier and my black leather jacket from the Jones New York outlet in South Norwalk, CT. I had neither desired nor pined for a leather jacket but I saw it and melted. It was originally in the low 4s and they were selling it–a small–for 79 because it was 2 years old and they wanted to make room for the newer years. I love the jacket and wear it constantly, though lately I have been wearing my hand-me-down navy jacket from Anthropologie because it is so cozy and warm. The picture got a lot of response because J's kitty, Ollie, is a black and white Norwegian Forest cat and everyone asked if I always match my outfits to Ollie's coat!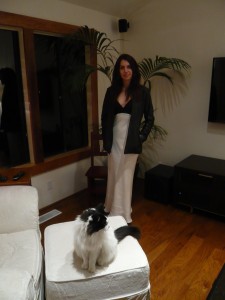 We absolutely could not get Ollie to face the camera but J shot a spectacular video yesterday and posted on my FB page of Ollie having a "conversation" with him. The conversation not captured on film was much better–more vocal, concentrated, nuanced–but it was so good a kitty-loving FB friend of mine in Northern California told me not to be surprised if it went viral. And an older FB friend I alluded to before, a man of great distinction in the publishing and literary world (now having success as a playwright), contends that his cat is the best on FB. But I sent him the video via private message and he wrote back saying he was impressed with Ollie and detailed similarly human behaviors in which his beautiful kitty engages.
The funniest picture from the March trip was on 5th Avenue after my first Luigi class of my life: two 8th or 9th graders in miniskirts and 5 to 6-inch heels walking like newborn goats. I got this phrase from an online dating ad which made me laugh. The guy said he wanted a girl who could "rock a pair of stilettos without looking like a newborn goat" and I have incorporated it into my verbal repertoire of fashion.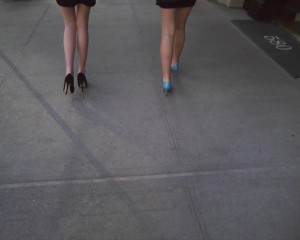 Apart from the absurdity of these young teen girls hobbling along 5th Avenue on the Upper East Side, the color of the shoes on the right made people laugh. Greg Hilton posted something about shoes and the meaning of them in popular culture in the wake of the shoe-obsessed women on Sex in the City. Forbes or a comparable magazine actually published or reported on a study discussing the incredible but true statistics on the astronomical revenues of high end shoe designers highlighted in the show: Manolo Blahnik, Jimmy Choo, Christian Laboutin.
My friends know my view about shoes: buy the cheapest ones you can get away with and put the money toward the best dresses and jewelry you can afford. In fact, the black shoes in the red nightgown photo (Cosabella, 2/3 off at Purrmission Lingerie in Santa Barbara, one of the two fine lingerie stores in SB along with A Tropical Affair, though they sell high-end bathing suits as well), are from the Aldo outlet in Camarillo. They were originally about 79, hardly expensive, but I paid 30. The mean women on Greg's wall attacked me for wearing Payless or Home Shopping Network Shoes. I explained they were from the Aldo outlet but this seemed not to help matters.
Early in the March trip I attended a concert at Mohegan Sun with my first close FB friend Amy. We met through a shared love of Rescue Me and she was my first FB friend to become a real-life friend. I trained to CT and we drove to the casino, staying overnight about 20 minutes from Mohegan. We had a blast at the Dropkick Murphys, though I'm not really into punk and the concert was entirely too loud for me. Here is a view from our modest but comfortable hotel, of the barren winter landscape in CT.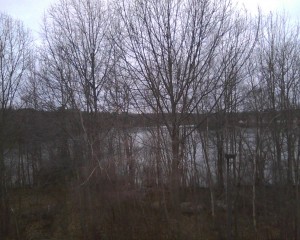 I liked a few songs but none were ones I would purchase or listen to again. But I love Amy and missed her this trip. We met in December of 2010 and saw each other this summer in the city and then this fall at the Cloisters. I will post those pictures in "October" section of this year in review. Amy is on Chictopia and regularly posts fun shots of her in a variety of quite different outfits and she was the one who inspired me to join. I will start posting at least twice a month on Chictopia in 2012.
Finally going back to dance class after some 20 years was certainly a highlight of the March trip and here are some pictures. I posted a blog of my class in December this week and you can find it here: http://victorianchickredux.com/2011/12/29/photo-record-of-luigi-class-in-nyc-december-17-2011/.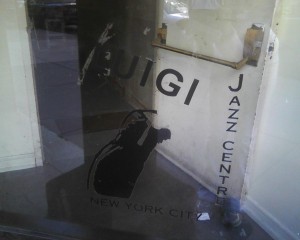 This is the window on W. 68th between Columbus and Central Park West. It's a nondescript brick building on a street in the Upper West Side I'd die to live half the year. I love the 60s, both East and West, and if you live on a budget (well, if you live on a budget, unless you have friends with apartments who let you crash for free, you really have no business in the city to begin with!), the UWS is much more affordable than the UES apart from real estate. It's very difficult to keep food or booze costs down living on the UES, whether you're close to the park on 5th or Madison or far from the park on 1st or 6nd. But I adore this block on W. 68th. Here is the view from the studio.
I also love the view toward Columbus.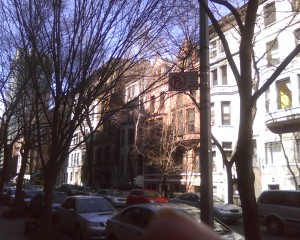 I have no idea what brownstones run on this street and some are surely rentals, not four story apartments. But in the 60s on the East Side, 7 to 9 million is about standard, sometimes less if the building is old and not renovated. I couldn't begin to guess what a one-bedroom rental in one of these buildings would run. 4K would be the absolute minimum I would imagine.  I know that in the Village, in a doorman, luxury/amenities building, 4K is not unheard of. You do sometimes luck out and find a rent stabilized studio or small one bedroom in the 2.5K a month range, but you have to have been a very good person in your life with great luck, or someone with serious connections to find one of those gems.
The UES just is pricey and there really is no way of getting around it. However, the UWS has many eateries which don't wound your wallet, or at least not to the same extent. There was an old joke that you had to make a million a year to live on the UES. That's a joke of course, but if you have kids, say 2 or 3, and you are doing the private school thing and want to live in a nice apartment, you really are looking at 550K to 600K minimum.
This is an old poster of Luigi with his protege and friend Francis Roach. I adore Francis and have written at some length about his little lectures about dance history and music sprinkled throughout class.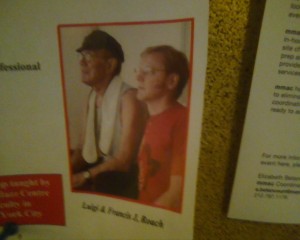 As my friends and readers of Victorian Chick know, I had planned to attend the two week, 5 to 6.5 hour a day intensive this summer prior to my fall.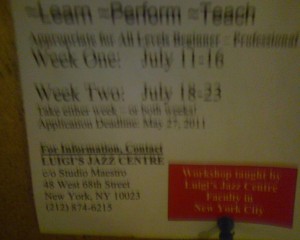 Here is the poster about the intensive which I will definitely do next summer, though probably only one week, because I intend to spend at least a week at the Cape with my dear family friend and guardian angel.
I also went to Yale for the first time in a really long time. I wanted to see the Eliot letters at the Beinecke. As I have written, my first Eliot novel was senior year at Yale in a cross-listed humanities/English/Renaissance Studies course with historian Katherine Gill and English professor Laura King. It was a spectacular course a copy of whose syllabus I would do almost anything to get some 15 years later.  My favorite secondary text of the course was Guido Ruggiero's Binding Passions. Ruggiero was a professor at SCSU (the excellent Southern Connecticut State University, about 15 minutes from Yale) and I absolutely loved this book, which I cannot at the moment find. I think it might have been lost in the 2006 move in which I lost so much of my life.
We read Romola, Eliot's historical novel about Savanarola, which in some ways prefigures the tyrant motif of Daniel Deronda, whose diabolical Henleigh Grandcourt was a model for Gilbert Osmond, the villain of Henry James's Portrait of a Lady. This is well-known of course, but at the time I was working on my dissertation, I hoped to make more of this fact than had hitherto been made by literary critics. Who knows if, in the last 6 or 7 years, the topic has been treated. I'm so out of the loop; I have no clue what has happened in Victorian or Romantic studies for about the last 8 or 9 years.
I think leaving the academy is sort of like leaving the military; once you're out, you're out and that part of your life is a closed chapter. I think the analogy is apt on another level; my war wounds from grad school persisted for years and while my FB friend in Pago Pago overstates their role in my life now, of course I regret not having finished the dissertation. It would be, at the very least, much nicer to say I am a Ph.D. than a Ph.D. candidate but that ship has sailed and it does not cause me nearly the pain my friend thinks it does.
The irony is that I lived in North Court in Berkeley College one year, in a single my father regarded with disdain ("for this we pay 32K a year? the infantryman barracks in WWII were nicer than this!"), just a stone's throw from the largest American collection of George Eliot's letters. Here is a shot of the imposing and impressive exterior of the Yale Rare Book and Manuscript Library (Beinecke):
And then a shot of the left side with a view of Wall Street (the New Haven one not the NYC one of course) and HGS, the Hall of Graduate Studies, in the distant background: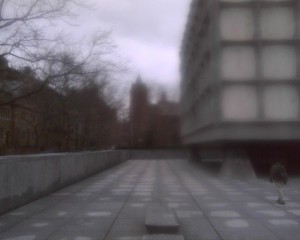 I realize this is not a great picture and in October I bought my first camera since 5th grade–a Canon Sure Shot I got for Christmas–but I have yet to hook it up or put in a memory card and I promise that in 2012 all my pictures will be with my Sony Cybershot rathher than my phone. My Pantech takes surprisingly great pictures during the day (no flash so I cannot shoot at night) but this clearly is not a great example!
I also love this shot of the interior. I did not bring my passport and I have not had a driver's license–which is to say an actual plastic card you hold in your hands–in a very long time, about Thanksgiving 2010. My justification is that you don't need a license to fly, merely a passport, and that I am very careful not to lose this as I know I am "shit out of luck" or "SOL" as a FB friend wrote me via IM if I lose it. I don't need a license for driving (it is of course valid, just not an object in my possession and it's really gone, not merely "temporarly separated from my person") because I am a truly perfect driver who never speeds or gets pulled over.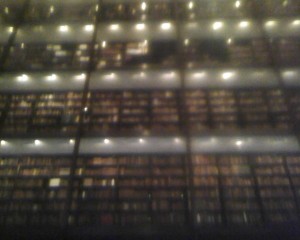 I will however rectify the driver's license issue in 2012. I actually did get an application but when I found my passport for the Seattle wedding I sort of put it on the back burner, haha. It took every shred of my feminine charm, such as it is, to get the guy to let me into the room with the Eliot letters. I reasoned, showing him my one-volume Gordon Haight Yale Edition of her letters, that not too many women come 3K miles to see obscure letters Eliot wrote to John Blackwood, her publisher, or to her dear French friend and feminist, Mme. Barbara Bodichon, the first to recognize she was the writer of her first full novel (and huge success), Adam Bede. I adore Eliot's letters and I remember the one from Mme. Bodichon well: "That is Marian Evans with her large brain and heart!" (I may have a word or two wrong.)
I finally did get to look at them and found her handwriting beautiful but illegible. With some writers, it's helpful to see, to hold the letters in your hand. Eliot had in Gordon Haight the most meticulous, adoring, brilliant editor any writer could hope for and honestly, if you own the 9 volume George Eliot Letters, you really don't have to see the letters for scholarly reasons. But it still is very cool to hold the pieces of paper on which she scribbled at one her trivial and profound thoughts.
Here are a few more shots of places on campus I lived (I didn't get to shoot the Taft but will do so in late February or early March when I go to see a dear friend in New Haven, a kind of surrogate mother to me during 1995 and 1996.)
This is North Court, Berkeley College, from the front, facing Cross Campus. The library just to the left of this used to be called CCL, Cross Campus Library, but the Bass family donated 20 million or something like that and I guess when you give someone 20 million dollars, you can make them change the name of the building or foundation to which you have demonstrated this extraoardinary generosity. In the middle is the door to my entryway, H or I, I believe and my room is was on the top floor, just to the right of the doorway, partially obscured by the tree.
I loved that year as painful as it was at times due at once to intellectual and emotional stress (psychoanalysis had left me a raw nerve). I wasn't all that social and spent many weekends on the Upper East Side with my family friend who had generously offered me a room in his phenomenal Duplex on 88th. But this picture makes me a tad melancholy, thinking of all the wonderful things I read and wrote about that year. 1993 was also the coldest and snowiest winter of my life back East and I think there were 13 major blizzards the winter term. I turned 21 that term and this remains a longed-for yet fraught year of life for me.
Here is South Court, where the dining hall, library, common room and all other common areas were. You could walk through an underground tunnel from  North Court which connecting the two parts of the only residential college at Yale divided into two. "Divided We Stand" was the motto of Berkeley (BK).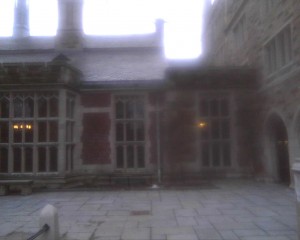 I attended my 15th reunion on Memorial Day of 2010. It was a fantasy weekend after which I was more than a little down for a week, wondering what my college years would have been like had I been as emotionally light and free as I am now. I also wondered what would have happened had I been assigned to Davenport College, where the class of 1995 was housed that glorious and beautiful weekend. The rooms are much bigger, even the singles, and I might not have moved to the Taft had I been in DC. I also wasn't wild about my classmates in BK, with a few exceptions and particularly not fond of those in the class of 1994, my original class. I much preferred the class of 1995, but I didn't live in Old Campus with them so I was sort of an outsider. I wish I had had a phone with a camera in 2010 May but hope to get better pictures next trip. (Sadly, I have not one picture from the reunion, one of the greatest weeks of my life.)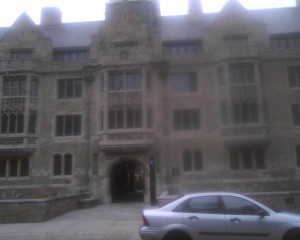 Davenport has one of the most beautiful quads of any college at Yale and I used to eat there with a girl in my philosophy class, Justine. She was at the reunion and she is married to a successful New York businessman and has two charming little girls. She is still beautiful and I  must say we were the only two girls in our class who had not expanded a lot in the 15 years since graduation. Oh, no, there was a successful and gorgeous African-American pediatrician with a newborn who was actually in Berkeley and she had not changed a bit.
The last Yale picture was the last one of the day: Vanderbilt Hall, my freshman dorm on Old Campus (all freshmen must live on Old Campus the first year, after which point they must live one year in their residential colleges, before moving off campus if they choose to do so–most do not).  I was actually on the other side of Vanderbilt, but it looks identical. And yet again I was on the fourth floor. I often joke that these aren't some California pussy stairs. These are a few centuries old and they didn't fuck around with stairs in the late 18th or early 19th century! I also joke that three semesters living on the fourth floor, one in Vanderbilt and two in Berkeley, along with normal gym activity gave me the tighest ass at Yale.
And unlike most girls, I lost weight my first semester (not a lot though). And then I lost a huge amount of weight when I went back after analysis in the fall of 1992. I was 5/8 and 113 to 115 pounds. I had about five pair of Ann Taylor 2L pants, the size I continued to wear through 1994. Ann Taylor was downstairs from the Taft which is almost kitty corner from this building, at the corner of Chapel and College. They had the best jeans, only 29 bucks, and I lived in those. I was still 118-120 in 2008 but I really was Ellen Pompeo in college.
The final picture for March was taken at a moving out of NYC party of a friend's friend. He is friends from elementary school with Amy and he is with his lovely fiancee here on the Upper West Side. I'm in this flashy purple dress at a going out of business sale on Montana Avenue I have fun wearing though it's certainly louder than my other dresses.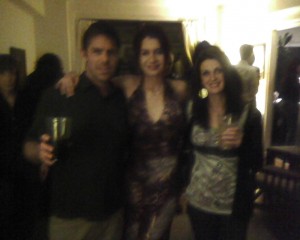 This is quite blurry but it was a really nice party and the cropped one is better.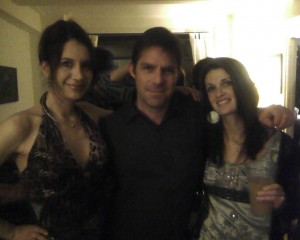 The taker of the picture was so inebriated that Eddie Murphy's great line in the opening of Beverly Hills Cop sprang to mind: "Balance yo-self." This is right before his friend Mikey is shot with the bonds by the character actor whose name I always forget.
March was also the month I got to know people at Fishtail, the David Burke restaurant on 62nd on the block I stay. The bar menu is a serious bargain and the ahi burger with wasabi mayo was phenomenal. I say "was" because for reasons not clear to me, they have taken that off the bar menu (served only after 10 PM) and replaced it with an also outstanding dish, Angry Mussels. But I don't know why they couldn't have both and I spend a lot of time there when in the city and must remember to cross-examine, as Dad would say, in late February when I return. Here is my beloved and now lost to the
world tuna burger: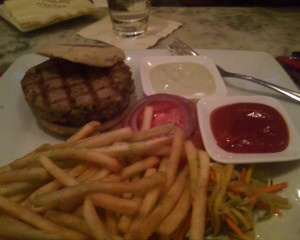 April: American Philosophical Conference in San Diego, Ankle Sprain/Ligament and Tendon Stretch and a Fun Lunch in Long Beach.
On April 9th I met two friends I had been speaking to for a few months at Gladstone's in Long Beach, a man by LAX and a woman in the OC. Here is one picture of me with him (she hated the picture so I'm not posting us all together).
About a week later, I went to APA for the second year in a row and it was glorious on many levels. I got to see Richard Eldridge, my former professor for Orals from Swarthmore, whom I met for dinner in NYC in December of 2010 with his wife, a decade after I met him in Philly. I have yet to write about some of the lectures and now it's been so long, I'm not sure my  handwriting would mean all that much. I loved it and am sorry I didn't get the emails promised from a few young assistant professors. I do have the directory , however, and might write to two or three I particularly loved, younger than I am of course as I'm getting to be an old broad, as my father continually reminds me!
I ate at Vela, the wondrous restaurant at the Bayshore Hilton in San Diego. Realizing I had left my cell after a great talk about social masks by a European philosophy who discussed Dostoevsky (The Idiot) and James (Portrait of a Lady), a woman who works in aesthetics, I scurried down the escalator. The result of that scurrying (in Banana Republic heels to which my father only and perpetually refers to as "12 inch fucking heels" or "10 inch goddamn heels," with a 12 pound Lifebook about ten years old) was this: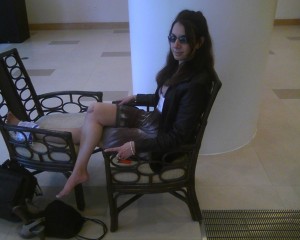 That dress, of which I had some great pics in the DR, was part of the dear "Hilma toss" of Summer 2011. But you can see me in leather jacket with big boo-boo on my knee, not at all pleased with the progress of the day.
Here is a close-up of the ankle just following the conference Easter week: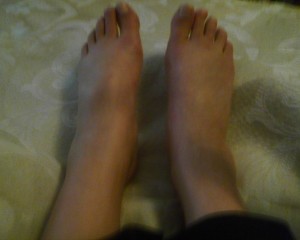 Both feet look swollen here but you can clearly see how bad the left foot is. Truth be told, I'm not 100% even now, 8 months later, and I really must get PT. I was able to dance in December, traipse around the city at night in high heels and get up and down the four flights to the apartment. (I take off my heels and either put on Thierry Rabotin comfort wedges, or go barefoot, up to the 4th floor).
But the hotel was great. I stayed the first night at a cheap but nice Best Western. But after the accident, I had to move to a Super 8 or Econolodge, I forget, because I couldn't get up the stairs even on crutches. The people at the Hilton were pretty much assholes, refusing to comp me and fawning over me in a really unpleasant manner, merely to cover their ass. There was a total asshole head of parking whom I reamed on FB, the first of my "Don't fuck with Victorian Chick" FB notes. You should never abuse a customer; you have no way of knowing if or that she is a blogger or FB person with a large audience. I recently tore the snippy clerk at Chaucer's who responded in a shockingly rude manner to a query about Edith Wharton, who used to be in Classics but is now in Literary Fiction. I loved all the underlings at the hotel, however, including the nice people who wheeled me to Kant and other panels in the chair.
There was also a truly wonderful, handsome ex-military African-American manager whom I told about the corporate ex-bodybuilder goons in suits shoving papers at me to sign the minute I fell. One was not a bodybuilder, past or present, and bore an unfortunate (for him) resemblance to Bachmann's husband at least from the neck down. (FB friends know I have no use for people like Bachmann, to whom I refer as "Mrs Chootspa" or "Corn Dog Woman" for self-evident reasons. I have still less use  for her husband with that ex-gay clinic and I honestly don't care how many foster children she had though it's admirable to help girls puking or starving to death. It also doesn't matter to me that the clinic is voluntary because it's still a wrong and damaging message and that whole brand of social conservatism makes me ill.) 
Here are some views from the hotel:
It seemed less cloudy than this the day I shot these but I guess it was cloudier than it looked. It's an elegant flagship Hilton and much more expensive than the average Hilton, in any city other than Manhattan. I stayed at the Bellevue Hilton in October for my cousin's wedding and even before the wedding party discount it was incredibly cheap. Now, the Seattle Hilton would probably be more but the Bellevue one was charming. I never did make it to the outdoor jacuzzi and unfortunately the pool had been closed for the season just a week earlier.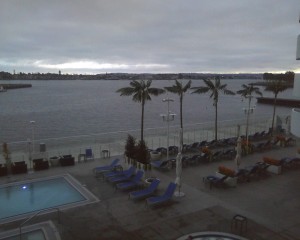 This Hilton has clearly been built as a conference hotel and the rooms are much nicer than your average convention hotel. Most of the panels were on this floor, though I attended a few on the third floor as well.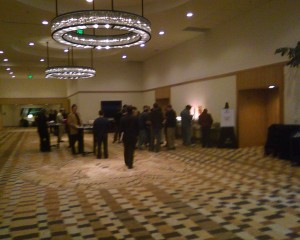 It got sunnier after my accident but I would have preferred to have an overcast ambulatory conference to a gimpy sunny one!
I just received the Proceedings of the APA with a copy of Marilyn McCord Adams' Dewey lecture about which I will blog in a few weeks. This brilliant woman from the Bible Belt, to which she credits to her lifelong fascination with questions of God and evil (things which do not rank on my radar of interesting philosophical topics), received her Ph.D. from Cornell in arguably that school's philosophical Golden Age. She then received a degree from Princeton Theological Seminary and spent her teaching years at UCLA, Yale, Oxford and now Chapel Hill (UNC). This is the booklet for the conference:

My "last supper" pre-fall was at Vela, as I said, and it was certainly a highlight of the trip for me, though again, I would have preferred to attend the Robert Pippin talk which took place while I was laid up! I ate both dinner the first night–marvelous mussels–and breakfast the second day at this well-reviewed restaurant at which I am sure San Diego residents not staying in the hotel dine frequently. It's a beautiful space with impeccable service and food.
The views are wonderful, walls of windows in the  dining room, though this is the entrance and bar area.
My mussels.
The description on the menu does not do the dish justice and I cannot find the dinner menu (this is a starter), but here is the frittata (my "last breakfast," one might say).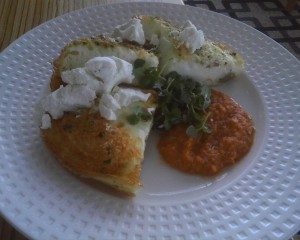 The frittata contains basil and goat cheese and the tomato coulis on the side is wonderful. The potatoes are inside the frittata and the whole dish was under 400 calories. My idea of heaven: a great hotel, good food, philosophy professors.
The three of us met for Easter Brunch at restaurant owned by the Patina people, Cafe Rouge or Letherby's and it was outstanding. I posted the menu on The Random Review and it's easy to find as I only wrote 10 or 11 blogs posts before switching to Victorian Chick. I left the conference on Saturday, the first day I was safe to drive and not have foot elevated and had a bit of a mishap at a dive bar I went with my friend. I fell not once but twice that night and here is the second fall.
May: Westlake School for Girls Reunion, Mother's Day, Royce Hall Preservation Hall Jazz and Bluegrass with Parents.
I was on crutches throughout the month of May and my boyfriend lives in a split level condo. This was interesting to say the least. I loved seeing my old debate coach, King Schofield and the retired English teacher and founder of Women's Studies at Westlake, Joannie Parker. My Republican associations were at once a source of amusement and mild to moderate disapproval but it was a lovely day. I have written of my disdain for the multi-million dollar renovation which in my view annihilated the charm of the old Spanish-style architecture on acres of prime Bel Air real estate. The construction is of course excellent but it looked to me more like a 2K a day loony bin than the school I knew and loved. Still the day was wonderful, though I was the only girl from the class of 1990. It was 20 years for 1991 and 30 for 1981 so those were the classes with the highest attendance.
Here is the picture of me taken by a sweet 10th grader working the event, on the middle level of what used to be known as the "classroom building" to distinguish it from the now rebuilt "old building" or "administration building."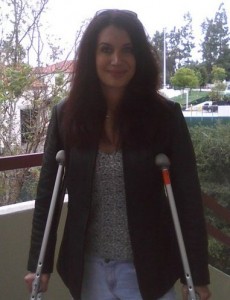 You can see the natural beauty which imbues this prep school (day not boarding, not for at least four decades) with a kind of idyllic, pastoral feeling hard to come by in our time.   Crossroads School for the Arts and Sciences, whose elementary school (St. Augustine) I attended, is a spectacular school but it's really hideous. It's in a not great part of Santa Monica, on Olympic Blvd. by the freeway, and unless one intends to become a professional actor, director, producer, singer, musician or fine artist, I cannot imagine plunking 35K a year or so on a school uglier than the ugliest public school in the San Fernando Valley.
Here is what used to be the waterfall, now re-landscaped with a small pond.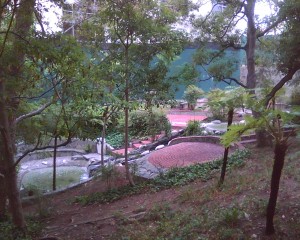 I do not approve of that green tarp and I cannot remember what that nice 10th grade girl told me it was. But essentially, going to Westlake was like going to a country club every day. I am not one of those Democrats who objects to country clubs. On the contary, I think they are fabulous and were I in a position to join one, I most certainly would do so.
Here is what they used to call the "lower lawn" and you can see how modern it is.
There's nothing wrong with it of course, but it just seems quite charmless to me. Seeing this picture, I think this is actually the upper area by the entrance next to the parking lot. Here are a few more views.
This looks very industrial and antiseptic to me. Harvard-Westlake prides itself of being the Dalton or Andover of LA (though  of course Andover is a boarding school). I just think the school lacks all of the natural , pastural beauty it had when I went there and for some years after. Keep in mind that this is middle school: 7th, 8th and 9th graders attend what is nicer than many or most college campuses. The theater would be the envy of any Broadway or off-Broadway director and the absurd thing is that the theater remains essentially unused due to complaints by the Bel Air neighbors. All that money and the fucking thing just sits there!
I did enjoy myself, however, and this week I intend to register on the alum website as a tutor. I am never shy about expressing my opinions and I wrote a public note on the Harvard-Westlake FB page expressing my less than enthusiastic feeling about the "new" Harvard-Westlake campus at 700 North Faring Road.
May was also of course Mother's Day and we went to the Hyatt Grand at Westlake. This is a convenient meeting place for my family, spread over three counties: Los Angeles, Ventura and Santa Barbara. I got some great shots of my mother but she is just so private, I cannot post them. Here are a couple from that lovely day.
This is Mom, at a safe distance, with her beautiful and smart step-granddaughters, now 12 and 15. They used to go here when the girls were little and I was not around so they said, "Mama A, let's go to the water." Very sweet.
This is the cropped version of my picture with Mom. One friend wrote, "This is really sad. I don't think we'll be seeing this on Greg's page anytime soon. Still, a cute dress." It's from Cache, a national chain store I don't much like, but I love this dress and it's nothing like most of the garish, bright, loud clothing they sell. I also have a jumpsuit, 2/3 off just like the dress, I like quite a lot.
I think the brown taffeta is nice and the top is extremely form-fitting and you feel like you are in a perpetual embrace when you wear it. The buffet is excellent, half the price of the neighboring Four Seasons, and a good time was had by all. It is a blessing to be able to share these occasions with my family and not only not be miserable throughout and following, but genuinely to enjoy myself.
June: Father's Day, Philadelphia Junto Blog about Chaucer's Books, Mom's Award and Overnight with J at the Omni Hotel in Downtown LA.
June brought three wonderful things. The first was the Junto blog. I had appeared as I wrote at the introduction to this monster blog, twice. But Richard Carreno asked me to write a piece about Chaucer's Books, about which he had heard me talk before on FB as the "light in the intellectual darkness that is Santa Barbara." It was 4K words and he left it as is, though the plan was for 2K to 3K words.
I took a picture of my workstation on the lower balcony and posted it in June.
Books on the table: Mark Bauerlein's excellent and apt Literary Theory: An Autopsy, Hans Georg Gadamer's Truth and Method, Paul de Man's Aesthetic Ideology, Richard Rorty's Contingency, Irony, Solidarity. I was still smoking those disgusting Marlboro Lights 100s and yes, I have become one of those insufferable and pretentious American Spirit snobs. I would rather not smoke than not smoke American Spirit Yellow (lights). I was wary of switching because I love 100s, but these burn very slowly and the aesthetic pleasure of a long cigarette is far outweighed by the superior taste of AS. Also, I smoke less than I did when I was smoking the Marboro Lights, the cigarette of Tommy Gavin (I started to smoke the 100s soon after taking up smoking in early March 2008.)
Father's Day was at Pacific Dining Car in Santa Monica, a place Dad loves but rarely goes because the prices "offend" him. It's a legendary place in SM, open 24 hours, just east of 26th Street on Wilshire.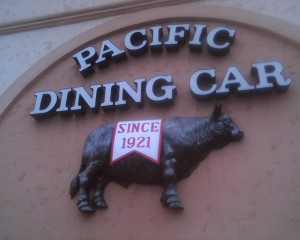 It opened in 1921, three years before my father's birth year (also that of George Herbert Walker Bush, Jimmy Carter and many others, as I discovered when I bought Dad a 1924 birthday card last year). It's known for the steak but everything is lovely and the dining room has such an old-fashioned, elegant feel.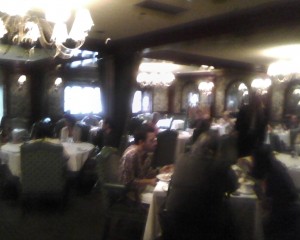 This picture is horribly blurry. But one nice thing about this enormous restaurant with multiple rooms is that each booth has a private feel, along with an old painting of a dog or a horse or something equally patrician. Below is a picture of one booth with an adorable dog.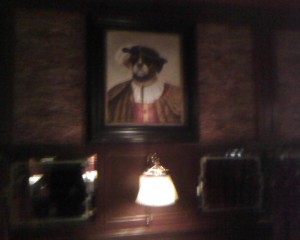 Here is a picture of me at the table and then a blurry one of me and Dad. (I can post pictures of him because first of all, he is no longer working, and second, he has given me permission to publish his WWII memoir and authorized me to do whatever I wish, just to run it by him, by way of PR.)
Again, a dark picture but natural and happy so I decided to include it. Dad is behind me, "contemplating the infinite" as he often says though generally when he goes to take a nap!
And here is one of me with Dad, again slightly blurry as my phone has no flash.
The last week of the month, J and I went down for Mom's award at the Dorothy Chandler. I drove Dad to the Omni, as is the custom when Mom has something Dad has to go to, or on the rare instances they go to a show or opera Downtown. Dad hates the drive, which circa 2011 is very different from 1981 or even 1991 from the Westside. They get a room and he rests until the evening event commences and then she drives him home after the traffic dies down. I already posted the cropped picture of me in the resale Nicole Miller but here are a few others from that wonderful summer night honoring Mom.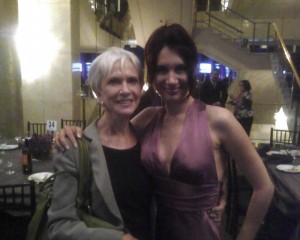 I am with Judge Lourdes Baird here, one of Mom's oldest and closest friends. George H. W.  Bush nominated her, a Democrat, to be US Attorney and Mom hired her when she was US Attorney for Carter. Lourdes is nearly 76 years old here and still a size 2. She is a woman of beauty, elegance, and brilliance who overcame tremendous  adversity. She was born in Ecuador though you would not know this from her skin tone, eyes or hair color. She is a mother of three and I just love Lourdes.
Here is one of my with my wonderful and talented aunt Suzy, an artist in Seattle, along with Lourdes at the Dorothy Chandler.
The room is beautiful as well and the food not your average award dinner fare. My filet mignon, however, was stolen after only three bites by an overzealous server.
And my ill-fated filet with the most extraordinary side vegetables.
I have since learned that banquet waiters are trained to get your food the moment you finish it. I think the logic is that awards tend to run long and it's important to keep the food coming and the booze flowing. J and I were staying at the hotel just 2 blocks from the Dorothy Chandler and he doesn't really drink anyway, but we were able to drink as we pleased and they kept a full bottle of white and red at the table at all times.
I did enjoy the risotto, however, and actually got to eat more than three bites.
Here is one of the wines they served.
Nothing memorable but at the same time nothing offensive or objectionable. I was a bit hung over however and my FB mother showed no mercy, having told me both that Chardonnay (which I only began to drink this summer in NYC when it was too hot to drink red) is "hangover juice" and also that mixing red and white is the path to hangover hell.
J and I had fun that night at the Omni. I have pictures from breakfast and the lobby but I want to post this in 2011 and must rush onto July.
July/August: Fourth of July Pool Party at the Scarface House, 3 weeks in NYC and Cape Cod
July was beautiful in SB, never very hot but always comfortably warm. We went to the same house we went for New Year's Eve, which I call the "Scarface" house. It's a rental on the Riviera with outstanding ocean views and it's very large with an enormous pool a level down from the entrance. Four young men rent it and J knows one not well but well enough to be invited to the parties. The house is in disrepair, not a sort of shabby noble poverty, but a geniune disaster in the kitchen and bathrooms. The carpets look 30 years old and one expects to see a young Michelle Pfeiffer and Al Pacino and a lot of blow on the table. Of course, being Santa Barbara where that drug is quite rare (at least in the circles I traveled), it's just booze and pot. Still, the view is unsurpassed anywhere I've been in SB.
J took two cute pics of me, one in the pool and one on the Vespa in front of his Prius.
I can't remember which of J's phones since August, 2010 when we met, took this but the colors are brilliant and rich. J loves technology and spends endless hours working out "bugs" in his various machines. My definition of a bug: the machine does not turn on and it is impossible to use.  J must have everything "sync" and the problems which keep him up at night would not even be noticed, much less mourned, by me. This is because he is a boy and I am a girl and these are very different things, as that pop psychology book which sold a zillion copies argued in ways even a less than bright person could understand.
Here is the Vespa.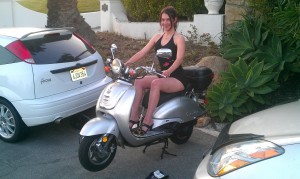 On July 21st, I flew to the city and the night I arrived at 10PM it was still in the 90s. Never in my life have I experienced that kind of heat and humidity and that Friday, the heat index was 108. 
In spite of the weather, I had a phenomenal summer between the city and the Cape. I met new FB friends and spent time on the beach and in my friend's yard, reading, drinking wine and meeting his best friends, a couple I have since seen for the Sherry Netherland party and will see again after my birthday either in DC, their primary residence for two decades, or in the city where they will be spending more of their time in the coming year. They are the parents of Marco Santarlasci, a talented young man of 18 who has been studying piano and guitar his whole life, attending Berklee College of Music during the summer and again this fall as a freshman before he withdrew to work on his music since signing a record deal.
Most of these are public photos on FB so I will just hit the highlights here. (I did a Cape Cod album on FB and that is public if you wish to see:   http://www.facebook.com/media/set/?set=a.223837504317983.47052.100000752049637&type=1#!/media/set/?set=a.227490693952664.47652.100000752049637&type=1.)                             
I had never been to the Cape, just to the Vineyard the week or so after college graduation with a New Haven (not Yale) friend whose sister was married to the ranger of Vineyard Haven. The first day or two I couldn't understand the fuss about it. I had read Judy Jacklin Belushi's autobiography in 1991 during analysis and knew all about Chilmark (the ritziest area of the Vineyard). But after 48 hours I wanted to stay there for three months. The scrub oak is unusual and magical in this very understated way. I have still never been to the Hamptons though a good college friend stayed there during the summers with her corporate lawyer father and stay-at-home mother. They lived in Great Neck and then Jericho (no, they weren't Catholic any more than the residents of Five Towns).
I swam for my first time on the East Coast and here are the pictures from my day at the beach.
We drank this Planter's Punch at my friend's club, horribly fattening but I swam for 60 minutes straight doing a version of aqua aerobics and I figured I was on vacation and allowed. This is the semi-notorious tank suit. It's not a bathing suit. It's a ballet leotard of Mom's I have been using since Hilma tossed the Trina Turk. I love it, or loved I should say, because it is now gone, lost at SBAC. I forgot to call after leaving it in the suit dryer–for a month–once again proving my FB mom is right re my task accomplishment abilities. I can write 10 hours straight and have nearly done so today. When it comes to getting to the DMV or UPS, I'm not so great.
Another shot of me on the chaise lounge, reading Kathleen Rooney's Live Nude Girl: My Life as an Object, a provocative memoir about her days as an art model. I've mentioned her before as she teaches English and creative writing at DePaul and graduated from GW with honors in both political science and English before receiving her M.F.A. from Emerson and then going to Oxford to study. She is founder of Rose Metal Press, which specializes in hybrid genres and she was extremely kind when I wrote her an email about her book. The memoir inspires me because it is academic, serious and published by a university press (Arkansas), rather than a mainstream press. This would be my ultimate fantasy. 
A perfect Cape Cod scene.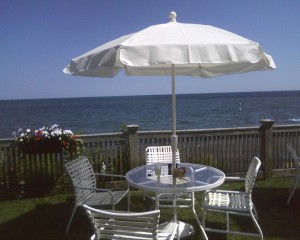 And another Cape Cod scene of nature alone, free of any domesticating, human influence.
I actually talked to these four teenaged swimmers, members (too funny) of the Young Republicans Club at their respective day prep schools in New England. They were all discussing driver's licenses, an eternal topic of fascination and discussion for 10th graders. I enjoyed listening to their earnest gossip about cars, friends and life. (And thought they had to be the only Republicans at this club! A Boston Republican at 16! A strange breed indeed. Of course I'm sure the Mommy and Daddy of each kid had shitloads of money and influence and it's funny how that alters your perspective on taxes! In one of my favorite shows of all time–Gilmore Girls–Lorelai gets a bond for 75K which has just matured. Richard takes her to lunch and it's a vexed scene. She comes home to Rory and says, "Go George Bush!"
Of course if you were waiting for an annoying or cruel relative to die so you could inherit, 2010 was the year to have that happen. I have more than a few friends–don't judge, some grandparents and parents with money are horrors of human beings and their relatives have fucking earned that payoff at the end–who couldn't believe that their relatives died in early 2011 or didn't die at all, after the Bush tax freeze or whatever it was on inheritance tax, expired.
It's a lot easier to judge those who vote with their pocketbooks, or on the West Coast, wallets, before or unless you are yourself in that position or worse,  in that sort of 250K for a family of four range and looking to put your kids through private school. 250K seems like a hell of a lot less money once you breed and it is as I have said partly why I never had even ONE kid.  I never would have had more than one even if I had married the top hedge funder in America and had a housekeeper, nanny, cook and driver. It never ceases to amaze me what my friends with kids go through and experience. I applaud and salute them and I could never in a million years do all they do.
My days before and after the Cape were just as wonderful. Here I am with my favorite very little boy on the planet, the son of my friend in Jersey who calls me "Miss Victoria." We are here on an obscenely hot day in late July, the day I went on the Rock of Ages cruise with my actress/singer/dancer friend Sharon Zaslaw. I met Sharon not on FB but at Mon Petit Cafe on 62nd and Lex where she often has a cappucino before her day job at the elite corporate firm, Akin Gump. I had crepes and Roby loved his mozzarella sticks.
Here I am on the cruise with a very hostile girl in yellow who thought her boyfriend was hitting on me or vice versa. I am not kidding: it was 99 degrees ON the water. We cruised past Roosevelt Island, the Statue of Liberty and saw a beautiful sunset over Manhattan. (I know the sun rises in the east and sets in the west, as geographically challenged as I am–which made for an amusing thread on FB when I returned from the city and spoke of the sunrise over the Pacific and many friends jumped on that one.)
That was actually the second night of the trip and the days immediately following were jam packed. I went to Luigi and got to meet him for the first time and here is the picture I posted in my Luigi album.
Immediately after this class, I wandered over to Columbus and ended up meeting a wonderful friend I have seen multiple times over the last two trips. His name is John (Jack for music) Phillips and his daughter, recently in A Christmas Carol at Players Theater in the Village, as well as his wife, are great people. I ate dinner with them in October at Tao (pictures below from Dylan's Candy store on 60th and 3rd or close to it, owned by a child of Ralph Lauren's).
I was walking from Luigi to Starbucks and passed a street vendor selling vintage Playboy.  I bought only two for 10 bucks, figuring that one of my legion of 50-something male friends would enjoy them but ended up keeping them for myself. One is from 1976 and the other is the1980 Playmates of the Year or something like that (I don't have them in front of me at the moment).
 Everyone loves this shot. The nude modeling industry was so different back then and it's not just the waxing, which Hugh Hefner identified as the single biggest change in the industry post-1990. The women don't look like bimbos and they have interesting faces. Of course the percentage of natural versus fake tits has changed radically and I'm not talking hardcore (not hardcore porn which some photographers in the business claim merely refers to "fucking on camera," but more graphic still photography along the lines you find in Hustler). Penthouse has always been somewhere between the two poles of the nude modeling spectrum.
Another one I like.
That's a pretty girl by anyone's standard and she's just as lovely from the neck down but for obvious reasons I cannot post that on my blog. Here is the cover of the "best of" issue. Frankly, she's the least impressive woman of the year and I have no idea why they put her on the cover. She looks unhappy and angry, two qualities in women men read nude magazines or watch porn to avoid. My informal research suggests the main reason men cheat is that their wives treat them like shit, constantly critical, nagging, disapproving and unloving. The lack of sex is a symptom. And it's not about finding a hot or thin woman because your own wife is ugly and fat. Ugly and fat aren't dealbreakers; the bitch factor is.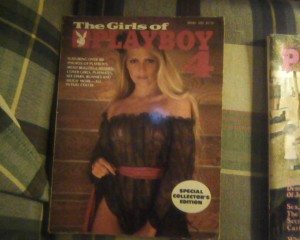 This is the lovely Impressionist revision on the cover of the other issue I bought:
Who at any of those magazines today knows what Impressionism was? I meant to blog about both issues with articles about Ford, Abbie Hoffman and Redford (discussing All the President's Men, a movie I have literally memorized and before Recount, my favorite political film, though Primary Colors was fun).
I also had some spectacular meals during the summer. One of the best was at Le Chat Noir, an Upper East Side bistro I went with a woman I liked very much but who has sort of dropped off the face of the earth, recently resurfacing on the walls of two older men she met through me but never contacting me. It's on 65th off Madison and I have been there once since and just loved everything about it.

This friend of mine and I met four times that trip, once with a friend she and her husband had met once before, a trial lawyer and humorist in Brooklyn, Larry Rogak. The four of us ate down at Wall Street at Giordano D'Oro, as I mentioned on my last blog, and here is a picture of me and Larry on a mercifully clement summer afternoon.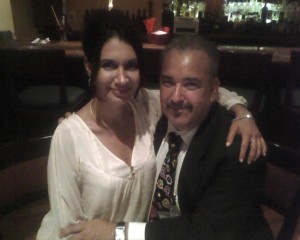 I took a picture of myself with my new street vendor glasses I adore at Delmonico's, a legendary old place with mediocre food, but still fun to go and have a drink. It's not what I expected down there, very narrow streets because it's so old and while I had read the history of Goldman Sachs this year, the one written by Montecito resident granddaughter of Goldman, I believe, I didn't know much about the architectural history of the Financial District.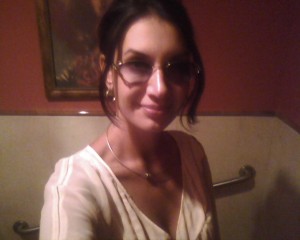 I do adore that top and met Amy at the water for some oysters the next day, wearing this Wendy Foster top over some hand-me-down Khakis from Banana Republic. The day Amy and I met, we decided to take the subway back uptown. This was a grave error as it truly is over 110 underground in the city. We were both wilted by the time we reached Grand Central so she could make her train back to CT.
The summer trip to the city also marked the first time I spent over 100 for a pair of shoes. Stilettos, you might wonder? No, Thierry Rabotin comfort wedges, down to 190 from 370. I love these shoes and wear them almost every day. J has begun to wonder when I will start wearing other shoes. I would not have bought them had I not hurt my ankle but I love how they looked and felt and I needed to be comfortable and not incur further damage on my far from healed ankle.
I want to take them to a shoe repair as they are a little worse for wear but they weigh  almost nothing and a lot of engineering went into that sole.
A final highlight of the summer trip was meeting Richard Carenno of the Philadelphia Junto. We met at P.J. Clarke's by Lincoln Center but ended up at the Rubinstein Center, the best kept secret for a great cheap lunch on the Upper West Side. The setting is marvelous and I do not have time to upload all the photos of the building and lunch but here is one of me with Richard.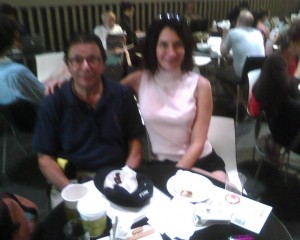 I see very few people are capable of holding my phone steady in order to take a picture but I suppose it's the thought that counts. I did get one decent one in this top, a hand-me-down Ann Taylor from Mom which has continued to make quite a stir due to the absence of a bra in a hiking photo I once made my profile shot on FB and later my tutoring flyer photo. Who (of my dimensions) wears a bra to hike? I was careful not to make the same mistake on the trip and here is a photo on Lex and 62nd taken by a passerby after my lunch.
You can see my great score of the trip, along with the shoes: the watercolor from a lithograph of a  yellow lab just like Emma! We still have yet to frame that but will do so this week I hope.
A few final shots from this great trip.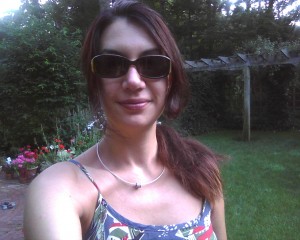 My last hours at the Cape in the yard. Sorry to leave but looking forward to the fun ahead.
Me in this very cute hat by the Starbucks on Columbus and 67th where I met John. I saw this vendor my last trip but I was in such a hurry and I really hope he is there in a couple months. His hats aren't cheap; some are 80 to 100. But I loved this sweet and innocent, highly malleable pink bonnet. The man had a card but of course I lost it. He clearly was in the hat business his entire life and this trip the winter hats were just as divine as the summer bonnets a few months earlier.
And yes, it is summer and I just left dance class for God's sakes! No LA or SB girl should have to wear a bra in 100 degree heat! Particularly not of at this size! Perhaps I will crop but I must fly through September to December in 30 minutes and then shower and head off with J and his son and ex-stepson to a nice party.
September: 10th Anniversary of 9/11. A Quiet Month.
I don't have any pictures of particular note but I did write a lot of blogs, two or three about 9/11 and Rescue Me. If interested they are archived for September and easily accessible.
October: Fall in NYC, Meeting Carol Rovane by Columbia, Iya Falcone Cruise, San Francisco with J and Seattle Wedding of Cousin.
I left for the city September 30th and arrived in moderate to heavy rain, quite a change from the three weeks in the summer. My first full day I met my friend John Phillips along with his wife and dinner at Tao, next to the Four Seasons on 58th between Madison and Park. It's a circus and while the food is impeccable (sashimi kobe of beef appetizer is their signature, along with lychee martinis), the nightclub music keeps many epicureans away from the excellent restaurant. If you look it up in Zagat, it's billed as a slightly overpriced scene for 30s singles who gladly endure the hit to the wallet for the sake of the "boisterous" feel. The decor is quite striking with very high ceilings and an enormous Buddha on one wall.
Afterward, we walked to Dylan's, a candy store on 60th and 3rd, owned by a child of Ralph Lauren. It's a candy lover's mecca and upstairs is a bar with real booze for parents presumably to load up on booze so that the sugar high sure to result doesn't kill them or drive them insane. Here I am with a Halloween lollipop with a fan (battery operated).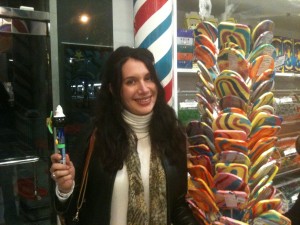 The phallic overtones of this device were not of course lost on my FB friends and the picture got a lot of comments on the subject.
I had been to the legendary Carlyle Hotel (the bar) a few times before but my friend John invited me to go on a Monday, the night Woody Allen plays, in the hopes that I would get to say hello as he exited after the set. That didn't happen but I did have a wonderful time and got a shot at Bobby Short's Steinway (in a second-hand Armani Mom picked up for me at Discovery Shop, her American Cancer Society store I mentioned in the Town and Country blog last week).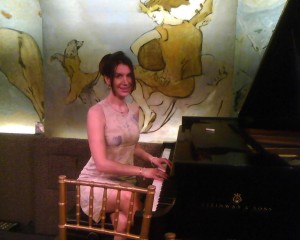 Here I am in the back, a very dark shot as John's iPhone was acting up.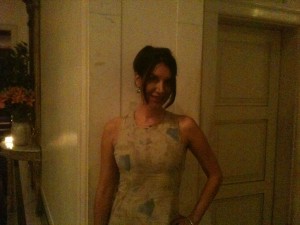 Another highlight was my trip with Amy to the Cloisters, my first since 1989. This is my father's single favorite place in the city and one sorrow about losing his eyesight is that museums tend to be too dark for him to see. The unicorn tapestries he and I both love were not in well-lit rooms and he would have trouble apprehending their majesty were he to suffer through TSA and a cross country flight (even in Virgin first which is all he will fly now). I wrote about my college visitation trip with my parents in 1989 and will not rehash it here but I have a visceral and intense recollection of visiting the Cloisters with my parents and Amy and I had a wonderful time at the museum before our delightful outdoor lunch at New Leaf.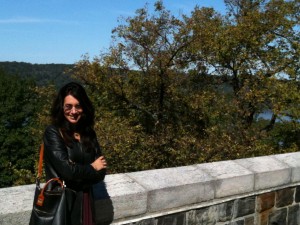 Here I am with my first purse in some 15 years which did not come from a garage sale. Toto, close to Dylan's and next to one of the Starbucks I go a lot as there is no internet in the apartment I stay, was going out of business and I got this glorious bag (which people stop me on the street to comment on or ask about) for 149 down from 459. But I went by Toto in December and it was not in fact closed. Friends had been commenting on my "Le Sac" and I figured I had better buy a grown-up purse.
Here is one of me and Amy in the inner courtyard. The picture prompted a question from a friend in Northern California, "Is Vic becoming a nun?" (People know how hilarious and incongruous such a thing would be as I am quite openly secular but I often say I was a secular Jewish nun the 9 years I didn't date or even go out much.)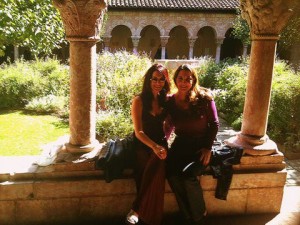 Amy dropped me off and I got the subway to Columbia to meet my college philosophy idol, Carol Rovane. I wrote about that when I returned from the city in mid-October but it precipitated a wholly unexpected reaction: near-torrential tears after our coffee at Artepolis, when I passed Butler Library and wondered what might have been if Yale had only explained to us that Columbia and NYU both subsidized grad student housing. Carol is married to an equally well-known philosopher of mind and personal identity, Akeel Bilgrami, and they have a wonderful daughter in high school. I hadn't seen her in 17 years and she had changed very little.
I also went to my favorite comedy club in the country (not that I have much experience): Gotham. It's on the Lower West Side and Bobby Slayton (extremely politically incorrect and sometimes it borders on offensive even to someone like me quite difficult to offend in a comedic context), along with Jimmy Fallon, were headlining. I had been with my friend (to whom I sometimes refer as my FB husband) to Gotham once before for "graduation night," when about a dozen comedians do five of six minutes. Both were wonderful but I truly did gasp for air with Slayton and the emcee both.  Here we are at a not expensive but excellent restaurant somewhere on 8th Avenue.
We were almost on the stage, just to the side, and afterward I got up and he took this picture which I quite love. I met a woman, very kind, at the Sherry Netherland Christmas party, and she told me I should do standup. I don't think I would be very good but I think I'd be better than most of the PMS female comics, as they're known in the business. How much can you say about tampons and blood and cramps? It gets very old and many mediocre female standups rely on this material almost exclusively.
The dress is Cynthia Steffe, from Archetype Clothing Company in New Haven. I was so singleminded in my year after graduation about grad school applications, I failed to notice that Archetype was downstairs IN the building I lived! It's at 265 College Street and the owner, Odysseus, has great fashion sense.
The wrap dress has leather on the shoulders and elbows and my friend in the OC gave me my first pair of non-ankle boots. It was perfect and I'm sure I'll wear the dress a lot in February/March with the Giulana Teso overcoat–a cashmere blend which new would have run in the 700s or 800s—I bought on ebay used for 50. That was certainly my greatest bargain score of all time. The cut is unusual and it's longer than most overcoats, plus the brown is unique and perfect with this dress. I bought the Cynthia Steffe during my summer trip for half-off, about 90 as I recall.  My first visit to Archetype was in December of 2009. Odysseus implored me to try on the following dress, a size 2P, which zips but hugs me far too much for my comfort level, in the ass. I don't care about numbers but I would love to be able to wear this dress again.
After the show I wanted my friend to take a fun Radio City picture of me with my leg up and I found this little doorway to pose.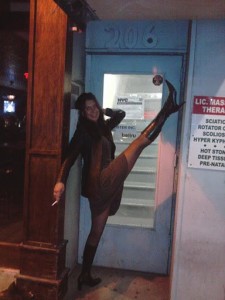 My first or second night back in SB, J and I went on a twilight cruise for Iya Falcone, our ex-City Councilwoman, whom he supported. Sadly, Iya lost by 200 points and I wrote about the cruise on Victorian Chick as her father is George Gaynes, screen star, former opera singer, WWII veteran and linguist. That was the best welcome back to SB possible and here are two pictures from the cruise.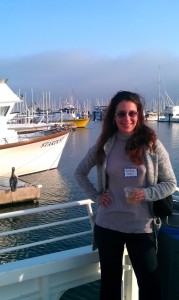 This was taken before we set off and Iya and George greeted the 25 or 30 people invited as a way to thank them for all their hard work in support of her campaign. When I met him, I said, "There is a great actor named George Gaynes!" "I am an actor," he said in his booming and stately voice. "You're THE George Gaynes?" I asked incredulously. He and his daughter were both impressed that I would mention Tootsie and Uncle Vanya on 42nd Street rather than Police Academy, which quite frankly I never saw. George and I talked for nearly two hours and his stories are marvelous. He told me, upon learning I was on the eve of 40, "What's your elixir?" His first language, growing up in Switzerland, was French of course. But he is fluent in German, Italian and one other language besides English and you can hear that powerful European heritage and background in his every utterance.
Here we are with Greg Hon, a Vice-President of the POA (Peace Officers Association).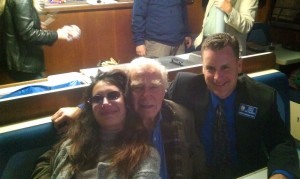 I was in heaven and I ran into George at Renaud's on an eclair run with my boyfriend's son. I got to say hello to his talented wife, also a singer and actress of note, and was just thrilled to have had the opportunity to meet an actor who starred in one of the most formative comedies of my life. I have literally memorized Tootsie and Uncle Vanya was one of the best movies I saw in college.
Just two days after returning to LA, J and I drove to San Francisco to see his sister, an executive chef at Thirsty Bear Brewing Company, soon to be moving to Illinois, where her scientist husband will be teaching at the University of Illionois at Champagn-Urbana. I had never driven to San Francisco and we stopped in Pismo Beach for a great lunch at the Cracked Crab. Next to it was a wine bar with WiFi and the following picture elicited a typically hilarious comment by my friend and editor.  He found it noteworthy that "free WiFi" tops the list of the wine bar's supposed virtues. I'm in the ballet/yoga pants I stole (with permission) from Mom and a fun old DOJ t-shirt I quite like.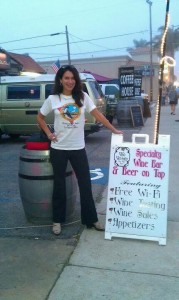 The SF album on FB is public so I will not post all the picture but I did get a really sweet picture of me and J on the Golden Gate bridge.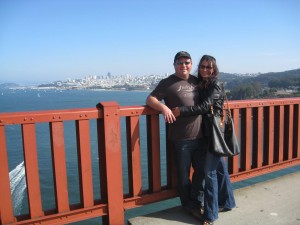 October ended with yet another trip, this one to Seattle for the first wedding of my cousin, 39 also. I have no pictures from the wedding yet, my aunt not having received or sent them out. But my cousin and her husband splurged on a photo booth and I got spectacular and fun shots with both Mom and Dad. I can't post the Mom ones, but here I am with Dad, indulging me by posing in the booth!
The wedding took place at the Bellevue Yacht Club, where my uncle is the chef, and the food, the views, the people were all perfect. It was not a small wedding but it felt intimate.
November: Thanksgiving, John Lithgow Piece for The Weekly Standard
November was a quiet travel month and my car broke down so I was in SB for 15 straight days, unheard of for me.  I was without wheels for almost 10 days and am lucky to be driving at all because the ignition switch was back-ordered and I got one of the two last ones in America.
But I did write the Lithgow piece and the month was very peaceful leading up to Thanksgiving. I have posted those pictures on FB and you can see most of them in the album.
December: Christmas Trip to NYC, Christmas with J and Family, Writing.
I will do my final augmentation of this from LA but I have blogged so much about the holidays and my trip to NYC in December that most of it is on the blog. I have yet to compile my full NYC album for Christmastime but will leave it off here.