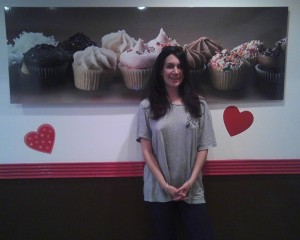 Just back from cupcake run. Mom picked up a couple mini cupcakes after ballet and I just had to have another vanilla /vanilla frosting with sprinkles. Unfortunately, they were cleared out by the time I got there, Superbowl and all.
The Yale event was disappointing. The crowd was very young and my favorite person there was a young gay lawyer in corporate litigation. I was, frankly, stunned at the attire of the women. Forever 21 on girls without Forever 21 bodies and no good jewelry, shoes, bags, hair… I don't know if this was a particularly unattractive group of young Yale grads or if it was just a strange night. One absolutely breathtaking petite Asian woman with dancing eyes, leggings and high heels and a very expensive off-white flowing chiffon/silk top.
My makeup was maybe the best in a year but took no pics as it was very dark. But I got hair done and I'm very pleased with it. At 40 (in two weeks or so) you cannot go 4.5 months between color. Here is me at the dive bar in the schmata, smock for gentiles, and an American Spirit outside Tiburon Tavern, the dive bar next to Trimm Salon and Color Bar.
Here is the after shot.
I was home by 11PM thought I was all dolled up and so close to Improv and other comedy clubs. I just felt tired, having driven from SB and then gotten lost around West Hollywood. The Deco Building, however, was worth all the trouble. It's 5209 Wilshire, a few minutes East of LACMA and the restoration is spectacular and authentic.
Mom got Skinny Margaritas for us, never having tried them, and I do like them (only had them once) but you have to drink so much that it defeats the purpose of "Skinny" in any sense or by any logic.
Today I had my only meal at Kay 'n Dave's, a great not expensive restaurant with three locations: Pacific Palisades, 26th Street and one other but I forget where it is. There are lunch specials for 9 or 10 and it's quite good. A lawyer started it, with no restaurant experience, which is usually a disaster but he hired great people and it's been around some 20 years.  Here are the enchiladas suiza.
I also had a pomegranate salad with roasted veggies and a lovely cheese on top. The pomegranate salad was a bit thin on pomegranates but the house margarita is only 6, so who can complain? Actually margarita one was all ice and margarita two all booze. I didn't complain of course and brought Mom half of the enchiladas and half my salad.

Happy Sunday!