I knew this iTunes thing was too good to be true. I have had the Macbook Pro about three months (used, a great deal on eBay) and it tells me there is a security breach and I cannot purchase an album. I have no iPod or iPad and have no desire for either one. My trusty Discman works fine as long as I have CDs and don't leave them in New York apartment which I did my last trip. Saturday I fly to Newark and I'll be on the Upper East Side Tuesday morning. I'm beyond thrilled to be going back–2 months is the sort of magic interval at which I begin to itch for New York, Luigi, the apartment and my friends–and particularly excited to reunite with my favorite CDs.
I wanted to buy the first two Shawn Colvin CDs as I was trying to get into my late high school and early Yale consciousness to write my blog on the spectacular Westlake Alumni lunch but I will save literary criticism and heavy reminiscence for a night I am not blocking out Dad's Turner Classic Movies no doubt audible in Orange County with intermittent YouTube clips on my Macbook attached to his giant headphones.
I was with Dad today after a nice breakfast at Cafe Vida, my favorite munchkin sighting place in the Palisades, at which today there were sadly none. I gave my friend, Mark, a tour of the Palisades on a stunning and clear early summer day: first the Huntington Palisades (the oldest old money place in PP) and then the Reagan part of town near the Riviera Country Club, up Amalfi or Capri north of Sunset.
People not from LA who follow golf and know about the Riviera think the Palisades is a monolith. This could not be further from the truth. There is no relation whatever between most of the alphabet streets in the Village (Hartzell, Iliff, Fiske, Drummond) and the Huntington, the Riviera or Rustic Canyon (not to mention the tiny streets off Sunset by Will Rogers State Park like Evans Road or Rustic Lane, where Arnold Schwarzenegger, Sam Wanamaker, Hal Holbook and Dixie Carter all lived).  Rustic Canyon, the canyon between Sunset and Brooktree and Entrada Way which turns into 7th Street and runs through the Santa Monica Canyon is as different from Marquez Knolls or the Highlands as 7th and San Vicente (Santa Monica north of Montana–a key real estate designation) is from 20th north of Wilshire.
The Palisades of the 1990s is not the Palisades of 2012. Of course the Palisades of 1974, when my parents bought a modest tract house on a slightly larger-than-average suburban lot of 9000 feet, was a sleepy but nice beach town which bears no resemblance to the Palisades of today with designer boutiques like Elyse Walker (Christian Laboutin, Valentino, Victoria Beckham, Prada etc).
As I told Mark, Elyse Walker with its four storefronts, used to be Colvey's, a men's store where Dad would on occasion buy a sweater which seemed to his friend Mel exorbitant. The clerk would tell Mel the price of a sweater and Dad's old secular Jewish friend would offer up the typical response: "I don't want a dozen! How much for one?" Still, Colvey's was a store for old men and even in this economy, Elyse Walker seems to be doing just fine with the Palisades matrons, who seem to be getting younger and younger.
I have rarely seen so many hot, tight moms of 45 as in the Palisades. And they seem more natural than the prototypical Beverly Hills housewife. Note: Beverly Hills and Bel Air are not the same. What I say here does not apply to Bel Air, though parts of it are so expensive and so old, that it really does seem more, well, old. Holmby Hills is heavenly but it's not very big and really, it's living in Westwood so I haven't discussed the area which includes breathtaking streets like Loring Drive, where one of my best friends from 7th to 12th grade lived. (We stayed in touch through college, though she went to Harvard, and I went to her 1997 wedding at the Bel Air Bay Club to a fellow Harvard Medical School student. We haven't spoken since 1999 when I descended into the abyss.) Like Holmby Hills, Bel Air is almost entirely residential and if you live there, you are not spending all your time in Bel Air. Your geographic center of gravity is split among Westwood, Beverly Hills, and Brentwood (San Vicente).
In my view, you are more likely to find a woman with Ivy or Berkeley/UCLA degrees, undergraduate and professional, pushing a baby carriage in the Palisades or Brentwood than you are in Beverly Hills.  They aren't Botoxed to the hilt and they have often entered the world of big law–O'Melveny and Myers or Skadden Arps, say–and concluded working 75 hours a week wasn't all it was cracked up to be, regardless of their bank account. They may have been doctors and given it up or had high-powered careers in media of some sort if not the entertainment industry proper. The older women with kids applying to college also seem far classier than the flashy, gauche Beverly Hills matrons, who are more likely to have been professionally unaccomplished and/or intellectually undistinguished before marrying (for) money and having children. Your average overheard conversation in a Beverly Hills restaurant is quite dull. Not so in Santa Monica, Brentwood, or the Palisades.
I have left out of this discussion arguably my favorite and most NYC-like part of town–West Hollywood–because with current LA traffic patterns, this is another world with its own logic and reality to which you cannot rationally travel between 3PM and 7:30PM. I also like the Hollywood Hills and Laurel Canyon but that's even further and if you live there, the Westside represents something of a field trip. To a WLA girl, Hollywood is not LA; it's Hollywood. I like the Marina and Venice, which has gotten very trendy with the rise of Abbot Kinney and the continued appeal of Main Street, but the Hank Moody part of town obeys its own logic as well and lies outside of the WLA orbit I am here tracing.
Of course, this is my Palisades/Santa Monica/Brentwood bias. But I don't think I'm wrong. I have been at Cafe Vida countless times in the last few years and heard a woman with a baby or toddler who has just dropped off her elementary schooler at Seven Arrows, the Village School or St. Matthew's, talking to a friend or an older gentleman, telling her story of law or medicine and expressing her relief at having gotten out and having the privilege of staying home with one or two kids. I haven't seen my doctor couple with three kids under three in awhile but both are tremendously impressive. They have twin boys and a male toddler.
The mom, early 40s, intends to go back to work for real and may now do something part-time, but I remember her telling me she went to Oxford for a post-college, pre-med school fellowship during which she studied with someone who knew C.S. Lewis intimately and took his office. She loves Wordsworth and I think she said she studied with Jonathan Wordsworth at one point (the descendant of William who has presided over the massive Cornell Wordsworth, whose textual focus sets them apart from traditional literary critics for whom exegesis is central). I would bet that not one woman on Real Housewives of Beverly Hills other than the Brit knows that C.S. Lewis wrote anything but the Chronicles of Narnia. I would further wager that not one of those nitwits has seen or even read a review of Shadowlands, the Debra Winger and Anthony Hopkins biopic about Lewis. Forget T.S. Eliot or the movie with Willem Dafoe and Miranda Richardson, Tom and Viv.
The Palisades and Montana Avenue commercial areas aren't Manhattan but they are hip, sophisticated and cultured. Old people in Beverly Hills may be cultured; anyone under 60 is in my view suspect. It may be a different kind of money–I always tend to think money from business as such brings with it less intellect and culture than money from other professions or the arts–or it may just be the type of person who wants to live in Beverly Hills.
And I confess I cannot understand choosing any part of Beverly Hills (with the possible exception of Burton Way or Charleville just south of Wilshire) when one could choose Santa Monica north of Montana or the Palisades, or if one wanted to be closer to town, Westwood north or south of Wilshire. As you can see, WLA real estate is all about north and south. North and south of Sunset, San Vicente, Montana, Wilshire, Santa Monica, Olympic or (God forbid, in this world) Pico. Far south of Pico is fine if you're in Venice by the canals or the Marina. The Silver Strand by the breakwater is lovely but it's more like townhouses as you have no lawn or land. It's a nice place for an affluent couple but not in my view for a family. Unless you're in Manhattan or a similarly urban setting, in which case you forsake land and grass, I think a kid benefits from a front or back lawn.
Culver City has become trendy and very nice but it's not close by any means and while technically WLA I suppose, it's not really the WLA people mean if they grew up or lived in the areas I am describing. It's expensive–still far more than most of the Valley, with the exception of the affluent parts of the East Valley (Encino, Toluca Lake, some of Studio City)–but you don't live in Culver City if you can afford any of the areas I have been discussing here. The West Valley–Calabasas, Agoura, and Westlake Village–is affluent but that's way the hell out there. I cannot even consider that Los Angeles and whether you're in a studio apartment or a mansion, Valley weather is Valley weather and it sucks unless you like Palm Springs or Scottsdale in which case you're in business.
You can't really raise kids in Malibu unless you are content to drive a lot (or have a nanny to drive for you). And if either parent works downtown, forget about it: you better like sitting in your BMW or Audi or Lexus hybrid SUV on PCH and listening to music or gabbing on the speaker phone, because it will take you an hour plus to get to and from anywhere you need to be for professional reasons.  It's a more isolated existence but I know and have known people who happily raised families in Malibu. That's a whole other kind of person, usually deeply invested in the outdoors and therefore willing to forsake the convenience of living in town for the magical ocean breeze. Topanga is a kind of picturesque hippie throwback to the '60s, with Inn of the Seventh Ray its culinary and cultural center for many years. Topanga is great, particularly if you ride horses, but you have to live with the threat of brushfires which may burn everything material you hold dear. Some people object to this and it is the reason my sister finally moved after some fifteen years.
As for the Palisades even of my childhood and teen years, the areas north of Sunset where Reagan lived and the Huntington–traditionally considered the Palisades equivalent of the flats of Beverly Hills–were always a different universe from the alphabet streets in the Village or the Highlands. With the steady rise in housing prices since the doubling which occurred between 1974 (when my parents bought) and 1976 and the concomitant trendiness of the Palisades–which became as desirable as Santa Monica north of Montana and Brentwood for industry people–even the Highlands became quite pricey.
But the Highlands are out there, on the way to Malibu, and it has a primitive and remote feel with less impressive architecture than the coveted Huntington, Riviera, or Mandeville Canyon, just on the border of the Palisades and Brentwood. I haven't been to the Highlands in years, but there were a lot of very ugly and boring medium-to-large houses built in the 1970s and 1980s last I was there. O.J. Simpson's famed Rockingham estate is just at the beginning of Brentwood, past Paul Revere Junior High, and the Riviera part of the Palisades is roughly equivalent in price. Also, whenever you want to eat out, you are looking at a real drive into Santa Monica, let alone Westwood or Beverly Hills, unless you are content with the limited selections of the Palisades or a further trek out to Malibu.
As my friend followed my directions around the Palisades, he noted I could not be a beach bum but a very good tour guide. Just a few minutes ago on Facebook, he said I had a story about every fourth house. I didn't realize any of this until I made friends on Facebook who visited my parents' house. My boyfriend in Santa Barbara has only been to my parents' house once in the nearly two years we have known each other. I go to his parents' house weekly, or I did before spending more weekends in LA. His parents have never met my parents though they have spoken on the phone and his parents have generously invited mine for Thanksgiving.
My family does Christmas at my ex-sister-in-law's in Moorpark in Ventura County (yes, we are Christmas tree Jews) and J has been there twice. My parents, J and I had dinner at Tra di Noi in Malibu for my 39th birthday.  My parents don't drive to Santa Barbara to visit. I think my parents have come to SB six times in the sixteen years I have lived there since I moved from New Haven for grad school. Dad thinks Santa Barbara is a place you go to die (meaning retire) and just a "nothing place."  For many years, I fully concurred but I have come to see the virtues of Santa Barbara, at least half the month. (Santa Barbara Athletic Club is a major selling point of SB, as much as I kvetch about it. It's very convenient and I could not find a pool nearly this nice within 20 to 25 minutes of my parents' house.) I could never live there full-time, partly because I have very few friends. I have a boyfriend and that's pretty much it, though I did meet a very nice group of people, straight and gay, at the Pacific Pride Foundation party last week. I may even meet up with one or two of them.
But on the occasions an LA (or OC) friend comes to visit me in the Palisades, I give him or her a little tour and all this trivia (which seems as natural to me as air) about Hollywood and the lawyers among whom I was raised, gushes out of me effortlessly and with great detail. There must be a way to put some of this to (remunerative) use and I hope someday there will be.
In the meantime, I loved the reunion to which I was headed on Saturday morning when I last blogged and will blog about that tomorrow. Here are a few shots of me from the lunch at the much-changed Westlake (now the middle school of Harvard-Westlake).
Here I am in what also used to be the parking lot, in front of the new modern structure which took the place of the much prettier "old building" or "administration building."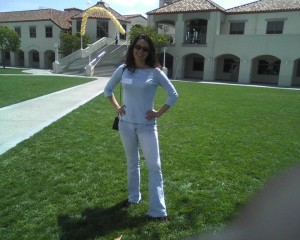 The first time I saw the the rebuilt campus, it looked like a very fancy loony bin (1.5K a day sort of place). I don't know what McLean looks like, the Massachusetts hospital famous to Baby Boomers for James Taylor and "Fire and Rain" and to people of my generation for Susanna Kaysen's Girl Interrupted, which I read the day it came out, long before the Winona Ryder movie for which Angelina Jolie won a much-deserved Oscar for Best Supporting Actress.
Of course it's lovely, but compared to the quaint Spanish architecture which fit in with the Bel Air landscape far better (particularly before some of the ghastly McMansions went in), Harvard-Westlake looks quite institutional. It's nicer than many colleges and the theater, about which I will blog tomorrow, holds 850 with stadium seating, stunning oak or pine on the sides and a sound system for which many an off-Broadway director would commit murder to work in if it were cheap and risk-free.
But it isn't the school I attended, minus the "old" classroom building, which has been renamed Reynolds Hall for Nathan Reynolds, the beloved headmaster since the late 1960s, who was there this weekend. The structure is now mainly devoted to art and teachers' offices. Room 311–the fiefdom of our uber-liberal debate coach King Schofield–has recently been converted into a computer lab, which is so depressing I can hardly articulate it. The Marshall Center for Arts and Athletics is now simply the Marshall Center (for Garry Marshall, whose girls attended Westlake, and who donated the money for what still holds an auditorium far nicer than any public school I have ever seen in my life).  They have not redone the Olympic-sized pool and the courts and lockers are still quite nice by any normal standard. But they now have on what used to be called the "upper lawn," a small putting green and batting cage. The idea of a batting cage at Westlake School for Girls is beyond bizarre.
Over lunch, a woman with whom I reconnected at the Yale event at UCLA for kids ("Tour of the Solar System") confessed to me in a slightly conspiratorial and guilty tone, "I'm not crazy about the architecture." It grows on you. This was my second year at the reunion lunch and the shock was considerably less than last year. But it isn't Westlake School for Girls anymore. It's a strange though impressive institution called Harvard-Westlake.
Happy Monday!
P.S. Thanks to my friend, Mark, for inspiring this blog. He generously drove up from south of LAX to pick me up. Here we are outside the Cottage (CVS in the background, formerly Long's Drugs and before that, Sav-On Drugs).