Cool breezes in Midwestern summers and Victorian Chick in a cowboy hat: what are the odds? Sadly, for my friends suffering all over the country, cool breezes do not seem to be in the forecast. My friend (and fellow film buff who worships The Ref) in Mandeville, Louisiana posted the following picture this morning and it just about sums it up.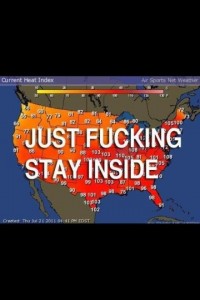 But much to my surprise, perhaps because of my hair, top and glasses, I loved this hat at the Boot Barn in Oxnard. Happily, J retired his old boots and bought a new pair on our way back from LA for the Fourth of July.
J was still consulting the salesgirl about some conditioner for a pair of slightly too tight boots he never wears when I spotted four hats above outfits for women. This should have been a clue that they were girl hats not boy hats but I asked anyway and a gentleman at the cashier chuckled condescendingly: "No man would wear a hat like those unless he were sissified [siss-i-faaaad]."
He might as well have said, "Lady, if you can't tell the difference, there's no point in talkin' to you!" He didn't have a Southern accident, but clearly this was a man who had worked on a farm or a ranch at some point in his life. His voice was gruff and decidedly not professorial or lawyerly. Pushing 60 (albeit gently) with short, thinning white hair and a mustache, his muscular but not overly tall body was younger than his years and quite defined in his navy t-shirt with blue jeans.
I was laying out the following four wooden signs expressing country wisdom for J to photograph and, as I am wont to do, struck up a conversation.
J joked to me in the elevator at the hotel that I seem determined to make up for five years of almost no talking. It was not unusual for me for half of my decade of darkness not to open my mouth for a 24 hour period. I realize this simply defies all belief and my vow of semi-silence. It was not intentional; I just had no one to talk to from about 9/11 to 2006.  Having advanced to candidacy for the doctorate, I was no longer teaching. What few people I might have liked to talk to from graduate school had left, and I didn't talk to my family so other than cashiers at Lazy Acres or a shrink once or twice a week, I just didn't talk.
I did sometimes talk to myself–not in a delusional but a performative way–because I'm not convinced it's normal for anyone to go 24 hours on a regular basis without speaking a word out loud. It was certainly, for me–a child my father said came out of the womb jabbering and never shut up–most unnatural and unhealthy. (And it never would have happened to me in 15 other cities or towns in America where I might have pursued my doctorate.)
J came to pay and I asked him to take a picture of me in the hat. "Are you going to buy it?" he asked. "No, I just want you to take a picture of me in it–and the signs, please."
Of course I wanted one with and without teeth; when I start the V2 electronics I can comfortably refrain from smoking 48 to 72 hours, get Zoom 2 whitening and finally go back to toothy grins. I had a great orthodontist and still have nice smile about which red wine, coffee and cigarettes have made me self-conscious in pictures.
I just don't think people in this neck of the woods see a lot of "city girls" whose boyfriends dutifully shoot photos of them. The pictures were just the beginning, however, of the Boot Barn's introduction (the clash of cultures seeming almost anthropological in scope) to this strange, voluble girl with a patient, seemingly normal and salt of the earth boyfriend replacing his old boots.
People at the desk, and the customer I would not be surprised to learn had served in the military, laughed out loud and J said, "Oh, she does this all the time." "And I reject about half of them, retaining full veto power over each image," I hastened to add. The man said (for the first time), "Well, good luck with that [meaning me]!" I proceeded to explain–brutally honest about myself and everything else in life–that I'm not the neatest person and that I see no problem with a cupboard one or two inches ajar.
The man was horrified by the revelation of ajar cupboards and quite agreed with J (and my father, who, earlier that day, discussed his wife's and sister-in-law's habit of leaving cupboards ajar in the kitchen, requiring him to make multiple passes throughout the day to close them all) that such conduct is simply unacceptable. I may have mentioned that, yes, at any given time, there might be a few wine glasses strewn about the house and even, I am ashamed to admit, a tissue or two in the bed. I hold J at least partly responsible for the tissues; Ollie is his cat and the long hair slays me, so I am constantly blowing my nose (but only in the sexiest way of course).
The man turned to me and said, "You must be one special lady for him to put up with all your bullshit!" I nodded sweetly and assured him that I was. J backed me up and told him that I had many other virtues. And in my own (half) shiksa slob defense, unlike all the women my male friends divorced, I'm not nagging, critical, disapproving or financially demanding. (Thanks to my parents for the latter, a joke about which was captured hilariously by one of those e-cards which circulate widely on Facebook, this one on Father's Day: "Thanks Dad for always supporting me financially so that I can be an independent woman!" It's a joke but profoundly true and wonderful that I don't need a man to pay my bills.)  The man finished paying, and as he opened the door to leave, he called back to J with greater intensity than one would would expect from a total stranger, "Good luck to you again, sir!
Wednesday's party in Bel Air, as I wrote, was the best 4th of July I have ever spent. For years I hated the 4th of July, for the same reason I hated Memorial Day and Labor Day. Holidays in general sucked because I was alone, but they particularly sucked when I lived in Death Gardens, from 1996 to 2006, my horrible, hot, loud apartment on an official truck route–Hope Avenue–spectacularly misnamed "Hope Gardens." I called it Lebanon.
Memorial Day was by far the worse as signified the onset of four straight months of hell, mitigated only by my 8PM swims or twilight weekend beach walks.  No one has a/c in SB, not even mansions worth four or more million dollars, because it's never over 90 and there is little to no humidity. However, that apartment had afternoon sun and a wall of sliding glass in the living room, as well as a large window in the bedroom. The sun baked the apartment and I had to shower multiple times a day because my clothes dripped with sweat. We bought three or four portable a/c units; none of them worked and we finally just flat out gave up.
But this party–both because of the company and the house (and grounds)–was simply spectacular. I loved seeing all of Mom's old lawyer and judge friends and meeting some classmates I'd heard about all my life but never met, while eating the best hot dog of my life in a fantasy garden with a few well-behaved toddlers down a sloping hill where the pool–manned by a lifeguard–were frolicking happily. The picture of me and J didn't turn out very well but it's not the worst one we've ever taken together.
I loved the red, white and blue chips and while some thought the guacamole not sufficiently spicy, I enjoyed it immensely.
Here is one of me in the formal dining room, not a great picture but love the painting.
One more of me in front of the fountain on the steps leading up to the house, not quite Valley of the Damned eyes but close.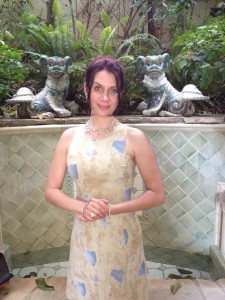 I took J through Bel Air, Holmby Hills (my high school up Beverly Glen, formerly Westlake School for Girls but now gated and secured like a fortress so that you can't just stroll around campus on weekends or after hours), telling him a story nearly ever block about restaurants we frequented or houses of colleagues or classmates from my childhood, adolescence or college years. People tell me I am a good storyteller and possess a seemingly endless store.
If, as I hope, they are right that I am a good raconteur, it's because I grew up around the richest characters imaginable, not just my family but my parents' and friend's friends. I loved growing up in West LA, surrounded by talented, high-powered lawyers and industry figures. Boredom was never a problem. I remember my philosophy idol at Yale telling us in seminar one day that she didn't have an unhappy childhood; she just didn't have much to say to the people around her, not having been born into a professional, artistic or intellectual environment. I am blessed that my childhood was filled with such colorful personalities.
I took J down Olympic, showing him the Water Garden (my old gym when SMAC on Centinela and Olympic closed), the Yahoo Center (where my parents and I often eat at the Daily Grill), and Crossroads High School (a phenomenal but unbelievably ugly school in the middle of an industrial and less expensive part of Santa Monica for which parents happily fork over 37K a year). It's a very special place but when you juxtapose it with Harvard Westlake, 20 or 30 acres in prime Bel Air real estate with the impressive, multi-million dollar buildings), it takes your breath away.
We wound our way through Venice (Abbott Kinney, the trendy area with restaurants and boutiques which used to be marginal and not far from the Bloods and Crips) and Marina del Rey but didn't go by Marquesas Way or Fiji, where our boat was docked on the Main Channel for over three decades. J wanted to see the airplanes land so we did that on the way to the Sheraton Gateway LAX, where we had a relaxing evening in the jacuzzi before retiring around midnight. The next morning, J shot me next to the Marilyn Monroe in the gift shop.
I took him back to the Palisades via Santa Monica/Brentwood and we tried to eat at Mom's favorite new pastry place in the Brentwood Country Mart, Farm Shop. It's stunning and a kind of rustic Dean and Deluca but with waiters and a counter. They stopped serving breakfast at 11AM, however, so I just took him to my breakfast place in the Palisades, Cafe Vida, before stopping at my parents' house for an hour or two. They haven't seen him since Christmas and it is only their fourth meeting because my parents won't come to Santa Barbara. Dad thinks it's a "nothing town" and my experience her has done nothing to revise his view.
Our last stop before the Boot Barn was a shop by Lenny's Deli, where I got the bikini version of my one-piece from Bali (also on sale for 40) for the Cape. I don't love it but I like it and after 5 hours a day of dance in New York City and about 8 pounds off, it will look nice.
Tonight I'm going to Solvang by myself, the corny Dutch village in wine country with all the windmills to see the Restoration comedy by Sheridan to which we owe the term "malapropism": The Rivals. I am too late to swim but will do a full hour of floor work and stretching in my apartment before heading to J's to change. He's not into Restoration Comedy and says he's too tired to accompany me, but I will do some wine tastings alone and I am thrilled to be visiting PCPA Theaterfest for my first time! I haven't seen a movie in months, but this will be my third play in two months.
Happy Friday from Cafe Stella!
(My friend an pen pal in Afghanistan, Major Dalat, cropped the new profile shot and I do not believe he altered it in any way but the lighting–all sun–washes out all the flaws in my face and I will make it my new blog headshot, the former one having been shot in May of 2009.)