As I titled this blog I realized how long it's been since I last saw First Monday in October (1981). I think I actually saw it in the theater with Mom which would have made me 9, not long after we saw my first R-rated movie: Absence of Malice.
The Paul Newman/Sally Field drama remains one of my favorite Sydney Pollack films. It was also memorable because Mom's best friend at the time, a press secretary for Robert F. Kennedy's campaign with him on the stage when he was shot (she led him through the kitchen in fact) lived in the Valley and Mom and I drove all the way from the boat in Marina del Rey to meet her for Mexican food beforehand. Dad dislikes Mexican food so when my parents got together with Carol and her late husband Mike, who worked for my Mom in the DA's office in the late 1960s and early 1970s, we never got tostadas and chips and guacamole! Even at 9, my life was structured around restaurants and the anticipation of food (never cooked by anyone to whom I was related).
Had I not become a severe depressive in graduate school (after a rocky emotional time at Yale in spite of all the cultural and academic wonders of college and my time in New York City on weekends in 1992 and 1993), I think I might very well have put off dating till relatively late in life. Of course going to a girls' school doesn't promote male/female interaction which for some parents, though not mine, is part of the point.
Certainly, as I have written in memoir blogs, psychoanalysis, intense self-scrutiny and regular tears aren't a turn-on and only Meredith Grey in Grey's Anatomy manages to make "dark and twisty" look sexy! Too, I think Meredith, like all the doctors at Seattle Grace, has a higher than average sex drive. Most high-achieving, driven depressives (also pre-med bulimics or anorexics at top tier colleges with heavy extracurricular engagements, I encountered directly at Yale or through high school friends at Harvard or other New England schools) aren't as focused on getting laid as Meredith and her cohort seem to be. My very good friend from high school went to Harvard and roomed with four other girls: every girl was either puking or starving or both and most were pre-med (and her bridesmaids which amused me as I had heard how trying they all were so much of the time).
Apart from the emotional obstacles to dating and sex, I think the movies I saw from 4th grade on–Absence of Malice, Tootsie, Out of Africa, Chapter Two, The Big Chill, St. Elmo's Fire, About Last Night and Body Heat (my first truly sexual film which I rented at Video Depot in 8th grade with a girlfriend after seeing it on video with my brother and his girlfriend)–reinforced my tendency to think boys my own age were, well, boys rather men. Boys did not interest me.
From 14 on, I wanted William Hurt, Kevin Kline or at the very least, Rob Lowe, 26 in the film based on David Mamet's Sexual Perversity in Chicago. Dating a 16-yr-old (or even an 18-yr-old) when I was 16, driving myself everywhere and living alone on weekends was unthinkable. I had a crush on a 27-yr-old college friend of my brother's living in a house on the beach in the Southbay. He drove a Porsche which I gotta say I thought was cool, partly because Nick drove that beat-up Porsche in The Big Chill.
Two decades after that iconic film, the sexy literary Hank Moody (David Duchovny) clings to his beat-up black Porsche in Californication. As I write this, I recall that my dance teacher Tracey Durbin had an intellectual, businessman brother in his early 30s probably when I was 17 and he too drove a Porsche. I met him at her wedding at the Rose Cafe in Venice, the first grownup party to which I drove myself, and I had a bit of a crush on him too. He was bald and muscular but not tall and super smart. I'm not really a car person but I guess there just is something about a guy in a Porsche: all the better if he's charismatic, sarcastic and verbal.
This was the 1980s so I don't need to belabor the point about the kinds of substances ubiquitous in the lives of 27-yr-olds doing well. The only time my mother ever told me I could not go somewhere was in 10th grade after I got my license and Toyota Tercel (a 1988 coupe in a charcoal gray for which I searched far and wide at CA Toyota dealerships). My brother's friend, whom I kissed just before I turned 16 (one of two kisses in all of high school for me), invited me down to his four-bedroom spread with a jacuzzi for dinner which he proposed to cook.
This sounded like a lovely way to spend a Saturday night. I wasn't overly focused on the sex part but I certainly enjoyed kissing him a year earlier and was fine with however it turned out. He said I was free to sleep over in one of his spare bedrooms. Of course there would be wine but my parents were cool about that sort of thing, so it didn't make sense to drive all the way back to the Palisades that night. This young man (well, 27 seems young now but it seemed perfect and mature then!) had been involved (that is to say, professionally involved) with the substance popular in the 1980s and my mother was aware of this after the fact.
The only reason I even ran this by Mom was that I didn't know the difference between Manhattan Beach and Huntington Beach (yes, I'm a WLA snob and at 16 I was even worse) and I thought if I got into an accident through no fault of my own, it would be difficult to explain why I was 2 hours away and went on a mini-vacation without informing them. Ever the pragmatist, I was. Had I bothered to ask someone where Manhattan Beach was, I would likely not have been a virgin till 18.5, the night before the town car came to take me to LAX to fly to college to meet my parents in New York before "Freshperson Conference," a little camping orientation in rural CT.
Also, Mom was one of my best friends and I told her almost everything. I was excited that my brother's friend had called to invite me over. (I think I had actually asked my brother to mention that I was driving now and had a car.)  I probably did tell a girlfriend or two but I wanted my very special friend–Mom–to know as well! It's quite amusing in retrospect.
It was kind of a Gilmore Girls moment, though Lorelai was (like most young mothers who get knocked up as teens) less permissive than my mother when it came to supervision. She was not, during Rory's Yale years, happy about her taking up with Dean again when he was married. She didn't much like Jess and in the famous Christmas episode when Rory falls asleep at Miss Patty's after the dance (still in her gown, having done nothing improper), Lorelai becomes unhinged, though in part it is that this rare lapse of Rory's takes place in front of her difficult mother and makes Lorelai look irresponsible.
Mom's response was just classic Mom: "Oh, Maria," she said with dismay in her voice, "I just think that sounds like a terrible idea." When I explained that he had a jacuzzi and that he was cooking dinner and it was too long a drive after the relaxation of the hot tub with the wine but that "it isn't about sex," she became firmer in her resolve than I not go. Now, had he been 21 and I proposed to have sex with him in enough time to get me hooked up with birth control pills, it would have been fine. But Mom didn't at all like the idea of my losing my virginity to a man 11 years older with a house and a Porsche and a lifestyle which involved white powder, no matter how respectable or affluent a businessman he was.
I was not thrilled but of course I would never have contravened a direct order of Mom's or Dad's. The only rule I circumvented was "no horses," instituted after I was thrown badly at day camp at 9. Rare as it was for Mom to say "no" to anything in the social realm (and I never asked for anything I thought she would think too expensive so she never said no to me about other things because I trained myself–prompted by her cues no doubt–to desire only things that she felt were, in her famous phrase, "within a range"), I knew this was important to her. I asked my brother to tell his friend as I couldn't bear to tell this tall, hot, blonde UCLA grad with a Porsche and a beach house (and a very Big Chill orientation minus the idealism and liberal politics which was to me the ultimate) that my mother said I couldn't go spend the night.
J loves this story though it's funnier if you hear my mother's tone, more properly applied to an unfortunate choice of carpet or paint than the losing of her only daughter's virginity to a guy 11 years her senior with a lifestyle and background not unlike William Hurt's in the film (minus the impotence from Vietnam): "Oh, Maria, I just think that sounds like a terrible idea."
Of course growing up with siblings 11 and 18 years older influenced my preference for adults or what my first and second grade teachers called my "strong adult orientation." I was raised to be a little adult from 4th grade on, never staying with a babysitter at night and always going with my parents to dinner with their friends.  But I think as formative as all this was for my development and personality, my steady diet of quality drama and romantic comedy coupled with large doses of daytime drama (soap operas) inclined me to look to adults as companions and love interests. Were it not for my boyfriend–the first same age boyfriend of my life–and relative peers I have met through him in SB, I would have no close friends or acquaintances younger than 50 (48 would be the youngest). I look at my FB "insights" on occasion and my demographic remains men and women between 45 and 54, with a large contingent of men and women from 54 to 65.
As often happens when I haven't blogged for 8 days, I ended up prefacing my intended blog with a long reflection on something only peripherally related, called to mind as often by a linguistic echo. I have to get up to SB and I want to get one last swim in my parents' unheated pool before my trip to New York as it will likely be too cold in late October when I return to LA after a few days with J in SB following 17 days in the city with a night in South Jersey and a night in New Haven.
Yesterday, my friend Mark came to the house to pick me up for lunch and stayed to watch me swim 30 or so minutes in the pool since Mom was out, Suzy busy, Hilma not here and Dad with Carolyn (our associate trustee/office helper). Aunt Suzy explained the steel kitty was a duck deterrent and that in my AWOL years, ducks had been pooping in the pool. Obviously this would drive anyone nuts but it evidently made my father very unhappy. This is a "guard," so Mark took a picture of me with the closest thing to a kitty this house will ever see due to Dad's severe allergies.
This summer, Suzy bought two rafts and boogie boards for her grandkids who visited from Ellensberg, WA and I love the raft in spite of its awful neon green color. It's a bit awkward to get on but once you do, it's lovely to float in the 76 degree water (it was nearly 80 in August sans heat) and I should have taken advantage of the warm pool more in my time here this summer.
We didn't take pictures of the ceviche at Kay and Dave's but I had forgotten how excellent (and large) it was, particularly for the price. The goat cheese chile relleno was interesting but not something I would order again. Mark is a spectacular cook and he was satisfied by his huevos rancheros. This is not my favorite breakfast dish at Kay and Dave's. The omelet verde is by far the best omelet but all are quite good. The signature dessert is the coconut flan, a special they have often but not yesterday so we didn't have a pre-birthday dessert after lunch.
Dad woke up yesterday dreaming of pancakes and he only really loves the ones at Pacific Dining Car, which he finds offensively expensive. We did Father's Day there in 2011 and that is the last time I was been there though Mom may have taken him for the hamburger steak he adores in my absence. (I am looking forward to the hamburger steak with onions and mushrooms at Cafe Majestic in November, when J and I–and a friend of mine–meet up for the Afghan Whigs concert at the Fillmore on November 8th. We're driving but my friend from LA will certainly fly.)
The diner, as Dad calls it, is an LA institution, the only fine dining open 24 hours. It's on Wilshire just East of 26th Street and enormous, with multiple separate rooms, large booths and equally large spaces between the tables. The PCD is old-school elegance and it hasn't changed very much since I was little. It don't know if it's the oldest restaurant in Los Angeles–established 1921–and we only go on special occasions or when Dad wants to do something special for his foodie daughter. His other two kids like food, of course, but they aren't like me, whose social life revolves around restaurants and bars.
Here we are after breakfast.
We had much mirth on the way to breakfast because I wore my Love Bird dress from Santa Barbara, half-off and just 39. Even at 78, it was more than reasonable but he hadn't seen the "completely stupid and ridiculous" sleeves. I tried to explain that the dress was "hippie Victorian," a phrase upon which he instantly seized: "I'm not sure that Victorian and hippie have anything to do with one another." I said that the lace, the cream, the flowing arms were faintly reminiscent of women in Pre-Raphaelite paintings and that Love Bird is kind of yoga-inspired clothing for artsy or bohemian women without a lot of money, who might otherwise buy Haute Hippie dresses or blouses.
Dad had trouble with Haute Hippie as well and I shifted gears, saying that that the dress was also a bit Mexican and that I wore it to Fiesta (Old Spanish Days, the first week of August in Santa Barbara). I posted quite a few pictures from Fiesta the week I returned from my last New York trip on August 2nd. "So," he said without a beat, "It's Mexican because you wore it to a Mexican event. Would it be Arab because you wore it to an Arab event or Chinese because you wore it to a Chinese event?" A valid point, to be sure. "Yeah," I conceded, "That didn't come out quite right." He insisted we move on from the dress discussion, concluding with the following observation about gender: "The differences between the sexes has resulted in a colossal quantity of horseshit [including cosmetics and fashion]."
Of course, when Mark–whom he has met two or three times more than my boyfriend who rarely comes to LA–arrived he had to say, "Mark, have you seen anything as stupid as these sleeves in your entire life?" We then revisited the dangers of the impractical sleeves. Mark, ever affable with my liberal father–a true testament to Mark who is hard, hard right–suggested burning as a possible risk. "To say nothing of dipping it in syrup or ketchup," my father quickly added.
I will conclude with a picture of the new "premium" sushi combination (with miso and salad) at Noma, a Santa Monica sushi place with excellent and very inexpensive cooked food, I've been going for well over two decades. The bill for my parents and me at dinner (with sake for Dad and me) usually about 85 before the tip; this never fails to produce giddiness in my mother who cannot believe how much food we get for this amount of money. I have eaten at Nobu and the equivalent in Los Angeles but I have never had sushi better than this and the plate pictured below was only 19 dollars. The toro, sweet shrimp, ikura and the few kinds of fish new to me were nothing like a traditional sushi combination with tuna, salmon, yellowtail, mackerel and so on.
My friend took a picture of me with that crustacean but didn't send me the close up of the two propped up which made us both laugh a lot. I am in dance attire with a ponytail because I intended to hang out with her and her precious Labradoodle, Keawe, my LA dog but didn't start for the Valley until too late. I have been dying to try the happy hour at Wilshire, my favorite fine dining on the Westside, where I go for special occasions with my parents as it's about 20% over their price point but she wanted something low-key and casual and I'm thrilled to have found this new dish! (The Wilshire happy hour would have been the same as our dinner, two entrees, an appetizer and three hot sake for 60 before tip but it's more of a scene and I would dress up and wear makeup for Wilshire, whereas yoga or dance attire is fine at Noma.)
My friend is from Newton, MA and has a girlfriend also from Newton, with a Labradoodle the identical color! They just tell people the dogs are from the same litter because it's too time-consuming to explain that they really are not related. Harry is 80 pounds, double Keawe's weight, but in this picture they look roughly equivalent in size. I have to say that while I revere those who do rescue work with dogs and cats, I cannot condemn all breeders and breeding. This is of course a "designer breed" (or "mutt" if you want to call it that) and Keawe is an Australian Labradoodle which is slightly different. I love this dog more and more every time I see him; he's such a flirt and a goofball and he's so soft.
Here are Harry and Keawe resting after much ball on my friend's deck.
I'm in pre-trip mode for NY and will as usual jam color, cut, nails, and dry cleaning into the two days before I leave. I am very sorry to miss PCPA Theaterfest's final production of the season, Three Sisters, but Santa Maria is 80 or so minutes each way and I only have two real nights left before I leave J for 17 days to go East so I don't want to be gone all night for one. Mom bought us a Groupon for Seagrass and I hope we can fit that in before I fly out at an ungodly hour on Saturday morning: 5:39 AM.
Tomorrow I will post the blog about Bainbridge Distillers. The charity event at Glen Annie for Teachers' Fund was spectacular and I will write all about it tomorrow.
Happy Tuesday from LA!
P.S. Here is the score from Susan Pincher/Dressed Ready, a store whose sale rack I won't even look at if the discount is 50%. The 75% lured me in and I am overjoyed with the Castamer espadrilles with ribbons, 60 down from 40, the Matthew Williamson sweater, 145 down from 585 and the Phyllis something or other asymmetrical blouse with spaghetti strap, 75 down from 375. The picture of the shoes do not do them justice I was told by Keawe's mommy and I fully concur.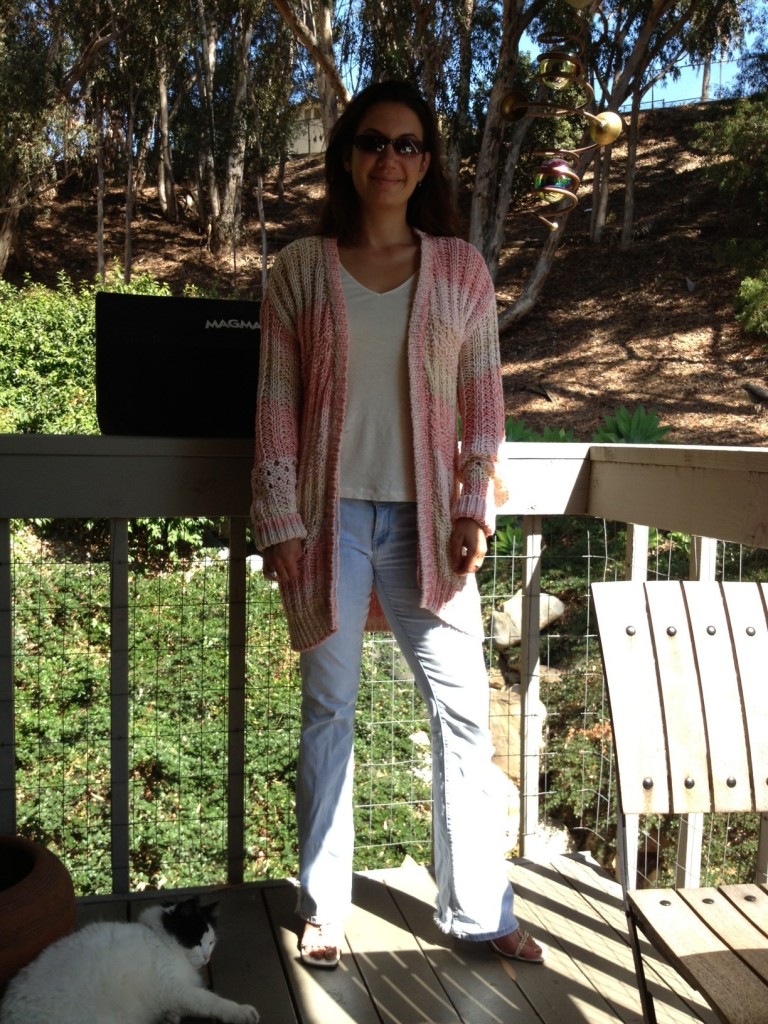 And one last Lady Garfield picture: sheer bliss!