Ed. Note: This is a revised blog from 16 months ago. I was moved to rewrite it in part because my last blog from CA about Gloria Steinem, like the blog about that nitwit feminist writer in Oregon, did surprisingly well (particularly given its length). In the three years I've been writing Victorian Chick, I've probably written a half-dozen blogs which might be considered mild rants about Second Wave feminism, especially as it manifests itself in the academy.
But a long thread about the Duke student outed by piggish fraternity boys as a porn star who regularly flies to LA from North Carolina–a sad state of affairs in my view–made me finally dig this out of the archives.
***
My writing career, such as it is, depends upon technology and social media. But I am only minimally competent: my boyfriend handles my IT needs and if he didn't, I'd pay someone. Self-sufficiency in and of itself does not appeal to me and in my view the only reason to learn how to do some things in life is that you can't afford to hire someone.  Cases in point: cleaning, IT, oil changes, alterations, nails.
That said, I was dazzled by this "app" which converts your own photos into magazine covers or billboards. I still have a flip phone with no internet so I am not even precisely sure what an "app" is. I'm supposed to get my first smart phone soon, but I keep putting it off.
I. Amy Biviano's Posing Scandal
When I woke up this morning, I found the above picture on my wall, along with a very kind private message saying that if I didn't like it, I could delete it. Earlier this week, I dug out the pictures from a professional photo shoot in 2009 in Venice with an Italian named Paolo after which I received my first moving violation in 21 years for "not yielding to a pedestrian."
I would never use my mother's position to get out of a ticket but it was like the Hitler youth–Aryan cop in his 30s with a rookie Asian cop–neither of whom was moved by the blood all over my gray sweats from my period. My benevolent goddess of a mother would have hired a hit man if I pulled the "my mother is Vice President of the Los Angeles Police Commission" card. Better to go to traffic school or eat the 340 bucks for this ridiculous violation than incur her rare wrath. I was trying to get tampons at CVS and the streetlights were non-functional by Centinela.
But I wished to express my solidarity with Amy Biviano, a Yale graduate running for office in Spokane, WA,  whose shoot for Playboy in 1995 has resurfaced and created problems for her.  I even made the following picture from a May 2009 photo shoot in Venice, CA my cover photo on Victorian Chick Facebook.
Ms. Biviano's GOP opponent, to his credit, did not want the story leaked when aides stumbled across this "dirt." Never mind that it's hardly dirty or that she's wearing what looks like a g-string or thong shot from the front, along with a long-sleeved sweater from which her (to me) impressive tits spill out.
I had never heard of Amy Biviano, though the Playboy issue appeared in 1995, my last year at Yale. It speaks to my obliviousness senior year that I never knew about Ivy Playboy at all, much less that a Yale girl had posed for the 1995 "Women of the Ivy League" issue, so what she calls her "5 minutes of fame" both on campus and off, had to have been pretty insignificant. Or at least it bypassed me the semester I took Paul Fry's course on Wordsworth critical reception and wrote my senior seminar essay about Geoffrey Hartman's philosophical and later, psychoanalytically-inclined, readings of Wordsworth from Lyrical Ballads to the Excursion.
Hartman wrote three books about Wordsworth, one of which–Wordsworth's Poetry: 1787-1814– is to Wordsworth criticism what Sir Peter Strawson's Bounds of Sense (1963) is to Kant's Critique of Reason. So between Paul's intense seminar (with insane reading load), John Rogers' Milton lecture, Steven Meyer's 20th-century Experimental Writing (a course I took due to a scheduling conflict but ended up enjoying because of Steven more than the material), a cross-listed, reading-intensive Renaissance Studies course (which I took Credit/D/Fail and for which I read my first George Eliot novel, Romola) and finally, the fascinating but easy American Religious History with the famous religious historian Jon Butler, I barely had time to breathe.
I managed to work out at Downtown Health and Racquet five to six days a week and go to Al-Anon meetings. A girl's gotta eat so I didn't stop going out to dinner or lunch as someone to whom food and restaurants have always been high on the list of priorities, though I drank far less in college than I do now.
But I had very little by way of social life that term. I didn't even come down to New York until the night I graduated. Mom and Dad were staying at Dad's traditional business hotel, the Regency (now referred to just as the Loews on 59th and Park) just two or three blocks from where I now live three months a year. Once I moved into the 10th floor studio in the Taft (with a little view of Long Island Sound from the kitchen) in the fall of 1993, I pretty much stayed in New Haven. Residential college life, among other things, was the reason I spent weekends on the Upper East Side with my father's colleague and friend: I needed peace and quiet, not to mention a bathtub for my chronic pain exacerbated by living always on the fourth floor of Yale dorms without elevators, when my thoughts and feelings were anything but peaceful and quiet.
I was so focused on my reading and writing that term that when Archetype Clothing opened downstairs in the Taft Apartments in 1996 (I lived in New Haven one year after graduation to apply to graduate school), I didn't even notice! I could never at this point in my life overlook a high-end woman's boutique to the left of the front entrance to my apartment building, particularly not where you occasionally get a deal on Ali Ro, Cynthia Steffe, Diane von Furstenberg or some random, fabulous dress. I am selling one such dress–a size 2–on eBay as there is no way it will ever fit me again.
It turns out that a Facebook friend I've met in real life has a signed copy of the Biviano issue. He went to grad school at Yale before Penn Law, graduating two years after I finished college.  Biviano, described in the press as an up-and-coming "darling" of the Democratic party, is now 37. She is a wife, mother and Sunday school teacher at her Presbyterian church. Evidently, her GOP opponent had a bit of a messy divorce, while she's had a stable and apparently quite smooth ride by comparison.
People wonder how the shoot in a mainstream magazine like Playboy, still in a sense the gold standard of nude modeling (no nude model doesn't want to get into Playboy) could have escaped people's notice. But Biviano doesn't look at all like she did at Yale: she wears almost no makeup; she's thinner (losing weight has the unfortunate consequence of making your tits smaller); and her hair seems to have thinned or flattened (or at least she's doing it differently).
Ms. Biviano's public statement moved me, and since I have never been a fan (putting it mildly) of Second Wave feminism–though I'm a great admirer of those who fought so hard for reproductive freedom and workplace equality–I thought it was the perfect opportunity on the one had to reiterate my position on feminist matters and on the other, to express my support for my fellow Yale College graduate a few years behind me.
II. Victorian Chick's PTSD from Feminist Studies
My first and most personal objection to feminism involves the prevalence of feminist and gender studies in the academy, particularly in literary studies. I do not deny there are some great feminist scholars but without exception, all whose work I find compelling are not just feminist critics. Ruth Bernard Yeazell (Swarthmore, Yale Ph.D. 1972) has a wide-ranging traditional and classical education and not once in any reading she offers of Austen (as one of the world's foremost Austen experts) does she neglect the text in the service of an ideological position she mercenarily uses the text to confirm or demonstrate.
Ruth, whom I was privileged to meet at the age of 18 in 1990, when taking half my courses in 12th grade at UCLA through the now-defunct UCLA Honors program, became a valued, encouraging friend to me in my English career, such as it was. Her first book, Language and Knowledge in the Late Novels of Henry James (1979) remains a valuable resource in studies of Henry James' epistemology.
In 12th grade, I wrote on Mansfield Park, a somewhat unpopular and anachronistic novel in Austen's oeuvre and the day of the final, she gave me a signed copy of her piece on the novel for the UC journal, Representations, with a note, "Best wishes for a stimulating intellectual life at Yale and beyond." My first term at Yale, slogging through a paper on Chaucer's "Wife of Bath's Tale," Ruth wrote me a kind, reassuring postcard telling me her professor at Swarthmore was never satisfied with her reading of the "Nun's Priest Tale." Her card arrived at Yale Station just as I'd received my first B ever on a paper (except the C on "Ozymandias" close reading  in 8th grade, but that was Dad's fault as I think I've blogged about elsewhere).
That even the eminent Ruth Yeazell (Director of Graduate Studies at Yale after 20 years at UCLA) had also run into trouble with one of her first college papers cheered me up considerably. I got an A in the course, but it was an intense semester which made clear why Yale gave English majors the booklet, "A Survival Kit for English Majors." Of course the Canterbury Tales was kid's stuff compared to the Faerie Queene, which everyone in English 125 at Yale is warned may precipitate a mini-breakdown. I don't believe in doing anything by halves (at least, I didn't then), so I went with the maxi-breakdown at Christmas of 1990 when home on break.
Margaret Homans' influential Lacanian and feminist study, Bearing the Word, is a multifaceted study of Victorian literature. The long tenured Yale professor also writes  intricate, innovative readings of whatever text she examines.  Anyone who reads my Facebook or blog knows I am not a fan of UCSB's English department, but I studied with three simply brilliant female scholars: Kay Young, a Harvard Ph.D., Elizabeth Heckendorn Cook (to whom I refer frequently as my guardian angel), a Terry Castle Stanford Ph.D. in comp lit (English, French and German), and Julie Carlson, a Chicago Ph.D. well-versed in German Romanticism and Idealism as well as feminism, British romanticism, theater and much else.
Julie's first big Cambridge University Press book was about Coleridge, women and the "theater of nationalism." Her 2007 tome–England's First Family of Writers: Godwin, Wollstonecraft, Shelley–is rigorous, demanding and philosophically ambitious. I hope one day to use Julie's concept of "life writing" and what it means to be "bookish" or "literary" to explain a fundamental difference I see between the East and West Coast (and yes, to me the West Coast is Southern and Northern California but I do know there are other states in the West).
While things went south with Julie, who was my dissertation chair, and Kay and I had our differences, these three women all represent what I take to be the epitome of scholarship as a whole and literary criticism in particular. Elizabeth doesn't (or didn't, when I was still keeping up) write directly about philosophy the way Kay does, whose dissertation was chaired both by a philosopher, Stanley Cavell, whom she regards as a second father, and Phil Fisher, one of the foremost authors on narrative and narrative theory in his generation at Harvard. But Elizabeth, who goes simply by "E," is endlessly curious about a vast range of subjects and disciplines and all three women embody the most rigorous standards of traditional literary studies.
Elizabeth and Julie would be classed, among other things, as "gender studies" critics (particularly Elizabeth whose first book explored gender in epistolary fiction), but they take up gender in complex, philosophical ways and do not limit their analyses of their periods or their founding texts to that topic. to. For my Masters, I took Elizabeth's "Women Writers of the 18th Century" and early on, feminist scholarship was in part about making both canonical and non-canonical female writers respectable objects of study. I wrote on Katherine Philips, also known as the "Matchless Orinda," a poet deeply and consciously invested in the metaphysical poetry of John Donne.
Oddly (since I became a Victorianist), the only paper I ever delivered at a professional conference was about Katherine Philip's poetry of friendship as it was informed by her Neoplatonism. In 1998, I attended the WSECS conference in Flagstaff, Arizona. WSECS is the Western division of the American Society on the Eighteenth Century, the most important organization for Restoration and 18th-century literary critics. I loved every single second of my time there.
It is always bittersweet to remember an experience which remains one of the only reason I am even a bit sorry I didn't finish my dissertation on Eliot and become a professor who attended such conferences regularly. I will never forget the email by a full professor a week later: "It was great to hear your talk. It's wonderful to hear young scholars pushing the boundaries of we know about the 18th C. Best of luck."
My elephant brain remembers every detail of the weekend, from the green Mazda Protege I rented, to the low-calorie Oreo milkshake I had at Chili's (my first time ever at the chain), to the jacuzzi at the Radisson, to the water glasses I bought and kept in my Death Gardens bathroom in Santa Barbara to provide hope in the misery of graduate school.
Of course, post-Eve Sedgwick, Duke's famous literary critic and queer theorist (now deceased), author of the famous Between Men: English Literature and Male Homosocial Desire, it's impossible to discuss an intense and passionate platonic friendship between members of the same gender without reading some gay or lesbian subtext into the poem, novel, or story. Never mind that such readings impose a completely anachronistic perspective on the text at hand. In the current climate, one must find the "aha!" moment in a text. All the better if it is two women or men secretly having sex or at least desperately fantasizing about it.
Elizabeth and I had many talks in her office about the "hermeneutics of suspicion" and in a different but related vein, I spoke at length to Kay in her large, pretty Westlake Village home about the disappearance from the academy of the category of "the human." Her husband, Jeff Saver, is a neurosurgeon and professor at UCLA, so they lived closer to his UCLA and I did my independent study on Daniel Deronda on Thursday nights. One night her toddler had puked all over their large kitchen and these two Harvard Ph.D.s were cleaning up toddler puke. Kay smiled when she answered the door and informed me of the situation: "Motherhood. It's oh so glam!"
It's slightly painful to remember those rare, happy intellectual times, but I was blessed to study so intimately with a scholar like Kay. And I would be miserable in today's academy unless I'd been hired at a place like Yale (slim to none odds on that one I fear). She told me in one of our first meetings in her UCSB office that the sort of work I was interested in pursuing–rhetorical or philosophical criticism–was not "trendy" and that I would not find many kindred spirits in or out of the department.
The big questions of language, meaning, truth, selfhood (not particularized or defined in terms of race, class and gender/sexuality) and literariness were no longer, she explained, "hot" in literary studies. Prosody was downright prosaic and poetry in general had even by the mid-1990s begun to disappear from syllabi and curricula. Nearly 20 years later, I shudder to think what a 3-5 page close reading of a canonical sonnet or lyric poem written by an English major reading a lot of gender, race, class nonsense would look like.
Elizabeth was not in fact my first great professor of the 18th-century. I studied with Jayne Lewis when she was still junior faculty at UCLA during a year off from Yale in 1992. We read  poets like Charlotte Young , who were not at that point traditional fare for courses on Restoration or 18th-century literature. Ruth wrote me from New Haven, where she and her Victorianist husband Alexander (Sandy) Welsh had moved after two decades at UCLA, that I should absolutely take Jayne's course: "She knows more about the 18th Century than anyone of her tender years should." I had also studied with David Rodes, already nearing retirement in 1989 when I took English 10B (the second of the required historical surveys for UCLA English majors). He preferred Neoclassical to Romantic literature so it was more an 18th than early 19th C course.
All this to say, not all feminist critics are bad, boring or one-dimensional. I am less enthralled with feminist theory, even of the Luce Irigaray or Helene Cixous variety. Of course once I got to the book on cyborgs by the grande dame of UC Santa Cruz's History of Consciousness program, Donna Haraway, I fully related to Richard Cory, the subject of Edward Arlington Robinson's chilling lyric, who goes home and puts a bullet in his head.
My father read me the poem on the boat when I was about ten, surely the winner for the "oddest choice of a poem for a father to read a daughter" contest. This was closely followed by T.S. Eliot's "Love Song of J. Alfred Prufrock," at whose mermaid line my father cried despairingly: I was at once moved and terrified by the depths of his emotion.
After I finished my M.A. field exams (one of which was General Theory), I decided that if I never heard the word patriarchy again for the rest of my life it would be too soon. Later, I came across Andrea Dworkin, whose work I never had to read in a course. Thank God. Then again, I assiduously avoided Women's Studies, even in high school, where Joanie Parker, the former CA president of NOW and also of CARAL, the California Abortion Rights Action League, taught both American literature and Women's Studies (which she founded at my high school). I'm all for CARAL and NARAL but Women's Studies for Westlake seniors was a bit too cultish for me and I preferred the rigor of debate, which also counted as a history elective.
Dworkin's equation of intercourse not just with patriarchy but rape would have precipitated a reaction in me, even as a virgin, which would not have been popular in a Woman's Studies course. As one who both studied and underwent psychoanalysis, I would have blurted out that she was a train wreck who never got over the move to Cherry Hill, New Jersey or her sexual abuse. And that I was so sorry for her deeply fucked up life, but that it wasn't MY fault and why the hell was I being subjected to this nonsense?
I can't stand the Naomi Wolf brand of feminist (never mind that I know countless people close to Harold Bloom who weighs roughly what Chris Christie does and that he couldn't chase a matzoh ball around an office, much less an able bodied Yale undergraduate). Her Beauty Myth was bad enough, but the new book about the history of the vagina–viciously and deliciously reviewed by Toni Bentley on the front page of the New York Times book review a couple months ago–makes me want to stage a pussy riot of my own while holding a "Go Bulimia" sign.
I'm just kidding about the bulimia. Twenty-percent of freshman girls were either puking,  starving, or both in the early 1990s. I do realize these are serious illnesses, the high-achiever equivalent of alcoholism and drug addiction (which is why at Harvard, my high school friend roomed with a bunch of pre-med runners who also had eating disorders).
Of course, outside the academy, I believe strongly in choice and freedom from real sexual harassment in the workplace. In principle, I believe in equal pay but know enough to know that the economics behind this are more complex than those untrained in economics realize.
Equal pay in Biglaw is a special case. While it's not something lawyers like to discuss in public, the process by which senior associates are promoted to junior partner in corporate law is a bit thorny and in NYC, where dinner meetings are part of doing business, a mother with a child and husband may beg out of those kinds of cases which are the rainmaking cases for the firm.
But the senior partners in a given section can't just promote workaholic, single male associates so some women will be promoted to junior partner though some perceive them as having pulled a lesser load by virtue of having an actual life (e.g a family). With Biglaw in the toilet–Dewey Ballantine's bankruptcy was a symbolic and rude awakening but things have been tough since 2008–the "soft promotion" may have gone by the wayside of nice bonuses and 65 hour weeks.
But if you talk to the men now 55 and up who put in 75 hours a week routinely, you will hear a story the press never reports. Not even the legal press like the Los Angeles Daily Journal or the New York Law Journal. If you dare to say anything about soft promotions or unfair concessions to women in Biglaw, you will be regarded as a sexist pig–even if you're right.
As for sexual harassment, having to go down on your boss to keep your job represents a real violation; having to endure a male colleague's harmless remarks about your great rack and/or ass does not. Wolf claims that Harold touched her jeans-clad thigh. If you're a Yale English major and you can't handle that situation, I can't help you and you're destined to have a tough go in this world.
But women who moan about "objectification," as if this subject had not been exhausted in the 1970s when bras and shaving your legs were regarded as evil patriarchal plots–whether they're aging Baby Boomers pissed off about their lives (and/or looks) or relative youngsters in their 30s–irritates me to no end. The few non-psychos I have had to block on Facebook for political or ideological reasons have often been these kind of humorless, sanctimonious, man-haters. (I must say the annoying, abrasive conservatives often behave more civilly than sanctimonious liberals and unfriending is sufficient. Not so with some far lefties.)
As I see it, a major problem with the post-Steinem generation of feminists is the failure to acknowledge that one of the greatest powers possessed by women, from Eve and Helen of Troy onward, is sex appeal. A pretty, sexy girl (and certainly a beautiful one) has an easier, smoother ride in life than a not pretty or sexy girl (and of course sex appeal is distinct from, though usually related to, pure attractiveness).
A secondary problem is that academic (and even popular) feminists tend not to see that sexuality and beauty can be playful and fun. As Mark Sloan (Eric Dane) in Grey's Anatomy said to Derek (Patrick Dempsey) in the elevator of Cristina (Sandra Oh), "She un-fun."  They can't enjoy the locker room humor of working-class FDNY firefighters Denis Leary so brilliantly depicted in Rescue Me. I have often been told that I am a "man's woman": this is because I don't take this stuff too seriously and if, as I hear often, I have amazingly perky tits for a woman of 40, I'm delighted rather than offended.
But in the crusade to be respected for their minds, some feminists underrated the power of a beautiful face, a tight ass, a pronounced rib cage and a great rack. And this was a mistake. Women should avail themselves of all the tools at their disposal. The perennial stupidity of men whose actions are guided (or determined entirely) by their sexual appetites rather than rational faculties– politics and sports offer plentiful examples–should persuade all women not to relinquish one of their main sources of power.
It is, incidentally, a lot cheaper to join a gym–even a SCLA or Equinox at 185 a month–than to get an advanced or professional degree. And if you're sinking 100K to 200K into professional school, it seems rational to drop some cash on a high-end gym and be better looking than your female competitors. I mean, duh. And it will serve you in the marriage market if that's you're thing and you want to quit work and raise babies at home in style and with help, surely a better way to raise babies than without help.
Here is Biviano on posing nude:
"So do I believe that my future might be affected by posing for Playboy? Yes, I believe that it will. But, it has made a positive contribution to my life — I gained a sense of self-reliance which I lacked before the posing scandal. Yes, it was fun to have my five minutes of fame both on the Yale campus and on the national scene. It is a nice little boost to the ego to know that some people consider me to be attractive enough to be in Playboy.
But of course I know now, and I knew when I first chose to pose, that these benefits will fade, and they will only be remembered by a few people searching through dusty archives. However, posing for Playboy has permanently changed me by making me think a little differently about myself–I'm now more of a risk-taker, fear social approval less, and know a bit more about what I'm capable of. I may never do something this controversial again, but it's nice to know that I could and did."
Leaving aside the ridiculousness of objections to such a tame shot–which is after all topless not nude–Biviano is quite right (and courageous) to note that it "is a nice little boost to the ego to know that some people consider [her] attractive enough to be in Playboy." This is what, in my view, a normal girl would feel at the flattering and even prestigious offer to pose for Playboy.
My illustrious mother was asked to pose for Playboy. A lot of people say their mothers are beautiful: my mother was professionally beautiful and an attractive woman in great shape even at 74.
Superior Court judge Charles Eskin told me every man on the UCLA campus was in love with the beautiful, sweet, smart Andrea the day I met him at a Pacific Pride party at Santa Barbara's Canary Hotel.
Thank God she didn't do it or she would never have become the third female US Attorney in American history, the beginning of a career of such firsts.
In fact, when Mom became the first female District Attorney in Los Angeles (that's the number three position in LA, not entry level as in New York), one paper's headline was "D.A. Picks Model and Actress for High Post." I have to find the article when back in LA as it's quite hilarious. Yes, Mom dreamed of acting for a living and she performed quite a bit. But to suggest that John Van de Kamp picked an actress, rather than a lawyer in the AG's office who had been one of a dozen women out of 350 or so men in the UCLA Law Class of 1965 is at least bizarre. By the time she applied to UCLA Law, her acting aspirations were pretty much dead and she knew her law was her calling.
I don't deny that I considered myself attractive before I joined Facebook, but not until  Facebook did it really become what William James described as "felt knowledge," a topic Kay Young discusses frequently in her particular (and Romantic) attempts to bridge thought and feeling in a Schillerian mode.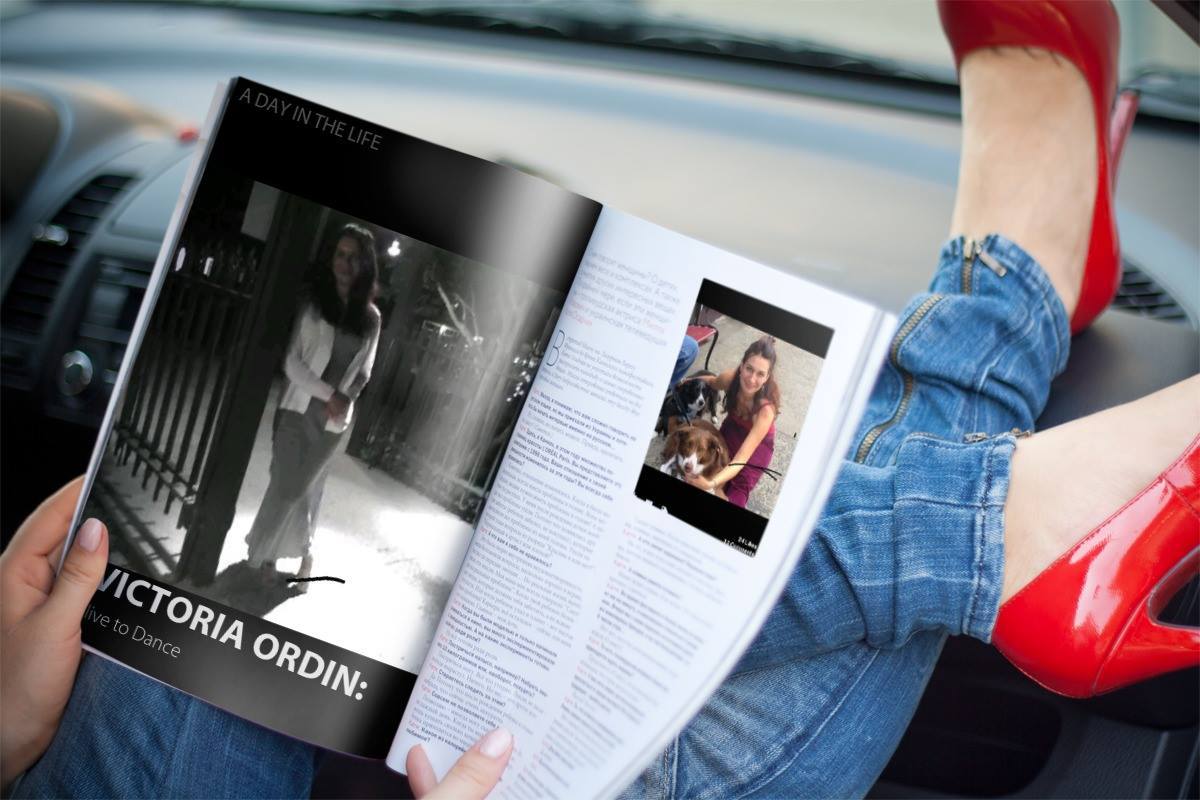 Thus, when I awoke to the fun photos my Canadian FB friend sent me–me on the cover of Vogue and on three Broadway billboards–I won't deny that I got a kick out of it. And I think this is normal: "I Feel Pretty" was one of the most popular songs from Westside Story because most girls want to be and feel pretty. There's nothing wrong with admitting this.
I have always been fairly brazen about my sexuality; I have great genes and I've worked hard on my body since 8th grade. This is of course why men of all political affiliations, educational/professional backgrounds, and geographical locations find me non-threatening and fun. They aren't afraid of offending me and thus, barring the stray wacko or loon, my Facebook wall is a lot of fun. Most pretty girls consider their looks part of the package of personal identity. I have met literally not one woman in my life who was objectively pretty who didn't get some rush or mileage from knowledge of her attractiveness, whether or not she consciously and profitably mobilized it.
For Ms. Biviano, posing wasn't about the money–a shockingly low sum; it was partly a minor college "rebellion" and more fundamentally, about learning to "fear social approval less." Isn't that what we should want in a politician? Wasn't it Chris Christie who made the wildly popular RNC speech about choosing respect over love? Aren't conservatives who go on about personal accountability always advocating doing the right over the popular?
And yet this exercise, which strengthened Ms. Biviano's willingness to take risks, has been blown out of proportion so much that it is now a campaign issue in the race between the GOP incumbent for the 4th district and this by all accounts dedicated, bright woman pushing 40.
The GOP candidate has said he and his wife will "pray" for Ms. Biviano, surely a great comfort to her, couched in the patronizing tones of a believer praying for the sins of a heathen condemned to hell. This is all the more amusing as Ms. Biviano is not just a churchgoing Christian but an involved member of her church who teaches Sunday school. (Oh, she's a soccer mom too and one would think in our soccer-crazy age–which I still do not grasp as my father regards soccer as deadly dull and not a "real" sport like baseball, basketball and football–this would get her a few points for wholesomeness if not conformism.)
Ed Note: Biviano was running in a red district and lost. It's not clear how badly the posing scandal harmed her.
III. The Duke Porn Star's Bad Decision

The Duke student has made a grave and life-altering error. Of this I have no doubt. But it has nothing to do with morality in general. And I am always shocked by the ignorance I read on Facebook when it comes to the sex industry. Nude modeling is a spectrum and Playboy is on the soft core side of what people in the business do not even consider to be pornography. Porn, as I noted my last blog, is sex on camera.
Baring your tits is one thing; doing anal and double penetration on camera is quite another. Of course, the latter pays better than the former and the Duke girl is trying to graduate from Duke without crushing debt. I have no objection in principle to her porn career. The reason I found the story so deeply sad is that you cannot ever erase that footage in the age of the internet. Decades ago, a videotape circulated (even for money) among a small group might go away or get lost.
Shooting porn (and I assume she's working at Vivid or one of the higher end studios not for some C-level sleazy director of the sort featured in Californication, in which scenes were shot in a van), will haunt her forever. I also wish she'd had a big sister or aunt who knew about the sex industry and could have explained why, before the fact, she would be making such a terrible mistake. She may feel empowered. And she's bisexual so part of this surely has to do with having her sexuality accepted and validated in ways it isn't, apparently, at Duke. And there is nothing "wrong" in a moral sense about her deriving both pleasure and confidence from her life and work in porn. Feminism is supposed to be about choice and she embodies the agency the Women's Movement claimed to support.
But she will always be regarded as the "porn girl from Duke." On balance, I think that's a better thing than "Duke sociology and Women's Studies major," but that's just me. Decent people won't hold it against her, but there are fewer decent people in the world than assholes. Many women will envy and resent her; many men will never respect her. She could acquit herself well in law school, pass the bar, and function successfully either in private practice or the public sector. But she'll always be the girl who shot double penetration scenes while a student at Duke.
Another source of my sadness has nothing to do with sex or porn. Her story underscores one of America's biggest problems: the astronomical cost of higher education. As a Yale girl who loved and loves Yale deeply, I feel blessed to have been able to attend a school of that size, with that history and tradition (not to mention sheer beauty). But even UCLA rings in at 30K a year without aid. Going to a flagship public school like University of Michigan or UC Berkeley for a non-resident approaches 40K or above.
We no longer have a system of public higher education outside the community college system. And some junior colleges are far better than four-year schools. Leaving aside the special case of CUNY, CA has a fine system which includes CCSF, SBCC, SMC and a dozen or so others. Mom worked her way through UCLA and UCLA Law (average 25 hours a week) and  graduated debt free from both (1962, 1965). That's no longer possible.
I'd rather clean toilets for a living than double major in Women's Studies and sociology. Either one would be bad enough. Both would amount to torture which would for me be akin to water boarding. In fact, I'd rather do porn (at Vivid or a good studio: cheesy, cheap, or fetish porn is disgusting).
I hope the girl can come back from this. But it will be a long, hard road. Since she's majoring in dopey things anyway (which doesn't, by the way, mean she isn't taking English, philosophy, foreign languages or other more valuable subjects in the humanities), she would have done better to go to solid state school. She could have gone to UNC Chapel Hill for a lot lest (it remains one of the best deals in higher education) and avoided the need to take it up the ass on camera.
Happy Sunday from New York!