Ed. Note: I've been back in CA since Tuesday night but spending time with J and resting after a great but physically rough trip (ankle, short cold, abdominal pain). I will blog tomorrow on the wonderful art opening at Lola, my designer resale in SB, featuring the art of Bettina Norton (Bettina Vanessa Art ).
I'm heading down to LA after June gloom swim at the club and breakfast with J to babysit Dad. Tonight is Mom's annual Mexican-American Bar Foundation gala at the Biltmore.  I've blogged about this tremendous organization before, but you can see the work it does to raise money (1.3 million since its founding) for grants to high-achieving, low income Latino students here: MABF website.
***
I started to write this from the Lexington Le Pain Quotidien, where I scored a corner table in the tiny covered back patio but my computer conked out, so I came back to the apartment. On the strength of two meals at my least favorite LPQ in the city, I added a star to my Yelp review. It's hard to believe this is my last weekend in the city for this first and shorter (16 days) trip of the summer.
Time flies in New York, even when you're laid up for two days with a mercifully fast cold, a temperamental ankle and then pre-menopausal mishigas (a nice word for what Ving Rhames in Pulp Fiction called "agonizing fucking pain" in the great "go medieval on your ass" scene in the redneck bike store).
I'm sorry to have missed dance due to a busy lunch schedule but next trip is the intensive and I will have five hours a day for a week and then classes in the subsequent weeks minus a few days at the Cape and in New Jersey so I'm not too crushed. The weather has been schizophrenic: Saturday night it was 40 and very windy and the last couple days it's been in the low 90s.
It rained quite a bit last week and while waiting for the bus on 72nd after my massage with Shirley at the Chinese hole-in-the-wall I (and other Yelpers) love, I heard a disturbing, loud beeping noise. It turns out this was my iPhone warning of flash floods. Of course I didn't have an umbrella so the six block walk from Madison and 65th in a cotton maxi-dress left me so drenched that I had to wring out my clothes. Needless to say a sopping wet woman holding her skirt to avoid puddles in open-toed comfort wedges drew stares from workmen and shoppers alike. What is there to do but smile and keep walking?
Dance was fun on Wednesday but during the combination, my left ankle started to hurt. This is the one I sprained severely along with tearing a tendon and ligament when I fell down an escalator Easter week 2011 at the American Philosophical Association conference in San Diego (resulting in a 15 pound weight gain which only partially receded in the intervening years). For six weeks of driving Dad around LA to banks, watch repair, CVS and Bed, Bath and Beyond, he had to tell everyone what an idiot I was for wearing "12 inch goddamn heels." Dad was bad at math (no Ordin except my half-brother liked it) but even for him this is curious. He says five plus five is 10 and these might have been six inches, hence 12 inches total.
So on Thursday I visited Shirley on 72nd off Amsterdam in one of the many second story holes in the wall lining the block and got very stuffy halfway through the massage. After early two decades (1989-1997) of fairly regular bodywork, I was all too familiar with the post-massage stuffy nose due to toxin release, but I also had a mild sore throat. Of course it couldn't have to do with sleeping no more than five hours for five straight days, right?  I virtuously guzzled liquids, chicken soup and that putrid Emercen-C Immune Booster I bought a few trips ago.
This cherry Emercen-C has Aspartame. I think Aspartame is good and am grateful to Donald Rumsfeld and company for approving it. In fact, I wrote my one and only article for the Westlake Pi, our award-winning high school paper, on its approval. Our advisor was Susan Turner-Jones, an English teacher who influenced me profoundly and about whom I blogged long ago ( Miss Turner-Jones Tribute ). TJ, as girls at the paper called her, was a severe taskmaster and to excel at either, you had to choose between the all-consuming debate team and the Pi. I chose debate.
But I agreed to write one piece, as she was my teacher in 9th grade for 10th grade English (I skipped English 7 which apparently no one had ever done). While my current position on Nutrasweet derives from anecdotal evidence from Westlake and Yale (where 20% or so of girls were puking at least intermittently and thus chugging it in large quantities as meal substitutes), I don't buy into the Aspartame paranoia. I drank one to two liters of diet Coke a day for a decade and so did a lot of Westlake girls, not including my diabetic friend who favored the repellent Tab.  If it were so evil, we'd all be dead or giving birth to children with three heads and 16 fingers or toes.
I agree that heavy people, particularly men, tend to lose weight more successfully when they cut out diet soda. But normal weight people can drink diet soda in moderation without any side effects. Puking kills the enamel on your teeth and any self-respecting, honest ex-bulimic can tell you about her 10-20K of dental work in her late 20s or early 30s. As of my last cleaning (admittedly some years ago but that's another story), my teeth were perfect and I quit buying diet Coke after a spa weekend at the Ojai Oaks my first year of graduate school in 1997. I will have one if not drinking sake with sushi or margaritas with Mexican food, but I probably have no more than three a month. At my parents' house I drink diet 7-Up because that's all they buy and if Hilma has not bought wine for me, I will put Mom's Tangueray in a diet 7-Up in pinch.
But I am not impressed with rats or mice–who likes them anyway?–dying in a lab. If you shove an eyeliner pencil into a poor little bunny's eye and it gets cancer, what do you expect? Likewise, you pump a mouse with a gallon of saccharine water and it gets cancer, what did you think would happen?  Happily, rest, Emercen-C and no wine or whiskey for two days had me up and running by Saturday, when I took the subway up to 96th and walked to Sarabeth's in the rain.
I loved my lemon ricotta pancakes, about which I dream in LA because the only ones I know of in WLA at Mayberry in Pacific Palisades aren't even good regular pancakes, and the only thing lemon about them is the zest on top. But I'm a fan of Mayberry go there regularly with Dad for his favorite bacon and non-Pacific Dining Car pancakes. I usually order the scramble with jalapeno, cheese, onions and tomatoes with black beans and corn tortillas on the side. It's just 9 dollars and feels like a cafe on Cape Cod to me.
After breakfast, I stopped in at the Corner Bookstore (Corner Bookstore on Madison and 93rd) and bought two books: Jane Gardam's Last Friends, the last in the trilogy beginning with her successful and well-reviewed Old Filth. I also bought a more serious work of intellectual history, which of course I've not yet read but found fascinating at first glance.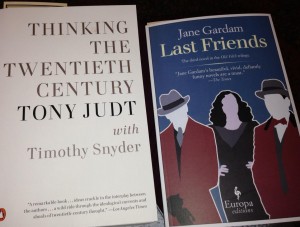 I spent the rest of the day reading Gardam and resting for the Laura Benanti show at 54 Below. Saturday night was freezing and the luminous, talented, standup comedy funny Benanti had a running gag about how nice it was for us all to come out after the holidays (when New Yorkers, more than most, are completely exhausted) on a cold January night.
I have spent the last week listening to Benanti on YouTube and find her beauty, inside and out, simply staggering. She had a tough short marriage to the guy from the Spin Doctors before finding her soul mate. If a happier couple in Hollywood or on Broadway exists, I can't think of one. Many know Steven Pasquale as "dumb Sean" on Rescue Me, but his background is in musical theater and they met on Secret Garden. I wanted the night to last forever and would happily watch her perform once or twice a week. I particularly enjoyed her "Mr Tanner," which I think was better at 54 Below Saturday than the performance from April you can see on YouTube: Laura Benanti singing \"Mr Tanner\" at 54 Below in April. She also did songs from Nine and her Tony-nominated lead role in Women on the Verge of a Nervous Breakdown.
Benanti grew up in New Jersey but lived briefly in a small apartment spitting distance from 54 Below. She joked that she would refrain from spitting as 54 Below is a "classy joint" but recounted how she tortured her neighbors in the stairwell with songs from Annie. And now, she smiled impishly, "They pay through the nose to see me." I didn't know one of her idols is Joni Mitchell, which is unusual even for a woman of 41 like me (at least one who didn't grow up with a singer-songwriter sister 18 years older who worshiped Joni then and now). But Benanti is only 33!
The four-time Tony nominee (she won for Gypsy) does not dislike rock music (she married one of the Spin Doctors after all). And she says she loves belting out a song as much as the next singer. But without being pretentious or ponderous about it, one can see that she considers herself a guardian of a dying art. I found it shocking that even cultured friends across America had no idea who she is. Benanti is a star in NYC but said in an interview promoting her short-lived sitcom–I'm not as up on TV as I was most of my life but I hadn't heard of it, which may explain why the network pulled it after three episodes–she is rarely recognized. When she is, Benanti says it's by a "rare breed of fan," which I thought was both true and characteristically insightful.
The sense of mission Benanti clearly feels with respect to the musical theater and cabaret tradition resonates with me as one who travels to NYC in large part to study musical theater or classical jazz. Outside NYC, lyrical or alternately, Broadway jazz, is dying a fast death in America. I have discussed this at length with my friend and sometime teacher, Joey Doucette, a working dancer and international choreographer of over 30 years.
In LA, as in most of the country, hip hop has supplanted jazz and even good dancers have no real understanding or respect for the tradition of Luigi, Bob Fosse, Gus Giordano and a handful of others who trained generations of dancers. I felt certain I would be able to find jazz classes during the day in Chicago, either at Hubbard Street or Giordano. In seven days, I could not find a single class on a weekday before 6:30. And that's Chicago, one of the jazz music capitals of America.
My teacher at Hama Dance Center in Studio City, Risa, is magical but she only teaches two classes a week. Hama still teaches three or four classes a week, but his classes tend to be more Jazz II/III than a true intermediate from which an advanced beginner can profit. Eric Ellis at Millenium teaches turns and lyrical jazz with a strong dose of funk (he's a protege of the great Claude Thompson) but his classes are nearly professional level, as are Jerry Evans' two classes a week in Van Nuys. So it's not hyperbolic to say that if you want to dance, you have to live in or visit the city frequently for extended periods of time.
I owe my passion for musicals to my parents and particularly my father, who was nearly 48 at my birth. I was therefore exposed to Sinatra and other great singers (the Dinah Shore I could have done without of course) early in life. Our family's favorite musical is My Fair Lady and by 7th or 8th grade I had memorized the words not just to the songs but most of the scenes in the film, so I was happy Benanti did a (slightly-modified) rendition of "The Street Where You Live" ("The Street Where I Lived"). Benanti's told amusing apocryphal stories about the old Studio 54 ("fun facts you might now know") and kept the adoring audience who welcomed her to the stage with thunderous applause rapt for 75 or so minutes.
Benanti opened with "Old-Fashioned": she cleverly and ironically pulled out an iPhone at the chorus and took a picture, which she then reported she intended to Tweet. This set the tone for an evening as full of humor as music, which made clear that Benanti has always been something of an anachronism.
Benanti describes herself as "obsessed" with musicals since childhood. When, at nine, she discovered none of her friends at school had heard of Rosemary Clooney, she cried! By junior high school, the girls at school and in her neighborhood invariably dressed up for Halloween as "sexy, slutty kittens": Benanti would dress as characters from Broadway shows of which no one had heard. She didn't do one of my favorite songs from Into the Woods, but I hope to see her again and again at 54 Below or other cabarets in town: Laura Benanti \"I Know Things Now.
Needless to say, I was so amped after the late show, I didn't get to bed till nearly 4AM. I nearly went into this club across from Tao and the Four Seasons but it was a young and not particularly interesting crowd and I ended up chatting it up on the corner of 57th and Park with three NYPD officers at the end of their shifts.
After we said goodbye, I began to walk the rest of the way home and two of the younger cops drove by in a non-NYPD car (a meter-less cab) and called my name: "Victoria, we were so rude. You want a ride home?" They thought I said 68th not 62nd so when we passed Hunter College I joked, "I'm glad you're cops: you wouldn't be good cabbies at all!" Slightly paranoid if not merely protective FB friends felt I should be more careful but I'm not a cautious person by nature and admit that on occasion I will accept rides (in luxury cars only) from men in the city. I don't recommend hitchhiking, even on the Upper East Side or Central Park West but I've also never had a bad experience.
They laughed at my stories about Dad (and Mom, President of the LA Police Commission) and agreed with me about "sausage dresses," my term for women too big or out of shape to pull off Forever 21 slut attire with 7 inch heels.  I'm slender but no longer Grey's Anatomy skinny, and even I wouldn't attempt some of the outfits I saw in the line outside the club whose middle-aged white bouncer also agreed with my assessment.
The three cops (two were in their 30s and one was in his early 50s) also wanted to know if I prefer LA or NYC. I told them, with qualifications, NYC. Because I speak quickly–sometimes not breathing for several sentences of Henry James (or Pico Iyer) duration, they asked if this was an LA thing. I assured them it was not and that my speech patterns are far more New York than LA. Also, I rarely if ever say "dude" or "sweet"–except about a dessert–so they didn't think I matched their image of an LA girl and yet seemed voluble in a non-New York sort of way. I don't have a noticeable accent but many assume I grew up in the city, which of course makes me happy. Many lifelong New Yorkers believe I can't be from LA as I seem too intellectual, buying into the stereotype (truer of SB than LA), that people in Southern California are philistines who don't read.
Sunday was one of two pretty days in a trip full of miserable weather and I met my friend Damon for bunch at Cafe Ronda: Cafe Ronda on Yelp. I loved their signature baked eggs with salmon and cream cheese with chives and highly recommend this Upper West Side Argentinian and tapas restaurant. My third floor neighbor has turned into a belligerent mental patient so I had no doggie in NYC for over two weeks and decided to walk back to the Upper East Side through Central Park and see if I could play with doggies. Sadly, there was not a lab, German, golden, rottie or other large breed to be found, but it was a gorgeous day.
I spent Memorial Day with two Cornell grads in their 30s I met at Le Pain Quotidien. We ended up walking to McKeown's, an an Irish pub on 3rd in the 70s . That was fun and the sort of thing that just doesn't happen in LA or SB.
Tuesday night, I went to see my friend John (Jack) Phillips perform songs from his Cafe Nights, an ode to Manhattan, at Don't Tell Mama. I got to see his wife and daughter, whom I don't see as much now that they moved to Upper Manhattan, and then we ate at Joe Allen. I don't go to Times Square unless I have a reason to do so but this block or two on 46th is off the beaten path and I can't wait to return for dinner and the famous banana cream pie: Joe Allen Yelp review.
Wednesday, I ate dinner with my Park Slope mom friend (she had children late in life and says she is now on Team Breeder, with a girl of 20 months and a boy of six) at Waverly Inn. You couldn't get a reservation the first year but things have chilled a bit and we were not rebuked for being 20 minutes late to a 6:45 reservation. You can read my Yelp review here: Victorian Chick\'s Waverly Inn rave.
I am madly in love with this romantic restaurant with exquisite food and service, but have no pictures as they forbid all photography (not just with a flash). I've never seen a menu in Manhattan which expressly prohibits pictures and while I understand on one level, if you're going to spend this much money on dinner, you should be able to take pictures either of the food, your friends or the decor. All pictures on Yelp were taken on the sly and they're pretty good.
A new friend called me after dinner and we went to hear the house band at Cafe Wha! I can't remember the last time I heard live rock music in NYC and had a blast: Victorian Chick\'s Cafe Wha Yelp review. Earlier on Wednesday, I returned to Grand Central for the Christina Stankard earrings and necklace at a seasonal kiosk which had haunted me for a day.
I can't believe I'm leaving in a day or two. But I will be back on July 13th for three weeks of dance, friends and travel to the Cape (Cape Cod is the Cape) but I will also see my friend Liz McKendry perform at Cape May when I'm visiting my friend (and her adorable munchkin) in Toms River.
Goodbye NYC!