Let me preface this mixed review by saying I loved being at the Granada watching my (and Dad's) favorite musical on Father's Day and that my dinner at Maggie's was typically sublime.  I have not felt such affection for a restaurant in all my years in Santa Barbara. For more on Maggie's, see my: On Maggie\'s and my Non-Helicopter Parents.
The show, however, was on several levels a disappointment, first and foremost because something was wrong with the sound and Jonathan Pryce's singing and speech were both garbled. Gregory Jbara (Pickering) was all but unintelligible and it pains me to say this of such a great star, but his voice is gone. I mean totally gone.
The first 20 minutes were the weakest as a result of this technical problem, and I kept looking around to see if anyone noticed but apparently no one did. And yes, this was as always at the Granada an old crowd–average age 60 or so–but not everyone was at the hearing aid stage of life and I remain flabbergasted that no one was talking about this at intermission waiting in line for drinks. Two people in front of me did look at one another in Act II when Jbara fell behind the beat and flubbed a line, but all I heard was effusive praise from others sitting in the middle orchestra section.
The beginning was flat apart from the sound issue and "Why Can't the English?"and "An Ordinary Man" (borderline sacred in our family) were as painful to me as the last 30 seconds of a tie football game–when the placekicker comes out on the field–are to my mother. She says if she had had a son who played football, she could not have stood for him to be a kicker as it would have broken her heart to have all the blame for a loss placed on him. Rationally, she knows that a tie game by definition means neither team was decisive and that both teams likely made mistakes and lost opportunities throughout. But she cringes when the placekicker blows it and I had precisely this sense when poor Pryce's speech and song were marred by this jaw-dropping and glaring technical problem.
The three sound guys at the back of the orchestra may have been fumbling to fix the problem, but I didn't want to go up to them at intermission so instead I went to the guy I know from my SB Symphony subscription this year and explained the problem. He said no one had approached him but that he ran the front of the house and would talk to those responsible for the back. Act II was slightly better but even Pryce's genius could not overcome the technical difficulty.
Jonathan York as Eliza's father stole the show: I have never, including Stanley Holloway's tour de force in the film version, seen a better rendition of "With a Little Bit of Luck" or "Get Me to the Church on Time." I could not tell if York wore a mic but his voice was pristinely lucid and his energy level frankly upstaged most of the principals.  Laura Michelle Kelly was breathtaking as Eliza and I understand why she is the Laura Benanti of the London stage (to whom she bears more than a passing resemblance both physically and vocally).
The last time I saw My Fair Lady, my first time in two decades and also at the Granada, the musical numbers were an A+ and the acting a straight C. The actors playing Higgins and Eliza had zero chemistry and while the young woman, a recent BYU graduate and apparently star of the department, had promise, she was not up to the role. The actor who played Higgins was at best bland and at worst devoid of personality. But the costumes two years ago were astonishing, a worthy tribute to Cecil Beaton, who won the Oscar for the matchless 1954 film directed by George Cukor.
With the exception of the dazzling peach gown worn by the magnificent Cloris Leachman in her first appearance, the costumes were unremarkable. The cut of Eliza's gown at Ascot was fair but the fabric–even from row T in the orchestra–cheap and flimsy. During the impressive "Words," Eliza wore a strange but not bad teal suit, which she also donned in the pivotal "Without You." Eliza needs to be in pink in Mrs. Higgins' drawing room and with a superstar cast in a production mounted at the Kennedy Center, you'd think they could have sprung for one more gown (even if the fabric was Forever 21 or H and M quality).  The Embassy Ball gown was underwhelming but not objectionable.
In Act I, "The Rain in Spain" worked best. I realize this not a dance-heavy musical but the scene begged for a choreographer. Florence Lacey as Mrs. Pearce was superb throughout, as was Max Von Essen as Freddy. Von Essen has a fine voice and his Freddy struck the right balance between goofy and earnest (a Victorian virtue of course, memorialized in Oscar Wilde's Importance of Being Earnest). And the chorus did not disappoint from Covent Garden to Ascot to Wimpole Street.
Act II had somewhat more cohesion and emotional punch. But in one group number, one actor's voice of one overpowered the others because his mic was apparently turned up three or four times as much as his fellow players. This obviously destroyed the harmony and it wasn't their fault. I cried at the usual places and the show finished strong with "Hymn to Him" and "I've Grown Accustomed to Her Face" mostly hitting their marks. Pryce's speaking voice was less muffled in Act II, but I don't think they ever resolved the problem.
It was during "Hymn to Him" that Jbara fell behind and this no doubt caused Pryce to flub a lyric. Ever the consummate actor, when Pryce repeated the line "Would you be wounded if I never sent you flowers," he deliberately (and hilariously) repeated it a third time. As even I remember from my 1991 scene study classes with Anita Jesse at Hollywood's Gardner Stage, if you're going to make a mistake, make it big and unapologetic. It was a fun moment and perhaps the audience's knowing laughter revealed that people did in fact notice something was terribly wrong.
As for the direction, it was fine. The orchestra was onstage. This is a defensible choice and as always the SB Symphony reminds one of how fortunate we are here in SB–a sleepy beach town (or "city" if you insist)–to have such world-class musicians under the direction of Nir Kabaretti, who has the blessing of none other than Zubin Mehta. But the show, overall, felt thin where it should have been thick, small where it should have been large. Reducing the stage by 50% did not help matters, nor did the choice to run the show at 3PM rather than 7PM or 8PM.
In September of 2010, I saw David Mamet's Life in the Theater on Broadway at a Wednesday matinee. While the last play by Mamet written while he was still a "braindead liberal" (his words, not mine of course, from his now-famous Wall Street Journal piece announcing his political conversion) is somewhat uneven and far from my favorite play by the most important American playwright of this generation, Patrick Stewart and T.R. Knight were captivating and the matinee timing did not reduce the force of their performances.
Again, I am very glad I went (and paid 72 dollars for a ticket) but I was expecting something more polished and cohesive. I got my car out of valet and headed to Maggie's, where I tried the appetizer version of their signature oxtail over mashed potatoes with the carmelized brussels sprouts as satisfying as any dessert I've ever eaten. I like that Ballard Pinot for just 10/glass and I got to chat with the beautiful, smart daughter of the owners, who received her M.A. in English from Loyola Marymount after finishing her B.A. at UCLA.
I come from a Bruin family, of course, and took a total of six classes in that department, to which I should have applied for my M.A./Ph.D as it's far more traditional than the Cultural Studies UCSB which was for me such a disaster. She has been living in Brooklyn's Park Slope neighborhood where her sister currently lives, so that was a great treat. She also taught freshman comp and we traded war stories about the horrors of undergraduate writing. She's terrific and gives one hope about the 20-somethings in America.
Maggie's is my Santa Barbara Fishtail, which I often call the Cheers of the Upper East Side (the 60s anyway). I've been going to Fishtail for a couple years, even if only for a glass of happy hour wine on my way up to the apartment after dance or a day out. I've never had a "local bar" here and Maggie's feels like the first place in Santa Barbara, I've felt so at home.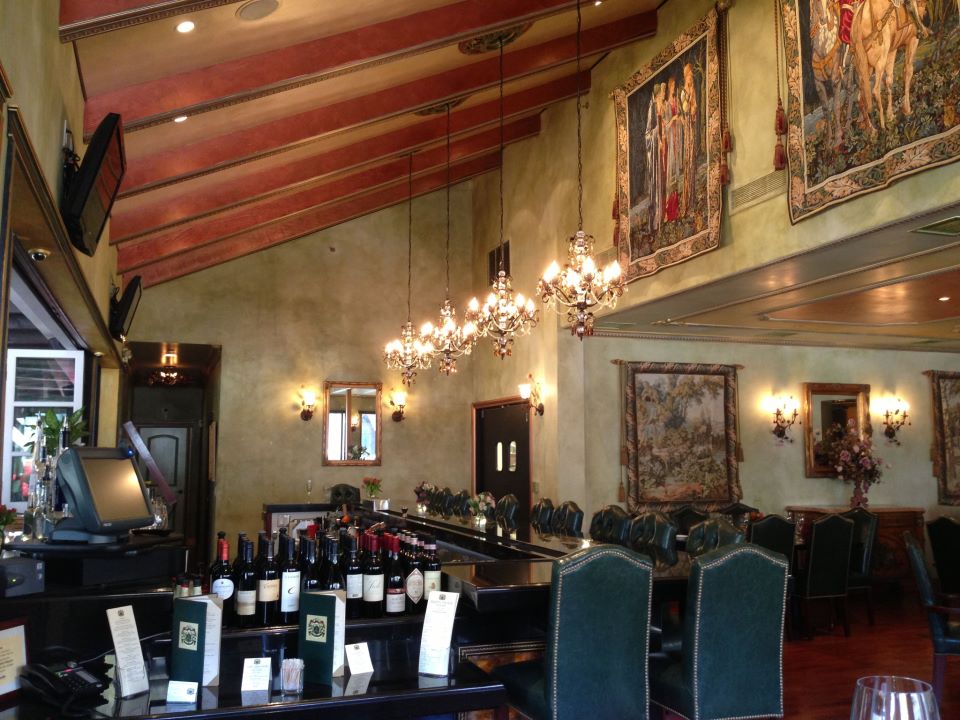 As I wrote in my Yelp review (Yelp review of Maggie\'s), Maggie's has the most elegant, European dining room in all of Santa Barbara.  The tapestries remind one of the Cloisters and it has none of the pickup vibe of other upscale bars in town. And sorry if this betrays my snobbishness (like that's a shocker), but I've never been a dive bar girl. I suppose if you live in a dive apartment, any excuse to escape will do. But I love J's condo and my rental and am perfectly happy to drink at home. And dive bars are of course not monolithic, but if I'm going to spend money drinking out, I want it to be beautiful or at least pleasant and interesting. A dive bar is neither.  (I didn't even go to dive bars in college or graduate school, though I spent vastly less time in bars during my 20s than I do now!)
It was a lovely Father's Day and Maggie's always puts a smile on my face but truly bizarre to see a performance with international stars at the Granada botched because they couldn't figure out the sound. My boyfriend's mother says the lighting has often been subpar for the State Street Ballet's performances at our historic theater, but I haven't noticed any comparable lighting fiascos in the six Granada shows I've seen over the last two years.  I intend to buy a broader subscription for the upcoming season but first to have a tete-a-tete with the Granada folks.