For Victorian Chick, this will be a short blog as I am uploading my Amy Chua piece to Huffington Post, at least if the "internal server error" of 16 hours on Firefox has not somehow spread to Chrome. The piece is over the limit (but so were two of my three other blogs), in part because the hatred and hysteria surrounding this woman is so intense, you must issue 10 disclaimers before you can get down to business.
I. The Virtues of Complaining (or if Jewish, Kvetching) and the Drawbacks of Positive Thinking.
As always, J and I laughed a lot before bed last night. I asked him to download Chrome in the morning and he said, "Why wait? I'll do it now?" J is male and a computer guy (he could do it for work but he's a land use consultant with his own business in SB, Vanguard Planning), not to mention fairly OCD.  He wants all electronics to work perfectly. I'm more of a "good enough" or "it's fine" kinda gal in this respect. Syncing is off on my iPhone and MacBook and to him, this is not only unacceptable but something that must be rectified in order to ensure proper sleep.
I still haven't gotten to the DMV for my registration tags. I was in NYC when I realized I needed a smog test and so paid up but waited to get the test. If I get pulled over, they will see I'm paid up and I will try to deal with it before I leave for New York in two weeks, but I have no problem with this issue dangling over my head.
Too, I have bad luck with driver's licenses. I am a valid driver (with an impeccable record, I might add), but often do not have the physical card. Since I never get pulled over, this does not trouble me. And in CA, the penalty is 25 dollars. If, that is, the cop even bothers to issue you a ticket, but I must be so irresistibly darling that the first time I was pulled over in years (for old tags), the cop didn't cite me. He said I was "hilarious" and "awesome" after I responded to his query about insurance with, "Of course I have insurance. I'm Jewish and father is obsessed with insurance." I then launched into every intimate detail of my health insurance and explained my blog and recent work on the Huffington Post before giving him my card in case he wanted to read more of my silly but I think fun ramblings.
I'm a bargain hunter but 25 bucks ain't enough to motivate me to go to the DMV. If I lived in New Jersey, where the penalty is over 350 dollars, I'd get my ass to the DMV. By now you get, I trust, that I'm very relaxed when it comes to logistical matters.
Last week, J downloaded Firefox for me, but I couldn't find it (it wasn't on the dock), so I had to solicit help on Facebook. This makes no sense to him. On the rare occasions he needs to ask for help in the realm of IT, he pays close attention and then knows how to fix the problem himself should it arise again. That's not my approach. My approach is to call on one of my eight or so IT guy friends on FB and await a response, or if I have to pay a stranger, go back if he's proven himself competent in the past
My approach is as incomprehensible to him as my method of loading a dishwasher. Or hanging up clothes, with hangers facing in both directions. (Don't get me started on power cords as gnarled as Christmas lights or a MacBook screen doubling as a petrie dish.)   "What if one of your friends isn't available?," he reasonably asked. "Well, then I have to wait. It's fine. If really desperate, I'll pay someone." In short, I can wait for help and in the extreme unlikelihood of a crisis, I will pay someone.
"But wouldn't you rather learn how to do these simple things yourself and not have to rely on anyone else?" he persists. Maybe it's growing up with help and being a horrible, terrible girl raised in relative privilege ("relative" because my parents were the least well-off of my childhood friends' families in the industry or Biglaw), but I've never understood doing mundane tasks for yourself–laundry, for instance–if you could pay others to do it for you.
Call me a JAP–even if I'm a Groupon or used Saab JAP quite different from your Barneys and new BMW variety– if you wish, but there it is. I'm mellow about service at restaurants and thus not a real JAP, but on matters ranging from gardening to pool care to housecleaning to laundry, I simply do not comprehend the thrill of self-sufficiency.
A close friend more than able to pay for oil changes and tuneups does them himself. He's a kosher, observant Jew and brilliant man, but I think in his case it's that he's just cheap. To wit, he parks in the most dangerous train station in his area still, in spite of having had his car twice burglarized, because he doesn't want to pay for parking at the safer nearby Jersey station.  But he's from the Midwest and Midwestern Jews are different from urban coastal Jews.
J is also Jewish but patience is not J's long suit in any area, particularly not where his electronics are concerned. I updated that diabolical Facebook messenger and had 600 text messages from Facebook over 4 days. I hated it, kvetched (loudly) about it on Facebook, used many bad words or as my first of two caregivers (nannies but Mom is too egalitarian to use such a word) from Buenos Aires would say to my big brother when he swore, "Ricardo! No use ba wor." I used many "ba wor" and made a not-PC joke about Al Queda really being behind this sinister and deadly (at least to sanity) upgrade.
But for all that, I didn't have J fix it on Sunday evening when I returned to Santa Barbara after a wonderful four days in LA with my parents and the memorable Royal New Zealand Ballet at the Dorothy Chandler on Saturday, featuring ABT principal Gillian Murphy. I waited 48 hours to get that infernal notification problem solved.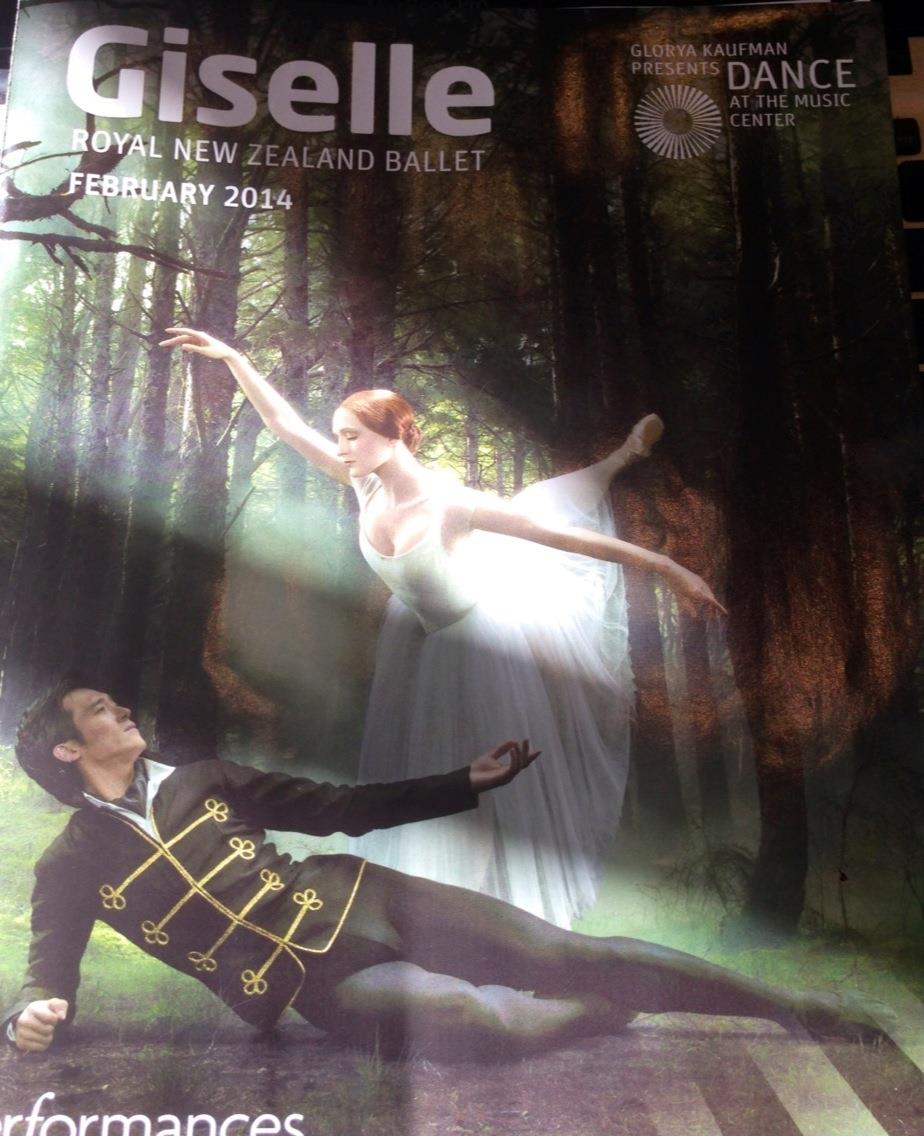 All this to say, I strongly reject the Woo Woo nonsense meme circulating widely on FB urging one to refrain from complaining for 24 hours and promising (in my view extravagantly and falsely) that one's life and state of mind will become happier. Bullshit: you can be profoundly grateful for your life and daily aware of your blessings and still derive pleasure from complaining. The person who wrote the meme clearly isn't Jewish and or known the pleasure of complaining well, or as Jews say, "kvetching."
If kvetching were an Olympic sport, my father would be the Dara Torres of the sport. His mother was excellent as well and J's mother is no slouch in that department. As a writer, you become more expressive with age and complaining artfully seems to me one of life's great pleasures, particularly in the era of social media. It's extremely cathartic to complain–and criticize, come to think of it–and for others to chime in with agreement.
On occasion, my beloved father can be very difficult. One of my best friends commented, "What a poop." "Yes, he's being a true Poopyhead," I agreed. Poopyhead is a word too little used and appreciated in our time. As are "poppycock," "balderdash" and "cockamamie." "Cockamamie" was one of my champion kvetcher Jewish grandmother's favorite words and because she thought most things in life would be better if everyone just lived as she told them to, I heard it a lot.
I derive legitimate pleasure from saying "Poopyhead," but sometimes my language takes more sophisticated forms. There is a woman in my Facebook orbit (or one of them), who is famous in publishing and holds an elite law degree. I do not care for this woman, whom I consider a pompous, arrogant, humorless windbag devoid of warmth (no matter how much she loves her labradors). She posts sound bytes about the finance industry (or Citizens United), while a nation of educated men on FB fawn over what may be profound but often simple enough for a Tweet of 140 characters.
She's a slender, attractive and gracefully aging woman in her late 50s but appears not to do anything fun with all that money: no food, jewelry, fashion, Broadway etc. She's immensely knowledgeable and well-read, but she doesn't like women (it's well-known that she prefers men for whatever reason) and I'm the kind of woman she simply can't bear: fluffy and frivolous in spite of an elite education.
Also suppresses all traces of sexuality and femininity (she looks nice but is bent on effacing oanything which might mark her female and therefore frivolous, or as Henry Higgins might say, one whose head is full of "cotton, hay and rags"). So she doesn't like me any more than I like her. Finally, I unfriended her because her posts are as prolific as mine and–while I'm biased of course–far less amusing.
This is not a bad, mean, or unethical woman. I simply don't like her and finding myself in the position of having to restrain my snark, unfriended her for both our sakes. So I wrote in a status (after expressing this privately to a mutual friend): "She's not a bad person, just an insufferable one."
Now, the contingent of people who strives for "positivity" would consider this "negative energy." Note: anyone whose speech is littered with talk of "negative energy" is automatically suspect. I know someone, 69, who refuses–even in the face of a family history of breast cancer and colon issues–to get either colonoscopies or mammograms. Why? She thinks it would be "looking for something bad" (uh, yeah, that's the point) to either to smash your tits (which aren't all that big in her case to begin with) or stick that scope up your ass after starving for 12 hours and drinking that admittedly heinous white, pasty fluid. This would, for her, express "negativity."
One would think that people who set a lot of store by the mind's "positive and healing energy" would also believe that after you find a tumor, such energy could be fervently directed the way of the cancer or benign polyp and neutralize that sucker. Evidently not.
So I have a lot of fun, between posts about kitties, doggies, musicals, designer resale deals, wine, food and on occasions, literature or philosophy, complaining and criticizing. I am extremely cheerful and do not feel at all diminished by either activity, which brings me to tonight's podcast on Click, Bang!
II. Victorian Chick on Russ Wishtart's, Click, Bang! to Discuss Beverly Hills Patch article on E-cigarettes.
I am thrilled to be a guest on my first podcast ever, tonight at 9PM EST and 6PM PST.
I will be discussing a piece which had the most wonderful and ongoing response in e-cig communities on Facebook, Twitter, and forums. I hope you'll all turn in, if for no other reason than satisfying the natural curiosity about a writer's spoken voice after reading her for any length of time. I'm told my voice is lower and huskier than people imagined it to be (YouTube has a few clips as does my Facebook Victorian Chick page). This is definitely due to smoking for five years. My voice was an alto always, so on the low side for a woman, but people who have known me many years say my voice is lower than it was.
Here are the links for tonight's show:
Listen live on your PC: http://vapersplace.com/vplive
Listen on your mobile device: http://vplive.k2designlab.com The replay of the interview will be available on Wednesday here: https://soundcloud.com/vp-live/sets/the-click-bang-archives
H0pe you all tune in!
Here is the article on the Beverly Hills Patch, shared to Long Island South Shore branches as well as Lincoln Park and nearby Chicago suburbs: What Democrats Need to Know about E-Cigarettes and the Recent Bans on Usage in NYC and Chicago.
My home branch is Pacific Palisades, but Beverly Hills just voted down a ban. As I note in the piece, this happened only because the sponsors of the bill got greedy and tried to include a sales ban. That wasn't gonna fly, not even in Beverly Hills (which probably has more fiscal Republicans than Pacific Palisades and other upscale suburbs of West LA; I knew very few Republicans growing up and only two Jewish Republicans, both in Beverly Hills and Century City).
Listen live on your PC: http://vapersplace.com/vplive
Listen on your mobile device: http://vplive.k2designlab.com
The replay of the interview will be available on Wednesday here: https://soundcloud.com/vp-live/sets/the-click-bang-archives

Hope you all tune in! I'll post pictures from the Royal New Zealand Ballet's sublime Giselle with Mom, an early 42nd birthday present, at the Dorothy Chandler tomorrow.
But here are pictures of today's transcendent breakfast at the best new breakfast in SB at Blue Tavern, which replaced the amazing and short-lived Anchor.
The decor sucks, at least compared to the exquisite interior of the Anchor.
One FB friend compared it to a bomb shelter with a bar and another said merely, "Meh." The restaurant business is full of oversized egos. The tyranny of celebrity chefs is well-known. But what kind of dummy covers up beautiful, red brick with white paint?
The tables are ugly and the barstools no better than sitting on the floor or eating in a monastery. Stupidity. For 15 bucks a cocktail, I want back support. Is that too much to ask? An F on decor. An A+ on food and for breakfast, an A+ for value. They also have a prix-fixe lunch for 15, which includes the sublime crab hash.
Notwithstanding the design and decor flaws, you should it on your list if you live here or intend to visit. The prices at breakfast are no more than the average diner or cafe like Esau's or Jeannine's.