When I received several panicked messages from older Facebook friends who grew up in the Palisades about billionaire developer Rick Caruso's plans destroy my hometown and current part-time residence, I was in New York and just nodding off at 2AM.
I ranted sans filter on my private wall, though I can't remember if it was to friends only or public, and decided to wait until I calmed down to blog about Caruso's plans for the admittedly dead Swarthmore Avenue.
A friend sent me the Facebook page his PR folks started–from which I was of course immediately blocked after two ornery comments–with pictures of the monstrous Calabasas Commons and the only slightly less monstrous Marina Marketplace where my parents and I used to eat breakfast at Mr. D's on weekends, which we always spent on a CT 54 ketch in the Marina.
Tempting as it is to characterize Rick Caruso as the Dick Cheney of real estate development, particularly after the nausea-inducing pictures of the Calabasas abomination, Caruso doesn't destroy everything he touches. (He also served on the LA Police Commission and is by most accounts a pleasant enough fellow.) The Americana in Glendale has transformed the city with a population just under 200,000. Wikipedia puts Santa Barbara at 220,000, which should reinforce a regular theme of mine on Victorian Chick and elsewhere, which is that Santa Barbara is really just an oversized town not a legitimate city.
I'm happy for Glendale.  But at the risk of sounding like a West LA snob (what a shocker), I fail to understand how you can speak about Glendale–a city in the easternmost part of the San Fernando Valley with terrible weather well over an hour in moderate traffic from the ocean and everything cool on the Westside–in the same breath you speak about the Palisades, one of the most expensive and exclusive neighborhoods in Los Angeles.
The Palisades is not a monolith: there are eight neighborhoods. You may find a fixer-upper for 1.3 million, but most houses start at 2 million. The Huntington, the Riviera, and Rustic Canyon start about 3 million and no one bats an eye at a 4 million dollar listing.
Ronald Reagan lived here just three or four houses from the the Schillers. Their daughter was a childhood and carpool friend at St. Augustine. Her father, Bob, wrote I Love Lucy, All in the Family, and Maude. Will Rogers made the Palisades his home and I grew up walking from my parents' house to the park, where I'd see Arnold Schwarzenegger riding his horse with a bodybuilder buddy of his. Sam Wanamaker was for many years a neighbor of Arnold's on the back side of Will Rogers.
Hal Holbrook, a boating friend of Dad's with a sloop about 20 slips from ours in Deauville Marina and also a St. Augustine (now Crossroads Elementary) dad, lived on the other side of Sunset just a minute or two away. For all I know, Hal still lives in that house. Walter Matthau and Sydney Pollack were longtime Palisades residents, as was Ted Knight, the town's first honorary mayor.
The Palisades is home to the Riviera Country Club, known all over America even to those who have never been to the Palisades but seen its golf tournaments on TV. If it makes one a snob to point out that Glendale ain't exactly the Palisades, then I happily embrace the title.
The entertainment industry presence in the Palisades has always been strong, but until about 2000, the Palisades was still a pretty sleepy, if affluent, beach town. The men's store Colvey's, where Dad bought sweaters and kvetched about the price, is now Elyse Walker, with shoes for $2000, bags for $4000 and dresses in that general price range. And it's always busy.
Elyse Walker customers are no different from those who shop at the Brentwood Country Mart and eat at the sublime Farm Shop, whose deli aspires to be the Dean and Deluca of West Los Angeles. The two sets of customers look and dress alike, work out a lot, wear the same kind of jewelry, and drive always clean and shiny luxury cars, generally European but sometimes Japanese or now, American (the Tesla, of course).
Farm Shop is like an unofficial studio commissary. David Mamet eats there almost daily, and I've never sat down for breakfast or lunch without seeing him and the Towne brothers (one wrote Chinatown and the other wrote The Natural) in Mamet's signature bourre and glasses. Sometimes he's with his (second) lovely and talented wife, Rebecca Pidgeon, or his young director/playwright daughter, Clara (not the one on Girls, which I've never seen). Whatever you think of Mamet's politics, he has terrific taste in women, marrying not one but two talented, substantive women. He proposed to the first, Lindsay Crouse, outside the Yale School of Drama (or the Yale Rep).
But the Palisades is not Brentwood. Here's why.  I flew to New York on February 16th and as always, came to spend the preceding day with my parents. My infuriating female body had other plans and I was in terrible pain most of the day, only arriving at Chez Mimi–a quite good but untrendy French bistro in the Palisades Highlands–at 6:30PM. I was covered in cat hair and wearing old, maroon secondhand Juicy Couture velour pants (with holes covered up by an expensive but XL navy sweater I "borrowed" from the New York coat closet). Beat-up Saucony tennis shoes completed my ensemble.
Even I, who happily traipse around Montecito in my boyfriend's large Old Navy PJs and banged up Thierry Rabotin orthopedic wedges–which were actually the most expensive shoe I ever bought at $190 down from $355 after my ankle accident–would not set foot in any Brentwood restaurant with tablecloths and waiter service thus attired.
Yet I felt perfectly fine dining with my parents (74 and 89) in a crowd of people 60 and up. Modo Mio is hipper and younger, I suppose, though it's still Baby Boomers and parents whose kids are mostly in college. But I would have no reservations eating dinner on a pre-travel day in agonizing pain with no makeup and "not exactly" brushed hair at this underrated local Italian restaurant.
Only in the last 15 years has the celebrity contingent become so conspicuous. Just yesterday, I saw Jamie Lee Curtis at Cafe Vida, where I used to eat all the time before Dad decided at age 88 that (almost) no day could begin without pancakes and bacon. He doesn't like Cafe Vida, but it's the best breakfast place in the Palisades. A few months ago, I saw the youthful and very attractive Daphne Zuniga at the tiny, overpriced juice bar across the street from Vida. Gelson's is on any given day a page out of Who's Who in Hollywood. (Its founder, Bernard, was the father of a senior at Westlake who lived in Encino, where the luxury supermarket chain began.)
Last year, I ate outside next to a handsome gentleman with a great shock of silver hair, who looked 70 but was well over 80. He was with a woman in her 40s clearly his daughter, who turned out to be Penelope Ann Miller with her father, Mark, a veteran actor and producer.
I didn't recognize her under the big black glasses, and the talk about a nightmare bathroom remodel didn't entice me to pay overmuch attention (read: eavesdrop).  We chatted for some time and I learned that Mark Miller starred in a show written by Bob Schiller in the early 1960s called Westward Ho.
The Palisades isn't just entertainment people, of course. It's also a lot of Biglaw, judges and high-level prosecutors.  I'm as likely to meet a partner at Munger Tolles who happened to go to UCLA Law school with Mom and remembers her from a thing they did at a place with a guy they knew from another thing. (This is my feeble attempt at a Broadcast News homage.)
Just like Glendale, right?
The recent Los Angeles Times piece did a decent job of capturing the Palisades circa 2014: "For all of its affluence and aspiration, Pacific Palisades is a laid-back place where getting dressed up means donning one's best pair of Lululemons or Levi's." But it's absurd to claim that "Pacific Palisades' shopping village has the beaten-down aura of a Midwestern Main Street where the mom-and-pop shops have been driven out by Wal-Mart, only there's no Wal-Mart."
Here, then, are pictures of the Swarthmore Avenue area Caruso promises not to make into a little Grove or Calabasas Commons: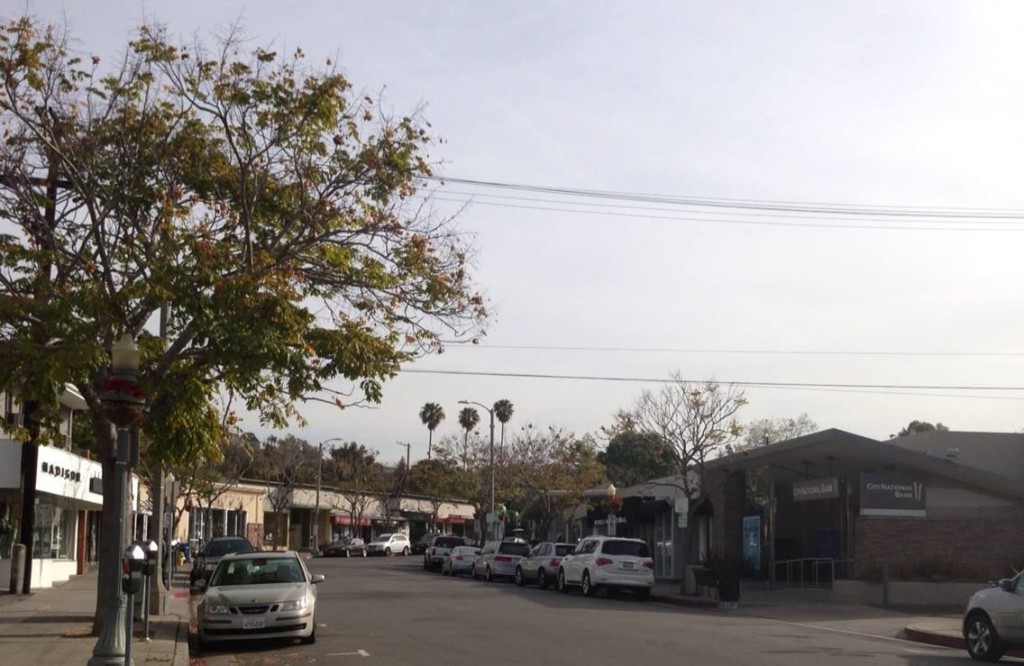 Does this look like a "rundown Midwestern Main street"? I went to Champaign-Urbana last April and no amount of alcohol would lead me to confuse Swarthmore Ave. with that college town's main drag. Thursday (when I took these pictures) wasn't a good car day, but generally for every Toyota there ten BMWs, Mercedes, Audis, or Acuras. Champaign-Urbana is cute, though I know a guy who dropped out of a Ph.D. program in neurobiology after attending college at U of I largely because he stomach four or five more years in Champaign.  But it's no Pacific Palisades.
I agree that the old stationary store, now subdivided but still empty, is a bit depressing. US Bank moved up the street so the building to the left is also vacant. It's a dead zone, to be sure, but inviting Rick Caruso and his real estate henchmen–with their at best mixed record–to "fix" the Palisades is like taking Oxycontin for a hangnail or a mild headache.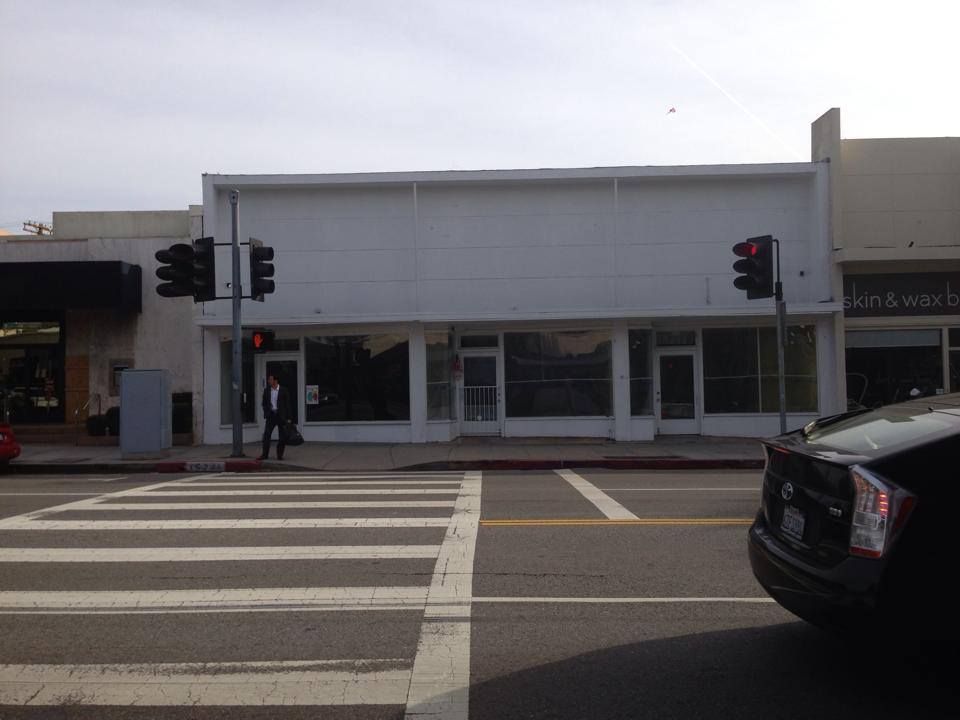 Caruso told concerned residents that his vision for the Palisades was not the Grove but King Street in Charleston, Main Street in Nantucket, and Elizabeth Street in Nolita (Manhattan's gentrified Lower East Side neighborhood with a name devised by realtors to hike prices). Well, that's reassuring. But Caruso isn't stupid; he's a billionaire who  hires people to tell him how to avoid sticking his foot in his mouth.
Why not take a model closer to home, like Malibu's Cross Creek or Montecito's Coast Village Road? Coast Village Road suckered me in to moving from New Haven to Santa Barbara for the Humanities Predoctoral Fellowship in English. This was a personal and professional disaster for me as any Victorian Chick reader knows.
I could (and should) have gone to Rutgers also for free, or paid University of Chicago for a yearlong Masters boot camp, after which they would have funded me the rest of the time if I acquitted myself well. In the pre-Google era, I didn't know that some 85% of those accepted got the offer I did. But Coast Village reminded me of Montana Avenue, so  I thought, "Okay, I can do this, even though Santa Barbara is the sticks," where as Dad put it 'old rich people go to die' [this was 1996]." Actually, he said old goyim.
Clearly, I belong to the "no-growth" contingent, and while it's a bit much to say that the vacant storefronts add to the Palisades' charm, I take issue with the characterization of Swarthmore as "crumbling." That horrid, greedy, certainly dysfunctional and quite possibly psychotic family to blame for Swarthmore's decline, manages to maintain the paint, windows, and sidewalks. East Harlem it is not. Last year the Queensboro was closed and the cab took me through East Harlem en route to the airport. When I looked up from my phone after five or ten minutes, I thought we'd entered a Third World country oddly close to the Upper East Side without any checkpoints or customs officers.
Beyond aesthetics, Palisades residents are right to worry about congestion and traffic. Caruso bought the giant and admittedly wasted parking lot currently zoned for multifamily housing. The pro-development crowd insists high-end rental units will drive up property values, as though 1.5 million dollars for a modest home on a small plot of land weren't high enough.
Houses now worth 2 million were in some cases 105K in 1974 and 210K by 1976. I think those who bought in 1974 are pretty content with the value of their homes. As it is, almost no one between 45 and 55 who grew up in the Palisades can buy even a shack in their hometown. What's the goal here? Making it impossible for anyone under 500K a year to buy a condo?
So yes, I'm mad. "Mayberry with money" doesn't need Rick Caruso. People can drive to Whole Foods on 6th and Wilshire or the bigger store on 23rd. Did I miss the Constitutional amendment which gives all suburban Americans the right to a Trader Joe's within 15 minutes of their home?
If you live in the Palisades and don't have a housekeeper or nanny to run to Trader Joe's, you need to organize your life such that you can hit a store with bargain wine and cheap, healthy prepared food in West LA when you're out doing other errands. And if you're too snobby to shop at Ralph's but can't afford Gelson's, you shouldn't be living in the Palisades in the first place.
The Palisades Highlands development is useful. And no one cared about the Highlands getting a strip mall because it's the Highlands, for heaven's sake, a gigantic 1970s residential housing project. The Third Street Promenade is quite close, as is Montana Avenue. San Vicente isn't far and if you want everything at your fingertips, why buy in the Palisades in the first place? Old-timers shouldn't have to suffer as they watch their beloved, charming town mutilated because new residents made unwise, unreflective real estate purchases and can't appropriately manage their time and pick up life's necessities in Brentwood, Santa Monica and West LA.
I am under no illusions that my blog will make a difference. But it made me feel better and I know dozens of people who wanted me to give voice to our anger that Caruso has extended his predatory tentacles into our precious neighborhood.
P.S. I do mourn the loss of Baskin Robbins, which as a toddler, I called the "I Cree Toe."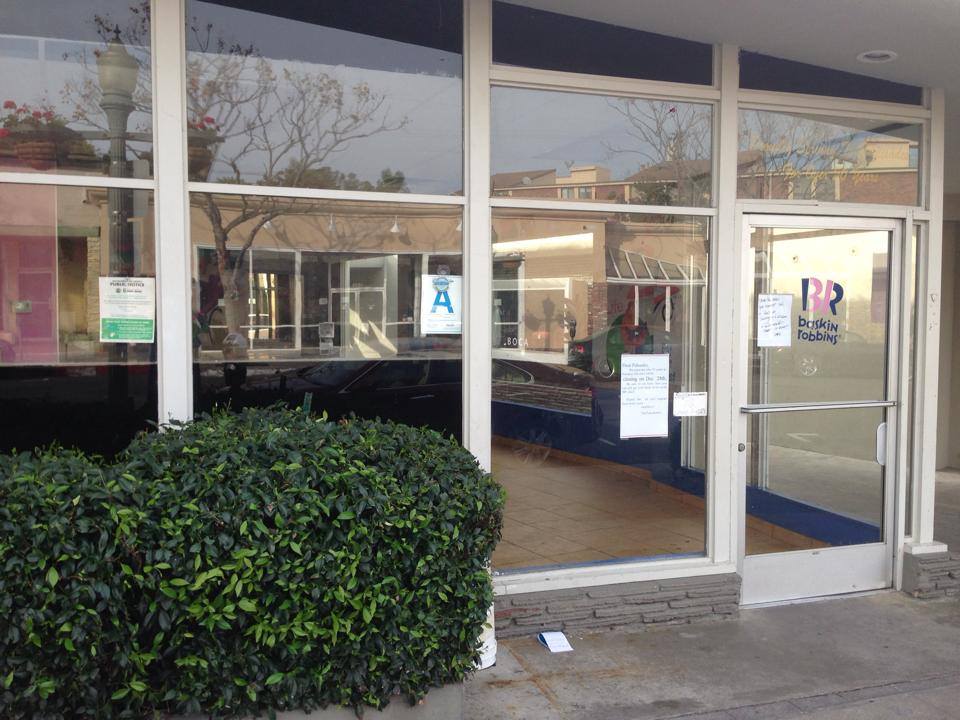 Yogurt isn't ice cream.  God help Caruso if he doesn't make good on his promise to the 8-year-old in the LA Times to bring an "awesome" ice cream store to the area. Ice cream is serious business and Palisades kids are smart, driven and used to getting what they want. I wouldn't want to be in his Guccis, as the man in the article put it, if the new development doesn't include an I Cree Toe.