Last week marked three years of Victorian Chick. I've been too busy to think of an anniversary blog which does justice to the role it plays not just in my everyday or social life, but the way in which it consolidated my personal identity in ways nothing else in my life has.
Of course, teaching English in a New England or Mid-Atlantic liberal arts or research university was supposed to give my life intellectual and professional meaning. That didn't happen and there is nothing else by way of career to which I truly am suited except writing.
I. Victorian Chick Ventures into Real Estate: Bicoastal Relocation Counsultant-To-Be.
I'm getting a real estate license to work as a concierge/boutique bicoastal real estate consultant and actually quite excited about it. It's a niche market–Manhattanites finally bailing on the city–which I'm well-positioned to tap because I live on the Upper East Side three months a year and hear yearnings for good weather and lower mortgages almost nightly at bars.
Even the most beautiful properties (apartments as well as single family homes) in the better parts of LA are generally less than comparable places in the priciest parts of Manhattan, where the "maintenance fees" (their version of HOA dues) are simply outrageous. I met a couple at Fishtail with a co-op on exclusive Sutton Place. Their maintenance fee is $3800! That's a mortgage on a quite nice house on the coasts and a veritable mansion in many Middle American cities. I'm also a Pacific Palisades native and the daughter of native Angelenos who lived mostly East of La Cienega until married with children, so I know LA well.
As I blogged in February from the city, New Yorkers are mad for Santa Barbara, where I've lived since 1996 (until 2010 full-time).  I've had several illuminating meetings with realtors both in the city and in LA/SB and spoken at length with a Wisconsin friend and realtor formerly in Santa Barbara. I'm grateful for all the support and encouragement I've received in so short a time, and directly or indirectly, all came to me through Facebook.
The real estate adventure will broaden and complement my bicoastal identity and lifestyle focus. This week I hit 400 reviews on Yelp, the majority of which cover Manhattan, West LA and Santa Barbara. Roughly two-thirds of my Yelp reviews, most of which are mini-blogs heavy on social commentary, deal with food, a core part of life everywhere I live. I also have lists about Chicago, Grand Rapids and Scottsdale, as well as a list about my favorite secondhand or resale boutiques in NJ, CA, and AZ. (I haven't done the thrift stores in NYC, but the designer resale is still out of my price range.)
But relocating to a foreign land–and LA might as well be another country for a lifelong New Yorker, or even East Coaster–is not about just finding a place to live. It's about making a life. For parents, it's also about schools, in this crowd mostly private, but public as well in the areas with higher property taxes and better schools.
Beverly Hills High was the crown gem of the LA schools long before (the first) 90210. In the 1980s, it was still a fine school and then it slipped before partly recovering. Palisades Charter High School (Pali High) has ranged from outstanding to decent over the decades (busing, well-intentioned as it was, did not have a felicitous effect on the school's quality). Currently, Santa Monica High or Samo, where Charlie Sheen, Rob Lowe and Emilio Estevez went, is the probably the best public high school in WLA, sending kids to top UCs as well as Hopkins, Oberlin and other strong East Coast schools.
Property taxes are a factor in school quality, but the correlation is not one-to-one. For instance, Moorpark is a relatively affordable community in the northernmost tip of Los Angeles County and home to one of the finest public high schools in the state. Thousand Oaks, a far more expensive area, has a subpar public high school.
It may have gotten slightly better, but I knew a kid at Yale from TO who went to boarding school because there just wasn't a great secular private option, and those I've known to graduate from TO High are in no sense bookish or accomplished. I know a successful photographer in Thousand Oaks who told me several years ago that it still kinda sucked. Many basically secular, wealthy families (including secular Jews) send their kids to Oaks Christian. It's not all that religious in spite of a cross which rivals the one at Pepperdine.
Santa Barbara, where the average house is about 925K, also has a subpar public high school. The best public high school in greater Santa Barbara is in the incorporated city of Goleta, where houses cost far less than in SB.  The reason? At SB High, you have upper middle class to wealthy children of professional parents going to school with children of immigrants who may or may not speak English, and who live in poverty or close to it. It's impossible to appeal to both demographics (particularly with its high class size and notoriously unhappy teachers). In trying to meet the needs of this diverse student body, the school fails both.
On the other hand, SB has many excellent public elementary schools with small class sizes. Peabody Charter, which my boyfriend's 4th grader attends, has 22 or 23 kids in a class with a great teacher and teacher's aide. My elite industry school in Santa Monica, formerly St. Augustine and now Crossroads Elementary, had 25 kids with the same set-up. In short, raising a family in SB is terrific if you can hack your mortgage payment (and outrageous dry cleaning bills) until your kids hit junior high. Then it's not so hot from an education standpoint.
Peabody even has an exceptional drama teacher, Emma Jane, who produced an impressive, ambitious school play last month: a modernization of Oliver Twist with a running time just under three hours. I'm astonished both at the grounds and the education, though it seems to me they're frightfully behind where we were in math by 4th grade. Even the slowest kids at St. Augustine were beyond my boyfriend's precocious, articulate, creative son in math.
Otherwise, I think it's a strong school, though I could do with less green nonsense. I had to restrain my urge to moan when the former assistant principal, who spoke inarticulately about everything including recycling and composting, encouraged parents to walk their kids .5 mile to school, presumably to reduce the carbon footprint. Even if you believe in climate change, walking your kid to school a mile or less will do nothing to forestall it.
My rebellious nature made me want to rent an Escalade (not the hybrid one) and puff on an American Spirit just outside the school's perimeter next to my rented gas guzzler illegally parked in the bus loading zone. (Yes, I'm a terrible person and I have no plans or desires to become a better one.) I also know a 5th grade teacher at Roosevelt Elementary in the GATE program. He's not only impressive but passionate and dedicated to the cultivation of those exceptional young minds.
In three years, I've yet to meet a single mediocre teacher at Peabody. I was particularly fond of T's second grade teacher, formerly a high school science teacher in Queens with a Masters degree. Because it's a public school, they're perpetually holding fund raisers (bake sales, jog-a-thons etc.) and require parents to volunteer in the classroom. This too offends me, but apparently you can write a get-out-of-class check and avoid dealing with 22 little monsters four hours a week.
It's one thing to deal with your own child's moods; it's quite another to deal with other people's barbarians whose spirits haven't been broken. That's from About Last Night on the even of Elizabeth Perkins' first day teaching kindergarten: "My job is to break their spirits. That's what kindergarten is all about! The Germans invented it, Deb. Think about it!" Of course Miss Gunther (Perkins) is quite wonderful with the little blonde girl who wets her pants, so it's all talk. And actually, I'd rather volunteer with kindergarteners than 3rd, 4th, or 5th graders. Children may be our future, but I'm all for outsourcing them.
Happily, there's some hope for SB High now under the leadership of the principal who whipped SB Junior High into relatively good shape.  As it stands, families with money have few options (unless they're Catholic): 1) move to LA for the high school years, 2) move to Goleta for four years (which is not as bad as it sounds to a SB resident with the Bacara's spa and club membership for locals, or 3) send kids to boarding school (which costs as much as private college and therefore an option only for the 1%).
Santa Barbara has only one great secular private (non-boarding) high school: Laguna Blanca.  It's strong academically, but tiny and cliquey, so even parents who can afford the 30K or so tuition often don't find it a good fit for their kids. I've heard of girls coming home sobbing because of the machinations of mean junior high girls.
Santa Barbara lacks social (or racial) diversity, so wherever you buy a beautiful home will not be significantly different socially. That's not the case in Los Angeles. There are many parts of the city with desirable homes between $1.5-$2.5 million dollars, which beyond housing prices, have nothing whatever in common. Real New Yorkers tend not to know LA very well. They still rely on Woody Allen's Annie Hall and more recently, Nicole Holofcener's Enough Said, which cast my hometown in a very negative light). Others think it's all Beverly Hills, Malibu or Compton, as a recent amusing Buzzfeed list noted.
Like Manhattan, LA has much diversity in terms of outlook, even in the top tax brackets, but the diversity here is more spread out than in the city, where 10-15 blocks makes all the difference. Mount Sinai and Lenox Hill, both on the Upper East Side, are among the best hospitals in the city (and nation), but they're just 10 or 20 blocks, respectively, from East Harlem, one of the roughest areas in the city. East Harlem has nothing in common with its West Side namesake, the gentrified area home of Columbia University as I learned a few months ago when the Queensboro was down for the morning and my cabbie took me through East Harlem. Scary. And deeply sad.
The (San Fernando) Valley is an option: Sherman Oaks, Studio City, Encino, or Toluca Lake in the East Valley, or Agoura, Calabasas, Hidden Hills and possibly Westlake in the West Valley, though frankly I've rarely met a New Yorker in the city who could live happily in the Valley after being in SoHo, the UES, the Upper Westside or Midtown East.
But the reputation of the Valley in New York, to the extent the region even registers, is worse than LA proper, in no small part due to the Kardashians, from whom I think the city of Calabasas should seek reparations. Billionaire developer Rick Caruso who plans to destroy my hometown, Pacific Palisades, should kick in some cash too, because when affluent New Yorkers get one look at that monstrous baby Vegas he built, the Commons, they'll  high-tail it out of an area they'll already consider the boonies, far out as it is in typical 101 traffic.
I love meeting and talking new people, whether on the subway or at happy hour.  And I've  done more volunteer work over a lifetime than paid work (Meals on Wheels, the Wellness Community (cancer), LA Shanti (AIDS), Pacific Pride Foundation (AIDS food pantry), TIES (short-term elementary tutoring in the inner city)). I like helping people improve their lives, or at least ease the pain, and this form of real estate consulting allows me to do what I already do for free for friends in or from the New York metro area. It's like lifestyle therapy, not just for middle-aged married couples but divorcees with grown kids, which describes most of my friends and readers.
II.  "Victorian Chick on the Patch": Honing Craft, Expanding Reach and Reveling in Writerly Freedom.
As excited as I am about the real estate adventure, writing was my calling and Victorian Chick satisfies this. I can't imagine my life without the blog (or the blogs I write under the name Victorian Chick on the Patch). My boyfriend of nearly four years suggested that I start a blog after accumulating some 350 Facebook "notes," none of which I've looked at for over three years.
In February, 2011, I started The Random Review on Blogger, for which I'd written just ten or eleven pieces by the time I passed a closed women's boutique on Lex between 57th and 58th called Victorian Chick. I posted the picture on Facebook and nearly all agreed that Victorian Chick was catchier than The Random Review.
Someone I met recently in the city likes my blog but dislikes the name. He's in the IT and social media businesses, so his view that the blog is misnamed (because Victorian Chick has little to do with Victorian culture) counts more than someone not in his line of work. For a number of reasons, I thought, and still think, Victorian Chick is a cute, apt name apart from being catchy.
1) My name is Victoria, at least since age 24 when I took my middle name and ditched my first name, Maria. Only my driver's license and passport read Maria Victoria Ordin.
2) My dissertation was about George Eliot and both my Masters and Orals fields covered Victorian literature.
3) Victorian Chick was a women's clothing boutique in Manhattan, just five or so blocks from the Upper East Side walkup of 450 feet feet which changed my life and without which my bicoastal identity and lifestyle would not be possible. Nor would my relation, as spectator, to the world of cabaret, or as participant, in the world of Luigi jazz dance. My soul is in New York, but my heart–family, boyfriend, and pets–is in Southern California, so I will live a geographically schizophrenic existence indefinitely. And obviously,   fashion–designer resale mostly–is a core part of my life as well as blogging, so naming the blog after a boutique on 57th and Lex makes sense.
4) "Chick" provides a clue to my unorthodox views about feminism. I've written more on this lately, first after that October brouhaha in Visalia with the cloying, lightweight feminist blogger in Oregon, and again after the February 13th Gloria Steinem lecture in Santa Barbara. I greatly admire Heather MacDonald's work on academia for City Journal, and since she's a fellow at the Manhattan Institute (whose recent study about the 1% was at the heart of James Pearrson's excellent piece in the Wall Street Journal), my conservative friends hold out hope for a conversion. It ain't gonna happen as long as the religious right exists in America, but I'm certainly not a De Blasio progressive or OWS supporter (finance reform needs to happen but OWS isn't going to stimulate it).
I am fine with being called "a girl" or "a chick." I don't insist upon woman and I prefer Miss to Ms. I care about looks and I love beautiful things (sparkly things most of all). I make no apologies about deriving pleasure from my appearance and the pleasure others take therein. In recent blogs, I've twice I've quoted Annette Bening's line from Bugsy–"Looks matter if it matters how you look"–and have minimal tolerance for feminists hostile to the pleasure we girly girls take in clothes, jewelry, hair, nails, makeup (not to mention the gratitude we feel for dermal fillers).
It's fine to be oblivious to your appearance, refusing to color your grays, wear makeup, get manicures, work out, or do fillers. But to attack women who spend considerable time, money and energy looking their best is not fine. Feminism was supported to be about choice: if you choose to spend no money or time on how you look because you think the only thing that matters in life is your brain and heart, great. More money to spend on food, wine and spirits as far as I'm concerned.
I don't look down on people who don't care about food or wine, but I do think they're  peculiar to deny themselves some of life's greatest pleasures. I also think those who climb Mount Everest are out of their minds, but it doesn't mean I dislike or wish hypothermia on them. And this really gets to the heart of something which has become increasingly apparent to me over the past three years of blogging and active Facebook use.
I have–and express–extremely strong opinions. I'm secular; Eastern thought appeals to me no more than Christianity. Judaism is compelling on multiple levels, but the supernatural machinery of the Hebrew Scriptures resonates with me no more than its counterpart in the New Testament. As for draining the mind, refraining from judgment, and relinquishing attachments? No thank you. My Baltimore FB friend and I have a running gag about the many FB pages devoted to minimalism. We think they should just call it "Surviving Downsizing (and Getting Rid of Your Shit)" and be done with it.
As for attachments, anyone with half a brain or a few years of decent therapy knows that attaching too strongly to outcomes is a recipe for perpetual discontent. I don't need a spiritual practice to tell me that while it's fine to prefer a particular outcome, one has to find a way to live comfortably and peacefully when things don't go your way. As Dr. Denis Leary said in The Ref, "Welcome to the real world, kid, where most of the time, things don't go, your fucking way."
Gus' speech in my favorite comedy of the 1990s (and absolutely favorite modern Christmas movie) is a version of his great bit in No Cure for Cancer about life not turning out as you thought it would: "Hey, I thought I was gonna be starting center fielder for the Boston Red Sox. Life sucks, get a fuckin' helmet" (a clue to the context of his comedy and art in general: Irish working class folks who often become firefighters as well as cops).
If you're going to move about the world without making judgments, you might as well get a lobotomy. What you do with distinctions and assessments is a separate issue. But constantly forming and revising judgments on an array of subjects is what thinking people do. People on Thorazine, or the cheap, readily accessible equivalent–Valium and vodka–don't think much of anything. My preferences are mostly predictable and I make no apologies for them. This doesn't mean I impute a lower moral value to those I think have unaccountable, or simply bad, taste in just about everything. I don't think people with poor or unrefined taste are morally bad: they just have shitty taste.
Too, I have quite stringent standards for myself in the area of appearance and weight. I don't insist that others adopt my standards, though if you're a celebrity and show up in a ghastly $5000 dollar dress or get a hideous dye job (calling the lovely, talented Julia Roberts), you're fair game. Those who live in the public sphere and have net worths in the tens if not hundreds of millions forsake the courtesy to which a Target or Home Depot shopper is entitled. If you make a living in part or in full off your looks, you have forfeited the rights enjoyed by those who can't and don't.
Along the same lines, it's fine to eschew family for career but wrong to bash stay-at-home moms whose only career or work is the raising of children. I saw an obnoxious piece, Gwyneth-like in its insensitivity, about privilege and careers. The woman in her late 20s was oblivious to the trials of stay-at-home-moms (who seem to have gotten themselves an acronym of late, SAHM). Lots of women wish they could stay home, but in today's economy particularly in coastal cities, it's increasingly rare to be able to live decently on a single salary.
On the other hand, while it's fair to say that raising kids and staying at home all day is excruciatingly difficult and in that sense "the hardest job in the world," it's clearly false to say that every full-time mom could go to a top medical or law school and then get hired at an elite teaching hospital or Biglaw firm.
I agree it's easier for a woman who has the brains and talent to graduate from a top professional school to be a great lawyer or doctor than it is to raise healthy, happy and well-adjusted children. Plenty of superstars at work have troubled children. But it's obviously wrong to claim that all or even most women who stay at home to raise kids could be star physicians, prosecutors, bankers, or professors "if they chose to."
I sometimes hear women in print or in social media claim they chose family over career, women who had no career or particular training, even if they had potential, to speak of. (Some might have been excelling at work and by stepping out of the workplace, rendered themselves professionally useless, but many just had jobs, not careers.) What they're really saying is that they chose the mommy track before they'd gotten very far up the educational or professional ladder.  So it's really more of a hypothetical: "I'm smart, capable and disciplined, and if I'd chosen to cultivate my intellect by taking difficult subjects as an undergraduate, and then secured admission to a top graduate or professional school at which I excelled, I'm sure I would have succeeded." Some who speak this way are surely right; others are not.
Succeeding at the highest levels in a competitive profession is hard, but it's hard in a different way than producing extraordinary and healthy children. Early on in my Facebook life, I told a retired Wall Street lawyer I've known since childhood about a woman in the Carolinas homeschooling three girls under seven, two with ADHD or other special needs (behavioral, not cognitive, issues). Without missing a beat, this workaholic who periodically collapsed from sleep deprivation said in his inimitable Boston brahmin way, "I'll take the 2700 billable hours."
I have as little patience for feminists who denigrate women who choose to make childrearing their sole job in life as those who attack women who want to look pretty and young for being shallow or vain. For one thing, as long your appearance isn't your only concern in your life, I don't see anything wrong with vanity, unless you equate physical appearance with character or moral value. If you're a modern Neoplatonist and live entirely in the world of forms (even if you don't know what Neoplatonism is and can't name a single philosopher in this tradition, or even five major works by Plato), terrific. I don't live in that world, though I studied philosophy, and I don't think most people do.
But I am occasionally a lightning rod for criticism for several reasons. I'm childless, happy, and free (both generally and financially). You'd think losing ten years of my life, including a promising career in academia and an exciting, ambitious dissertation project, or  trying to kill myself once, would earn me some slack. (It was a ridiculous attempt in 2002 with Valium and Advil, which is now is quite amusing on many levels, not least the brown paint I puked all over the already hideous carpet in that hellhole apartment I lived from 1996 to 2006. I'm not sure I needed to call the carpet cleaner because nothing could have substantially improved or worsened that carpet.)
But it's just the reverse. Some people still suffering from extreme depression with a slew of intractable health problems resent an ex-sick person no longer in therapy or on meds and in excellent health more than they resent those who never had significant hurdles to overcome. One might also think a near decade of celibacy and Emily Dickinson isolation, plus estrangement from family, would earn me some "suffering points" in our age of victimhood, but apparently it doesn't with some miserable people.
(A new friend of mine in New Jersey teaches composition in college and reports the most depressing stories about competitions among her students for what amounted to the "biggest victim prize." She's terrific but I often have to read her comments about group-think, PC, and the thought police in today's academy with a glass of wine in hand.)
Happy people don't care about other people's life choices and are secure enough not to take contrary opinions about lifestyle personally. Not having to work doesn't help matters, nor does being a swimmer and dancer in good shape who loves clothes and jewelry and displays pieces bought secondhand at deep discount in three states in her various writings. And probably eating out daily at least once, even if it's just happy hour and a 10 dollar omelet, does me no favors with the haters and malcontents.
Health care may be an issue as well. Mine was $810/month and post-ACA, for a similar plan, it's now just $546. I realize and truly regret that so many have been screwed by the ACA. In my FB group, the Midwesterners are the worst off (Wisconsin particularly, though this may have more to do with the state's policies than ACA per se). My California and New York contingent fared pretty well. But my new gynecologist reports a parade of women in her office sobbing in a rage about the changes.  She say ACA has been a nearly unmitigated disaster for her patients.
So I suppose that's another reason to hate me. But it hardly makes me a trust funder, even if it had stayed at the unpleasant $10,000 a year rate. That's slightly less than one-third of a single, secular private school tuition for one year in  big city. Perhaps the Tea Partier in Hawaii (see below) thinks every parent of a private schooler is a trust funder as well?
That whole exchange was peculiar, as it's usually OWS supporters who throw around "trust fund baby" (or "capital gains") as an insult.  I'm sure Harvard-Westlake and Horace Mann parents, be they Columbia professors or Skadden Arps partners working 70 hours a week, will be by equal turns pleased and perplexed to learn they're trust funders.
The funds would certainly help with the $35,000 or $70,000 they're shelling out after taxes. People in that tax bracket tend not to have more than two kids (at least not with one wife, though a single second marriage baby is common and I am myself such a child). This is partly because public school is unthinkable and three private tuitions plus college is impossible. I can just see accountants at RBZ or the New York equivalent fielding a bunch of hysterical calls asking where the hell the money went.
Just last week, a dear friend of 3.5 years posted my recent Patch blog on his FB wall, which I will henceforth call "the barracuda wall of hate." More vile men and women on a single wall I've seen only once and on the Patch, where the individual I've taken to calling "Stalker Marsha" eagerly awaits every new blog so she can spew all the venom in her toxic mind in the comment section.
It was the first time in awhile I'd been hit with the "trust fund" thing. A man in Hawaii called me this this privately, someone on my wall I never knew well, an right wing extremist who posts a lot of hateful, ignorant shit but is actually a mild-mannered fellow about 60 from the mainland. He made other mean-spiritied comments in public.
My religious Jewish friend seems to have construed one of his favorite rabbi's dictums–"Make your default setting kindness to mean, "Tolerate shit from despicable human beings with zero redeeming features" has a nasty wall. My wall, by contrast, is full of truly loving, fun, cool, people diverse in every conceivable way: politically, religiously, economically, educationally, professionally, and geographically.
It takes time (and balls, I've learned only by watching people who either have no balls or choose not to use them) to weed out the crazies and the assholes, but my FB is hopping and happy. My Klout score is in the mid-60s, sometimes as high as 68, which is unheard of for a non-celebrity.
Klout is a misnomer: it has nothing to do with actual real-world clout (though a Wall Street Journal piece not long ago argued that it's not entirely irrelevant for those in positions of (financial) power). But Klout does measure "social media influence" defined as engagement (likes, shares, comments), and mine is high because I'm on FB so much. My Facebook page for Victorian Chick would be considerably more active if I quit posting on my personal page (which for all my blogging remains in the low 700s, unlike some political posters with 2000 or 3000 "friends").
But I'm not in this for money, and I prefer to post some status updates to friends only. So I keep the public page, which is just shy of 500 followers or "likes," but post there about one-third as often as I do on my personal page. 90% of my close FB friends primarily use my personal page to like, comment and share even on identical content. (My main demographic, according to Google Analytics and Facebook Insights, remains those between 45 and 65. The FB audience is 60% male and 40% female, but Google Analytics doesn't give you gender and that may be more 50%/50%.)
As I said, it's been a long time since I've fielded such hate or incurred the trust funder and narcissism charges. So for new readers, I thought I'd address both. I've met trust fund babies, and I grew up with kids of Hollywood writers and producers with syndicated TV shows whose kids never need to work. None drives a 2007 used Saab, wears almost exclusively designer resale or consignment clothing, shoes and boots, wears (and blogs about) lab diamonds and Pandora, or lives with their parents 9 or 10 days a month to drive an elderly father with macular degeneration to doctors, stores, restaurants, and banks when not helping read mail or the TV listings on a 42-inch plasma TV.
You'd think I'd get some points for tending to a WWII veteran who bombed Nazis, and with some who would otherwise hate me, I do. Being a caretaker somewhat makes up for having no kids (and being quite militant about why I am daily grateful I'm childless and, come 4/25, officially infertile). But as the responses to the recent New York Post story about young women opting for dogs over kids attests, breeders and non-breeders will perpetually be at odds.
I've never met a "trust fund princess" who lives with her parents 10 days a month instead of hiring the full-time care, and at 42, has yet to visit all of the above: Continental Europe, Asia, South America, Central America, Fiji, Tahiti, Moorea, St. Barth's, the Middle East, Canada, Africa, and Mexico (other than Cabo and La Paz, where we sailed on Dad's CT 54).  The last time I went to Hawaii was 1995 for six days between Christmas and New Years and before that, 1982 for a wedding in which I was flower girl. I don't remember going at 2, but apparently I had a great time, though I fussed whenever it was time to leave the beach.
If I'm a trust funder, then I'm an avant-garde, isolationist one who has flown out of America precisely three times in my life. I'm a new kind of jet-setter who flies almost entirely between Los Angeles and New York for under $400 dollars roundtrip, except in July when no ticket is less than $500. I'm also a special sort of New York trust funder who, musical comedy maniac that I am, attended my first Broadway show in three years this past February. The motto of the new trust funder: Never leave America and attend cabaret instead of Broadway!
I'm also setting a big trend in transportation, forsaking the pricey Amtrak (the slow train, never the Acela) for the Megabus from New York to DC and Boston, just under $20 dollars each way. If you book early, it's even cheaper. You will soon be seeing the kids of financiers posting their dinners on Groupon from Killer Shrimp ($50 for $25 dollars). And it's all because of me, Victorian Chick.
As for narcissism, all who write a book-length study about their lives are susceptible to this charge. Memoir is a literary genre, one I studied in graduate school with modernist Porter Abbott. Within literary criticism, theory of autobiography is a highly technical field akin to personal identity theory within Analytic philosophy as a whole. Well sort of, philosophy of language and some logic are even more technical, so perhaps it would be better to say that it's the field within literature most Analytic in its orientation.
I've always loved the genre, even the light pop culture version. Judith Jacklin Belushi's Samurai Widow, Marilu Henner's By All Means Keep on Moving, and Charles Grodin's It Would Be So Nice If You Weren't Here are late 1980s or 1990s memoirs I greatly enjoyed. More recently, I enjoyed (and consider a model for my own book) Live Nude Girl: My Life as an Object, the rigorous and literary memoir of Kathleen Rooney, poet, publisher, and assistant professor of English at Purdue.
I even wrote my first of two Weekly Standard reviews, my first piece in a national publication, about John Lithgow's memoir. I won't here bother to give the ignorant among my haters a basic bibliography of the field, but Elizabeth Bruss has written much on the topic and any of her bibliographies will give you a decent sense the main issues, at least up to 1997.
The questions for critics hinge on the degree to which first-person accounts deserve special privilege. What is the epistemological status of the "I"? Should we take autobiographical writing as "true" in a special way by virtue of the subject's phenomenological access? Such questions slide fairly quickly into the philosophical topic of skepticism and the problem of other minds. The split subject in Hegel is different from the split subject of psychoanalysis, but in all these sub-fields, the unity and authority of the subject are key. And yet again, slide (along with signifiers) into questions of reference, meaning, and consciousness.
Porter assigned canonical instances of "self-writing," as literary-critics often call autobiography (a term which allows for "autography" and other life writing), including St. Augustine's City of God, Teresa of Avila, Rousseau's Confessions, Frederick Douglass' autobiography, Virginia Woolf's Moments of Being, and Samuel Becket's Company. I took the course spring quarter in my first year at UCSB and glad I did, though I wish I had taken his popular modernism seminar because to this day, the 20th Century is my weakest, other than the late Henry James.
One singularly revolting and vicious Facebook woman I hope developed an ulcer from her tirade about me on my friend's wall, has a problem with my pictures. I take it this miserable creature missed that the OED made "selfie" its "word of the year," a frequent topic in the blogosphere which I made the subject of my Huffington Post debut. And, uh, I blog about fashion, twice in a month guest blogger for Bicoastal Brunette. A fashion blog without pictures is as useless as a food or travel blog without visuals. Beyond just awful, this woman seems not to be very perceptive or sharp.
She said that all bloggers are worthless, but seemed to feel I was a special case of worthlessness whom she pitied, and who nearly induced her to vomit in just four paragraphs in which I made no reference to myself (just my illustrious parents). What can I say? As my Facebook mom and dear friend always says when I lose or break something, "It's a gift." I've seen pictures of the woman–and her dogs–and shall refrain from comment on this score, except to note that were one to place our lives (and persons) side by side, I wouldn't be the one inducing pity.
Perhaps the single biggest supporter of Victorian Chick is Erik in Northern California. At my urging, he took more than a few Yale English courses online, starting with John Rogers' incomparable Milton survey based on his book, The Matter of Revolution: Science, Poetry and Politics in the Age of Milton. Erik also took Langdon Hammer's 20th-century poetry (which I regretted not taking), and a Dante lecture with Thomas Mazzotta he called perhaps the most rigorous intellectual experience of his life. Dear Erik posted a devastating public reply to the haters in a long public status update.
I couldn't have asked for a better, or more scathing, defense. It amounted to this: 1) Victoria isn't for everyone; she's an acquired taste and requires some learning and experience to grasp, 2) She isn't telling other people how to live their life, but rather explaining her own choices, 3) She lives her life on her own terms and describes her fascinating and accomplished family, friends and acquaintances in ways many find interesting, and 4) Victoria extends compassion and offers of friendship even to those with diametrically opposed values, including this retired stick-in-the-mud Catholic lawyer who disagrees with her about almost everything in the arena of values or ethics.
My favorite sentence, however, took direct aim at the woman hurling the vilest insults: "If you find Victoria boring, please fill us in on the details of your fascinating existence."  Heh. Don't fuck with Victorian Chick: I have an army of supporters, some of whom correspond with me privately, but are happy to tear you verbally to shreds after a short text or email from me.
As for narcissism, yes, I post a lot. That's why God invented the "hide" feature: take 15 minutes to learn how to use FB before whining that I'm filling your feed. I shudder to think how such people handle an IRS audit, which even if you've done nothing wrong, feels like a tube up the ass (aka a colonoscopy). Weaklings with trigger-fine sensitivity who snivel about the burden of a frequent Facebook poster have bigger problems than Victorian Chick and her designer resale scores or exquisite meals.
I use FB more like a typical Twitter account. If my wall were dead, the lady (I use the term loosely) might have a point. But with a Klout score between 62 and 68, and comment threads about banana cream pie at Joe Allen which exceed 100 comments (about pie!?), it appears that quite a lot of people find my  life–and those of my family and acquaintances–amusing. I also run into fascinating strangers, particularly in New York, and enjoy writing about them (anonymously of course).
People often tell me I need to write fiction and that I have a novelist's eye for detail as well as an ear for dialogue. But I'm not not inclined (or trained) to do so. Tales from Fishtail: The Social Architecture of the Upper East Side would I think be a success. Americans have a seemingly endless appetite for stories about New York. Bushnell's success with Sex in the City still amazes me, and the Housewives of New York, which admittedly less horrid than the rest of the franchises, I half-suspect is a hoax perpetrated by Bravo on an unsuspecting nation.
But in the wake of the book's publication (which would include other Manhattan neighborhoods like the Upper West Side, SoHo and the Village), I'd have to move. And I could never again eat or drink at the bar and restaurant on my street. It's the only place close by with a happy hour (red for $8/glass and white for $7/glass instead of $14 and up for both), so it's a non-starter. All kidding aside, I'd be betraying confidences not different in kind from those entrusted to a therapist or a lawyer. Fun and potentially insightful as the book would be, ethical considerations preclude its writing even anonymously or as a roman a clef.
III. Why I Love the Patch
Three years since I started Victorian Chick and two years after starting the public Facebook page of the same name, I post my writing to some 50 branches of the Patch in three major metropolitan areas (LA, Chicago, and New York) under the name "Victorian Chick on the Patch."
I realize, as a veteran journalist and friend of mine in New York told me at the Art Bar in the Village last trip, that the Patch is not a path to journalistic success measured by any traditional standard (prestige, money, circulation). Mom was surprised to see a UCLA Law professor and Biglaw big deal writing for the Huffington Post, the very outlet which felt that Beyonce's and Jay Z's $6000 dollar shopping spree at a Lower East Side sex store mattered more than the death of 400,000 Americans annually from smoking and the role e-cigarettes can play in reducing that number. For $6000, those dildos better be platinum–and do your taxes and grocery shopping.
My debut about the selfie reached 459 likes, while the review of an off-Broadway show broke 100 likes in its first day or two and the piece about Facebook ended up at 140, with many shares on Twitter, Pinterest and other social media outlets. I discuss my Huffington post story on the podcast, Click! Bang! if you're interested. Pluralism, schmuralism. They are a bunch of cowards and hypocrites who censor whatever doesn't mimic their ideological biases.
There was one unusually pro-e-cig article, but most of all, these anonymous "Blog Eds" who accept or reject your pieces are beyond appeal or even reach. It's one thing to get mistreated when someone is paying you well (or poorly); it's another thing entirely to be treated like dirt when you're working for free by people who may not even speak English. You just don't know who these people (men) are.
No one in from "Blog Team" who wrote me was female. I like to think it's a bunch of poor 20-something living in a rat infested studio in the Bronx drowning under a mountain of debt with broken water heaters, but who knows. Arianna Huffington is an odious, wealthy hypocrite whom Bill Maher humors for no reason I can understand. Then again, he's apparently close to Ann Coulter, so I don't think he has the best taste in people.
The Patch also gives me regular practice writing pieces of 1000 words, though sometimes I write a piece in the 1500 or 2000 word range. I can write about whatever I want for as short or long as I please and since May, 2013, it's unmoderated. The new server allows me effortlessly and endlessly to revise after the fact, so it's like a living, breathing repository of my thoughts. And it looks cool to boot. The Huffington Post server sucked. I mean really sucked. I had to write dozens of emails about tech issues (though until the e-cig problem, the tech folks wrote me back pretty quickly).
I'm particularly proud of the two pieces this week (though I wish Stalker Marsha would contract a non-fatal STD which had the unusual side effect of preventing her from typing).  Marsha and a few other nitwits led me to adopt a strict policy of not reading comments from anyone I don't know. Friends peruse them and alert me to anything worth reading.
1. The Grandma and the Stripper: On Double Standards and Female Desire
2. Noel Coward's "The Vortex": A Modernized, but No Less Vertiginous, Tale of Vanity, Family, and Manners
Of course writing brings in no money, just a lot of joy. And I get to sit around all day in my PJs, which I love. Here is today's blogging outfit with my Henley EVOD tank and EGO Spinner battery. 
This is the view from the upper balcony at J's SB condo, where I no longer need to go to smoke, but used to spend much of my time writing. I still sit out here to sip some wine or chat on the phone (or Facebook).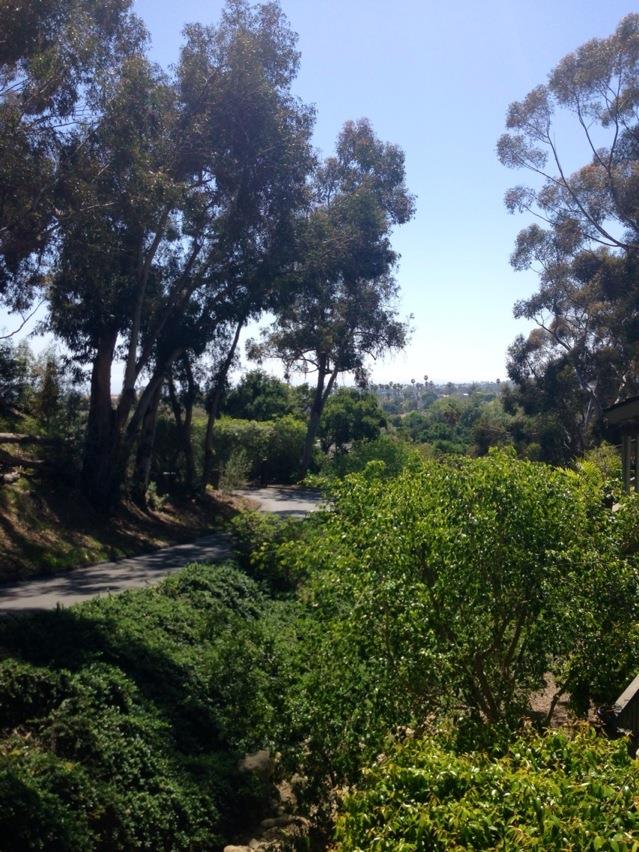 And these are my companions, though one is a bit of a sleepyhead at 13.5 years old, who spends most of her time downstairs on a double doggie bed (two on top of one another).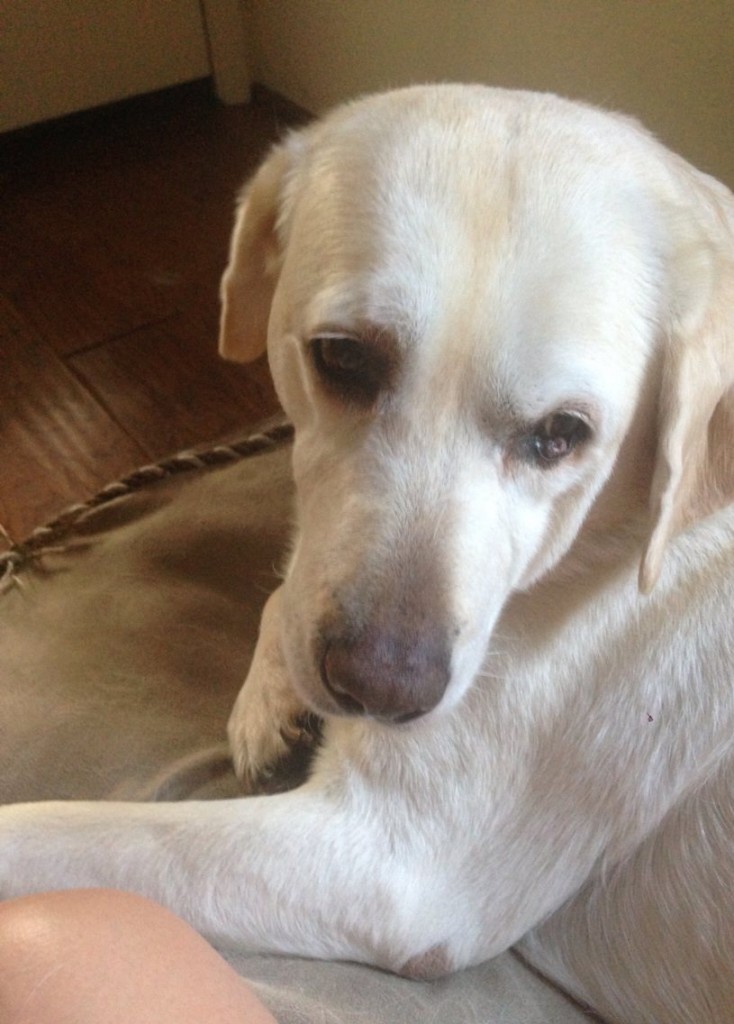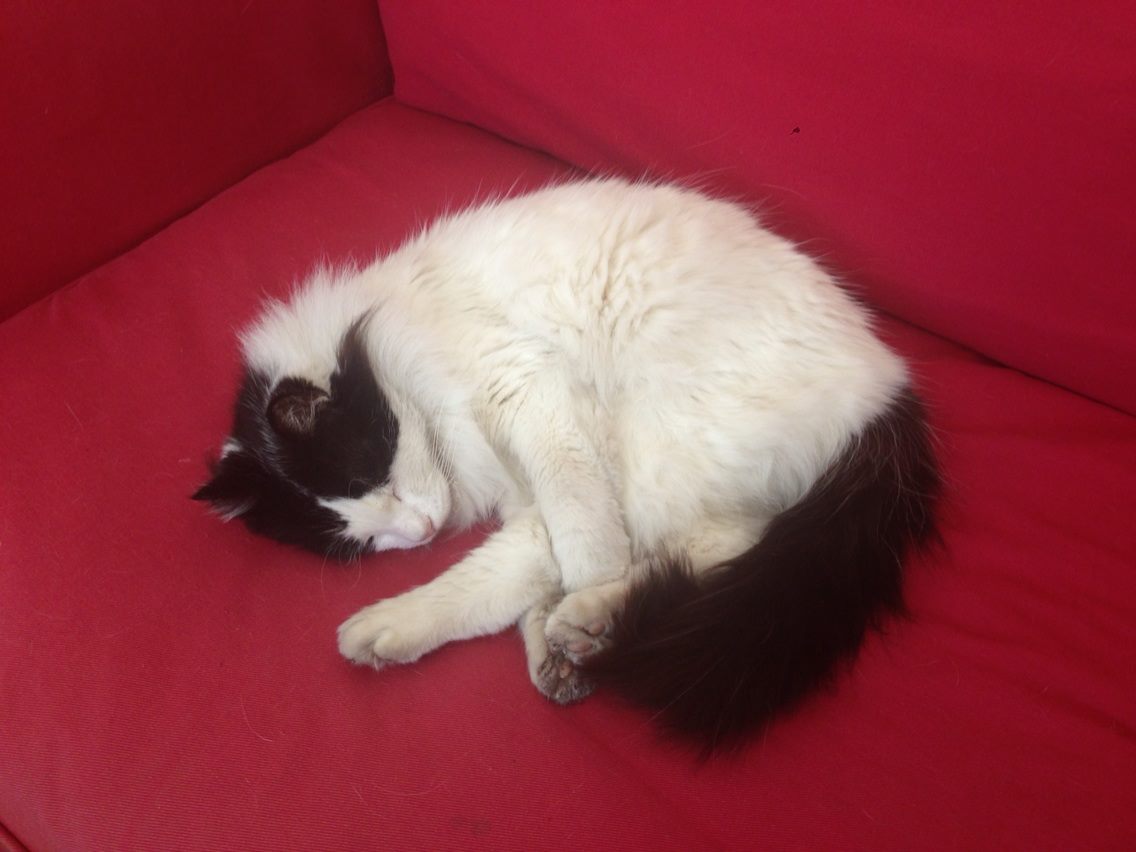 So on this beautiful, sunny Passover in Santa Barbara, I want to thank all my readers, friends, and supporters.
Here's to year four of Victorian Chick!
XOXO