Ah… I just finished a great strength training workout and found no open lanes at the pool, so I thought I would check in after nearly six weeks of no blogging.
New York was amazing as always, packed with cabaret, food, music, and friends. I will blog about a Uganda benefit at the Triad on 72nd and the phenomenal modern dance troupe, ChristinaNoel and the Creature, I saw for the second time in a year. Broadway Sessions, hosted by the inimitable Ben Cameron with the brilliant Joshua Stephen Kartes on the piano–my favorite way to spend a Thursday night in the city–featured the graduating musical theater majors from Ann Arbor (U of M). It was as moving a show as any at Broadway Sessions.
But I've experienced a bit of a workout rebirth in the wake of a training session at Equinox 63rd which was to focus on my weak ankle. I've been to the club in SB six out of eight days and feel such a surge of energy and vitality (not that I was low energy to begin with but I'm fired up about a non-dance workout regime for the first time in years).
I revised and added pictures to my old blog about D-Day and thought I'd re-post in a catch-up blog. I have probably 50 great (not professionally great, of course) New York pictures, along with pictures from my sister's acoustic show last Saturday at Bob's Espresso Bar in the bohemian, vibrant, and artsy North Hollywood Arts District. It's not Throwback Thursday, to which I finally succumbed on Facebook, but here is Bob with my sister pre-Fast Times, with the rest of the gang of musicians and servers.
My sister's progressive rock band with her husband Gregg Olson is Scarlet Hollow, but this was all acoustic. I will write something up for the Patch with more details, but you can find Scarlet Hollow on Facebook. I love this picture of us. It's one of the few good shots we have as adults. Gregg has recovered miraculously from the massive stroke of 2012 and they're back to playing, writing and producing. 
People on and off Yelp love Bob's, but rent isn't cheap on Lankershim Blvd. these days, so if you want to support local business, forego Starbucks and hit Bob's. (The show was free but the suggested donation was $5, so if you know people in NoHo, send them over.)
"Bob" is Robert Romanos of Fast Times at Ridgmont High (1982), an iconic film about American teenage life which really put Phoebe Cates, Jennifer Jason Leigh, and Judge Reinhold on the cinematic map. It took years for people to see Sean Penn as anything but Jeff Spicoli and over 30 years later, people remember Romanos as Mike Damone.
Still photos immediately conjure up Jackson Browne's hit, "Somebody's Baby Tonight" and I will forever associate a candy striper uniform with the song by one of Joni Mitchell's many longterm boyfriends. Joni is my sister's female idol, so I grew up with Joni, unlike most people my age.
I've often written that I have more in common with Baby Boomers than Gen Xers and it's largely because of my sister and brother, 60 and 53, respectively. I worshiped the Big Chill, loved St. Elmo's Fire, and detested the insipid Reality Bites. The Winona Ryder character wasn't so awful, but her attraction to Ethan Hawke wiped out whatever sympathy I might have been able to muster. And you gotta do better than Ben Stiller as the solvent, stable sellout in the Saab (though I love Saabs and intend to drive mine another eight years) if you want me to care about her romantic conundrum.
Singles, on the other hand, was entertaining. I loved the soundtrack, which I played over and over in the closet passing for a bedroom in New Haven during the blizzards of 1992-3. But I could not at all relate to the aimless 20-somethings who, unlike the Reality Bites characters (with the exception of Janeane Garafolo's), were at least likable. Immature and not overly bright, yet vulnerable and affable.
I saw Fast Times toward the end of elementary school or perhaps the beginning of Westlake, but we didn't have a VCR until 1984, so I probably saw it on cable. I thought the movie was funny and cool, and I knew the actors would go on to bigger and better things. The script was funny and of course Sean Penn's Jeff Spicoli was hilarious. But About Last Night was my sexual "coming of age" film, though, in 1986: gorgeous young adults in Chicago having lots of sex and drinking at a local pub was far more my style than awkward teens with fast food jobs and no apparent scholarly aspirations.
Having for six years attended an all-girl college prep school like Westlake, I've never been able to relate to movies about the typical coed public school experience. This is why The Breakfast Club, which I saw with my mother in Westwood on one of our Saturday mommy/daughter movie days) didn't particularly resonate. I didn't regret seeing it and understand why it loomed so large in the 1980s pop cultural landscape,but neither did I watch it again and again.
Also, the family dysfunction in the film struck me as too pat. I was already a Woody Allen fan by 6th grade. If I wanted neurosis, I'd choose the mature, Jewish, upscale New York version–even at 12, when I'd never been to the East Coast, much less the city. As my readers know, I was never really a teenager. By 14.5 years of age, I lived alone in the Palisades on weekends while my parents lived at the boat in the Marina. By 16, I had a car and a license and only ate dinner with my parents on Sundays, because I danced during the week at 6PM and then studied at the UCLA reading room till quite late. I wanted to go to Yale and I was busy with dance, debate, speech, and then teaching ("stretch and tone").
I've decided to take a bit of a blogging break for summer, or perhaps just to extend the unintentional break I took in June. I love writing but I miss reading and watching TV. I've never even seen The Good Wife or Parenthood, and I'm now four full years behind on Grey's Anatomy. Obviously I have no interest in Game of Thrones, Breaking Bad, or The Walking Dead. But I saw just four movies last year and the year before. (J and I enjoyed Draft Day and I want to see the Jon Hamm baseball movie as well as the tearjerker with Laura Dern based on the popular novel, The Fault in Our Stars. 
I see an empty lane, along with a wonderful woman and grandma who received a doctorate in Chinese language and literature at Yale in 1965! She was headed east just before I left, and I look forward finally to having a nice wine date.
I didn't blog about the debacle in DC, but I did write a Yelp list with six reviews which fairly covers the disaster of mass transit to and within that annoying, overpriced city. I got a lot of private messages from Yelpers I don't know, so I think I must have hit a nerve.
It wasn't, however, a total wash. I spent four stimulating and wonderful hours with Sigrid Fry-Revere, author of The Kidney Sellers: A Journey of Discovery in Iran. I also enjoyed Busboys and Poets and Chef Tony's in Bethesda. But when I got back to Penn Station after a good friend gave me a pass for the Acela that Saturday after my night in a youth hostel on I Street, I wanted to kneel and kiss the filthy train station's ground. When Penn Station evokes paradise, you know you've had a rough couple of days (and that DC sucks).
Perhaps over and above the long lunch with Sigrid and the nice bus ride down on Washington Deluxe, the trip was good comedic material. I've decided finally to take a class in stand-up and try some open mic. Lots of people have asked me if I do stand-up and while it's a frightening and naked prospect–far scarier than walking on stage naked (which I would actually enjoy, to be honest)–I'm going to give it a try. My father alone is good for hours of material. 

I will eventually post a photo blog about New York, along with a blog about Blue Tavern's Happy Hour. I spent more time than usual in Central Park because the weather was so beautiful, more spring than summer for most of the trip.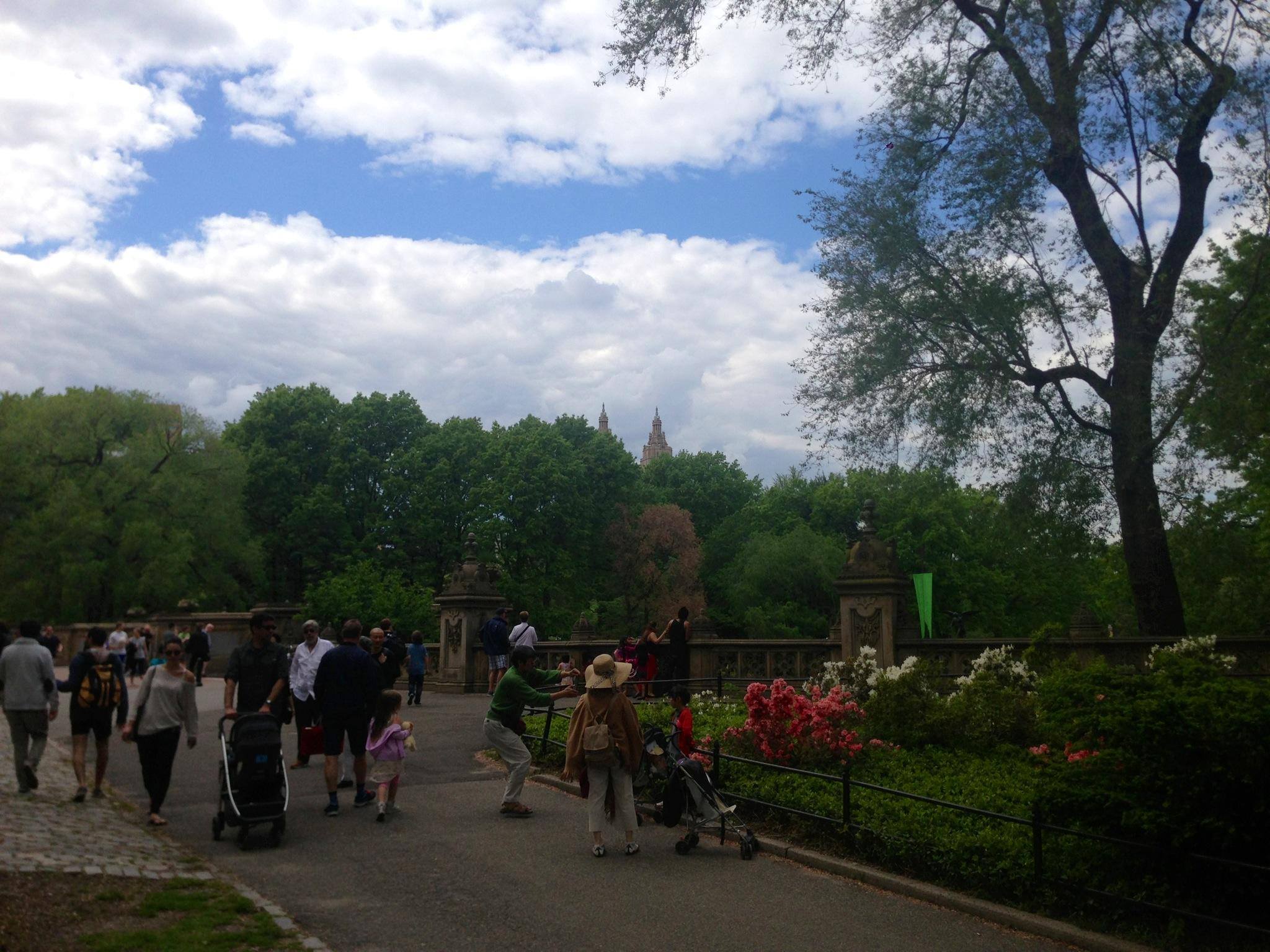 Wednesday is J's birthday and Monday I will spend with my friend Ellen, whose New York trips have not coincided with mine since my birthday in 2013. And if you're in LA, tomorrow is the "finish line" of the AIDS Life Cycle ride. I will be volunteering at 1PM. It's Pride Week in West Hollywood, which is always festive and warm. I was in New York the day of the AIDS Walk, but didn't get there till people had begun to disperse.
Happy Friday!