I want to get to the club for a longish swim while it's still cloudy (I'm too sore and tight for weights today), but wanted to report that it's been 3.5 days since my last cigarette and that I have no desire for a real one. The key, as vapers told me since I switched from V2 (old school e-cigarettes with cartridges rather than liquid) to the Kangertech EVOD in February, is having backup tanks, batteries and charging cables. But I didn't listen–till now.
I'm an odd mix of stubborn and laid-back. Things that drive my borderline OCD methodical boyfriend mad, a not wiped down table at a cafe, say, don't faze me at all. My boyfriend is convinced that my iPhone is full of microbes and close to spawning organisms which will crawl out of the lucite Marware case and penetrate my ear drum. He bought me a new case months ago, but I haven't pressed him to change it for me.
Maybe all this just makes me a slob when it comes to my electronics, not actually mellow.  I definitely get irritated (see my Yelp rants about the DC Metro and BART), but a lot of stuff just passes me by. My mother finally cleaned the screen on my 2011 MacBook Pro because she couldn't bear having the equivalent of a petrie dish in her house, much less looking at it on her kitchen table, for one more day.
Mom seemed particularly distressed to learn that the caked on matter was the byproduct of sneezing and coughing directly on the screen rather than turning my head to do both as my boyfriend has suggested countless times. I tell him that his/our longhaired kitty is to blame for my daytime allergies and that it is not therefore entirely my fault. Just look at this guy!
I make the same argument about used tissues in the bed. Neither persuades him that I couldn't avoid sneezing on my Macbook or toss the tissues every morning when I arise. But in the latter case, I do make an effort.  Furthermore, Mom had to clean my spit up and snot, among other things, when I was a baby, so I find her squeamishness about dried snot illogical. She seems to feel that it's different now that I'm 42.
And Mom isn't exactly a neat freak. Not to mention the fact that dear Hilma, the woman who came to my parents when I was five and continues to work 15-20 hours a week nearly 37 years later, is not known for her stellar cleaning skills.
My obsessive, and obsessively neat, Jewish grandmother (think Tree Grows in Brooklyn) didn't think much of her as a cleaning lady, though Grandma loved Hilma as much the rest of the family always has. I haven't written about my 30th St. Augustine reunion in May, which both Maya Rudolph and Gwyneth Paltrow attended. But Hilma was the star-in-absentia of the reunion: everyone remembered Hilma and no one could believe she still was still with us. Most people had help, if only part-time, and no one else's housekeeper or nanny still works with their parents.
And to be fair, Hilma wasn't hired on the strength of her cleaning or culinary prowess. She was hired to shop, cook Monday through Thursday, do laundry, keep the house picked up, and look after me. For some time, her sister, a wonderful woman from Guatemala with three grown sons, two of whom served in the military, has come every five or so weeks for five hours to do "heavy cleaning." Between visits from Hilma's sister, my aunt regularly mopped the kitchen floor because she likes to walk around the house barefoot and felt the floor was unfit for shoeless feet.
And Hilma doesn't believe in throwing out food. Neither did Jean-Marie, come to think of it, the Buenos Aires woman who cared for me from 7 months, when Mom went back to work full-time as Executive Director of the Los Angeles County Bar Association the year Warren Christopher was president, to 5 years. (This was a perfect 40-hour-a-week mommy job, by the way).  She would cite the "pru people" in Africa as a reason not to toss stale or slightly molded bread. To this day, Mom does a refrigerator sweep every other day because if it were up to Hilma, unfinished half-and-half and cottage cheese would remain in the fridge in perpetuity: a sort of historical record of the Ordin family's dairy consumption.
And in law school–which Mom seems to think a relevant detail–her fridge was so bad that Dad almost broke up with her at the outset of their courtship. She lived in a tiny studio at Venice and Robertson not far in those blissful traffic-free days in LA circa 1960 from UCLA Law and her job at 9107 Wilshire, next to the soon-to-be closed Kate Mantilini on the Beverly Hills/West Hollywood border, where Mom was office manager for five small firms with just ten or so lawyers including my father.
Either Dad was early or she was late for a date, so she invited him upstairs while she finished getting ready and told him to help himself to a beer in the fridge. Experiencing what he describes as a mild coronary upon opening the fridge door, he instantly thought to himself, "This isn't the broad for me. If my mother sees this refrigerator, she'll disown me."
Mom's 2010 Acura bought used in 2011 after a garbage truck crashed into her used 2002 Acura six blocks from the funeral of one of Dad's oldest friends, is always neat and clean but for the pink foam curlers she often dons in the morning (and sometimes wears on the commute downtown if she has a breakfast meeting) because Dad made it a condition of marriage that she never wear curlers in bed.
And at least since my college years, Mom's cars have been close to spotless. However, when she gets on me about my Saab (and before that, my Pathfinder), which at its worst my boyfriend's son has referred to as "the landfill," I remind her of the condition of her fridge during law school, during which she worked 25-30 hours a week as she had as a UCLA undergraduate.
To this Mom replies in her most exasperated tone (which isn't all that exasperated), "Dear, I was 23 years old! And working my way through law school. You are 42 and don't have a job. You can afford regular car washes!" I guess she has a point. Sort of.
Like me, though to a lesser degree, Mom leaves a trail in her wake. Dad said that throughout their marriage,  he could track her precise path after work by following her purse, blazer, keys and wallet through various rooms of the house they still live. J always marvels the day or two after I return from New York: "What happened? Everything was so neat. Now there are purses and empty wine glasses everywhere. And a K-Cup in the Keurig.  How do you do this so fast!?"
But at the moment, I'm pretty proud of myself. I took my car to the carwash for my fabulous LA day with Ellen, born and raised in Greenwich before marriage and  motherhood on the Upper West Side (and briefly, Scarsdale). That was Monday and other than the backseat–which I don't even count, since that's just mobile storage for a girl who lives in three cities– it's still pristine. As I often note on Facebook when my feed is full of motivational memes about realizing your dreams, the key to happiness in life is low expectations. My mother has always felt this way and I have entirely embraced this philosophy. Low expectations do not connote laziness; one can still be disciplined but expect very little.
In this vein, I've recommitted to working out (apart from dancing, which sadly is not yet possible) and see a tremendous difference in my body, and particularly arms, as a result of the core work and strength training. And I'm thinking I'm going to stay with this clean car thing awhile and see how it goes. On a related subject, I've stocked up on tanks, batteries and charger cables and been 100% smoke-free for 3.5 days with no plans to buy a backup pack. Now that I have backups and a car charger, I'm never left in a lurch.
Which brings me full-circle. While my person is always immaculate, my possessions tend to be shmutzy. J calls me his "beautiful disaster" and "strange, shmutzy, spilly creature." He says to look at me, you'd never think what a mess I am.
But again, I'm feeling pretty smug right now. After leaving my gorgeous 90% off wallet in the upstairs bathroom at the Laurie Beechman Theater on 42nd and 9th during the Christmas Cabaret Cares for AIDS and returning ten minutes later to find it gone, I have a new driver's license.
Yes, I drive without the plastic card confirming that I'm a valid driver because I never get pulled over (except when my registration sticker is expired due to a late smog test). In CA, driving without a license has always been a 25 dollar fix-it ticket and while I'm careful about money, that's not enough of an incentive to go through the rigamarole of the SB DMV, worse than ever now that Ventura is closed for renovations.
I started an informal pool on Facebook, asking friends to guess how long it would take me to lose. I am happy to report that it's been ten days since picking it up at the rental I never stay and that in 19 days in the city, I didn't lose my Montecito Bank and Trust card once!
So perhaps in my early 40s, I am becoming a grown-up in the logistical realm. I'm not proud that sometimes I forget to flush the toilet after I pee, but I'm often on the phone or texting and so forget. When I solicited praise for this feat, my boyfriend looked at me the way he does so often and said, "That's great, sweetie. My 42-year-old girlfriend remembers to flush the toilet every time she uses it."
My father pities J and says often, "Poor Jarrett, he must just go insane living with you. He's such a normal, straight shooter and you're just, well, nutty as a fruitcake! I need to call Jarrett and assure him that I understand his cross to bear. Maybe he should take some Ativan or Buzpar."
I see patches of blue peeking through the June gloom (the marine layer over Santa Barbara between Memorial Day and the 4th of July), so need to get to the club to swim.
Here are the pictures from J's pre-birthday sushi and cake celebration with his parents, son, and of course Doobie the Briard.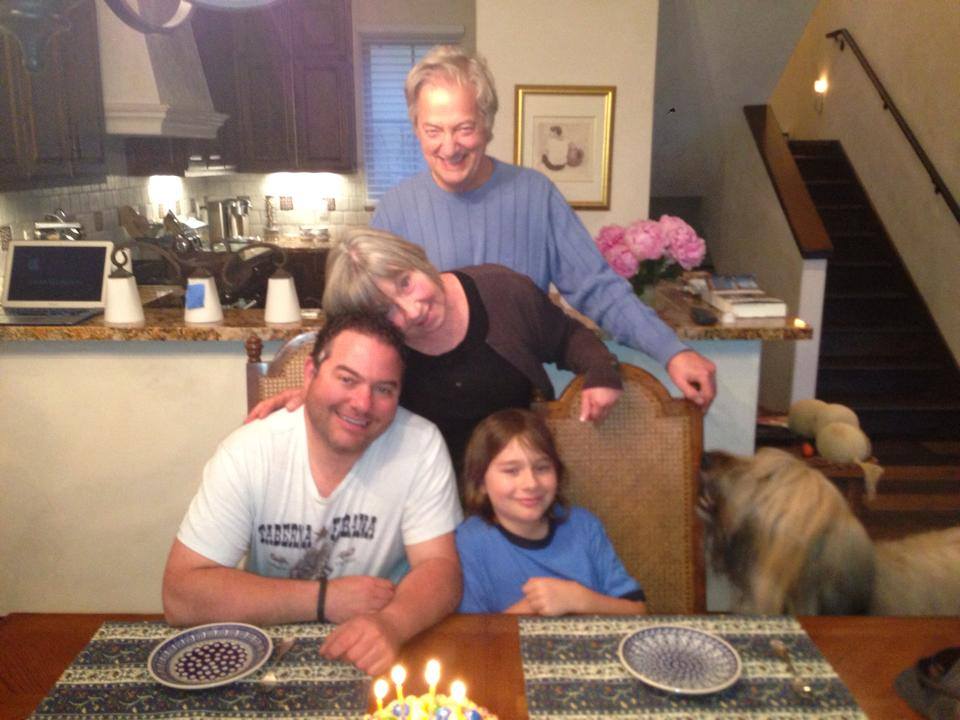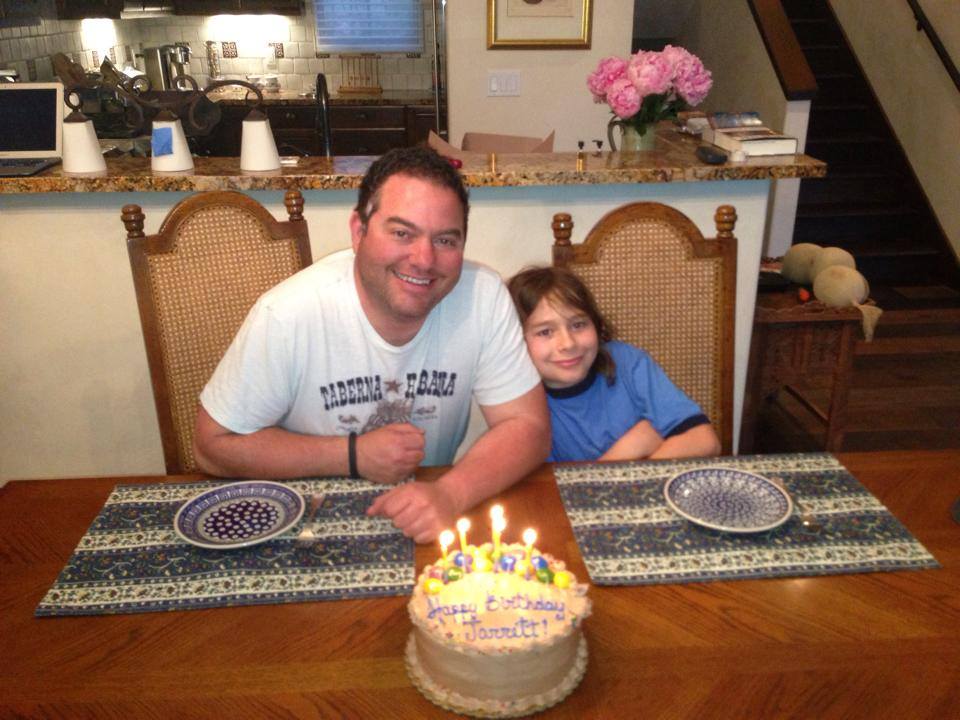 And here are the pictures from Montecito Wine Bistro last night (and yes, they take Axcess, buy one entree, get one free first time and 10% off–so free sales tax–thereafter). Sadly, the pictures of us didn't really turn out.
Happy Thursday!
P.S. Here is a picture at the Westside Pavilion with my friend Ellen, now in New York, pre-return to CA, where we will rendezvous again in a week or so. I drove her from her son's place in WeHo along Sunset through Beverly Hills, Holmby Hills, Bel Air, and Brentwood,  to my parents in the Palisades.
We stopped for lunch at Cafe Montana, which was beyond fabulous. I ate a hundred times there in the late 1980s and 1990s, but hadn't been back since 1999. I was out of LA nearly a decade and for whatever reason, the 32-year-old Montana Avenue staple dropped out of my parents' stable. I will be back soon.
Our server, Roland, is from Manhattan and Queens musical theater stock. He is himself a performer and long on personality. I've never met an Angeleno who had heard of the small cabaret, Don't Tell Mama. He says there's nothing like it anywhere in LA, though we have upscale Feinstein's sort of singers who visit bigger venues.
After Ellen chatted with my parents, I drove her to Nordstrom for the sweater/jacket I've been living in for months (I own in two colors) and then through Carthay Circle en route to West Hollywood for crostini at Fig and Olive.
I go to the original location a block from the place I stay in the city (62nd/63rd and Lex) and come to the museum-like WeHo location only when I am in that part of town. I'm in the city every two months, so I'm not motivated to fight traffic to get to the LA location and avoid the Newport branch like an STD.  As all my friends know, I don't do the OC, not even (or especially) Newport Beach, which I consider thoroughly repellent.
Happy Thursday!