It's warm in Santa Barbara this weekend, just shy of oppressive at 3PM. A light breeze wafts in through the windows looking out onto the ocean in the distance. Ollie and Emma are lounging on the deck in the shade,  motionless, as if in protest of this mid-September heat.
They don't like hot weather any more than their mommy does, though today I am in an especially blissful state. The half-empty Trader Joe's Cotes de Provence ($5.99) which has become my go-to summer wine in SB, kept in the fridge for five days. And I have two fully charged vapes with plenty of juice.
J and I rented Fletch Friday night, which we've both been wanting to see for some time. I've seen the film dozens of times, but it never stops being funny. I knew Dana Wheeler-Nicholson a little in the mid-1990s from the gym. We weren't social friends but we did speak on the phone occasionally, so it's fun to see her as a young woman in the iconic 1985 comedy. And Geena Davis was so young (and funny) as Larry, the innocent yet spunky assistant who follows Chevy Chase around the office like a labrador puppy.
The score by Harold Faltermeyer, responsible for the equally famous music in Beverly Hills Cop, conjures the 1980s like little else. Stephanie Mills' "Bit by Bit" makes me feel 13 again. I came of age in the Reagan era and think a lot about the decade just chronicled by Los Angeles Magazine with Patrick Nagel's famous image on the cover. Letters to the editor for September indicate that others feel as nostalgic for the optimistic, and by comparison innocent, 1980s as I do.
For a second-generation Angeleno, it's a kick to see 1980s LA. I love the tinny, old police cars, which frankly I don't remember looking like that after the late 1970s. And Santa Monica became so glitzy when the new mall came in with Bloomingdale's and other upscale shops, that Fletch in 2014 is a cinematic walk through my childhood.
My readers know that I mostly buy consignment and designer resale, so I've never set foot in the "new" mall. I don't even go to Bloomingdale's in New York on 59th, just two or so blocks from the walkup I live part-time, so I'm certainly not going to the Santa Monica or Century City locations, where I have to deal with traffic and parking.
This is also my thinking about Sprinkles cupcakes. I love the daily red velvet and the occasional German chocolate and strawberry with strawberry frosting (though not the raspberry, which is repellent). But there is no way I'm driving from the Palisades to Beverly Hills for a cupcake when, three months a year, Sprinkles on 61st is 30 second walk after I descend four long flights from the studio.
Ditto for Fig and Olive on Melrose Place. The original–and decidedly geriatric–location is on the Upper East Side on Lex between 62nd and 63rd, directly across from the best Equinox on the entire East Side of Manhattan and only branch with a cold plunge. "Never go anywhere in LA you can get to in New York faster" has become my bicoastal shopping and dining mantra.
But as much as I feel like a New Yorker by temperament and perspective, I'll always be an LA girl. I'm sure my landlord's daughter, 35, who grew up in the brownstone I live and now lives in Santa Monica, feels the same way about about the Manhattan of her childhood when she sees movies set in the 1980s. She's just six blocks from my old elementary school and went to Sacred Heart, Dartmouth and NYU's Tisch School. I highly recommend her last film, Proxy, which I reviewed in the Hollywood Patch and re-posted on various New York and Los Angeles branches before the maddening and much-hated server change (two months and I can't get a new password).
The Santa Monica of my childhood is as inconceivable to her as the Upper East Side of her childhood is to me. I still haven't been to the souped-up Santa Monica Pier. The last time I was even close to the pier was in 1994 for Cirque du Soleil's "Saltimbanco" and the last I walked on it was around 1984, during the Olympics.
A close friend from the 1973 Westlake School for Girls class (through the FB page, "I went to Westlake before it was Harvard-Westlake") grew up near the Riviera Country Club in a much higher rent area of Pacific Palisades than I was raised and still live part-time. She reports feeling like like Rip Van Winkle every time she drives around West LA and parts of Santa Monica.
Other than the old Zucky's sign and that big white building on Wilshire and Ocean, lower Santa Monica place is all but unrecognizable. One of the few landmarks close to the beach Fletch was filmed is Patrick's Roadhouse, est. 1977, which I visited for my first time just this week. 
St. Augustine, my industry school now called Crossroads Elementary on a fancy new campus with twice the student body (which makes the elite high school with a dumpy campus look even dumpier), was then on 4th between Wilshire and Arizona. Those are my childhood stomping grounds as much as the Palisades Village, where I hung out almost never, having just one or two friends either in the Huntington Palisades (big money) or the "alphabet streets" (modest homes on matchbox lots).
In Fletch, the pier looks shabby if not dilapidated, and the whole beach looks quaintly deserted.  The fancy Annenberg Center was decades from being built a little further north on PCH before south of Chatauqua. As for the hilarious Friar's or Rotary club "hug a cop" scene and the car chase in the stolen MG, the Bonaventure was still a relatively new and big deal in a downtown decades from revitalization.
South LA was still South Central, though I think 80% of people in West LA don't know about the official name change. Dad had no idea, and I heard South LA for the first time this spring at the Latina Lawyer Bar Association gathering in Echo Park at which Mom told her story. Many of the lawyers just starting out or already successful grew up in South Central, overcoming tremendous odds; even they had to correct themselves in speaking of childhood. Dad agreed that bullet (or two) to the head in South LA will make you just as dead as it did in South Central.
"DTLA" would have meant no more to an Angeleno circa 1986 than Nolita would have to a Lower East Sider of that era. The difference, of course, is that Nolita was an invention of realtors to jack up prices, while South LA was an invention of local politicians and community leaders.
Fletch, a film nominally and lightheartedly about police corruption–though the theme was merely a vehicle for the film's comedy and romance–was released about five years before the Rodney King beating and LA Riots, so it's also interesting to watch now in light of what we know about Daryl Gates' LAPD.
My mother was on the Christopher Commission, asked to serve by her longtime friend and former boss, Warren Christopher. The current LA Police Commission was the direct outgrowth of the report, which called among other things for greater civilian oversight. Mom served 7.5 years of a 10 year term, first as a commissioner and then as its Vice President and President. In 1991, I was a coffee and filing girl for the Christopher Commission. My name actually appears on the report, though I think it probably says "assistant to assistant" (or something equally silly), not "filing/coffee girl."
I've blogged about my inability to get laid those four or so months volunteering part-time downtown. No amount of flirting in high heels, pencil skirts and silk blouses borrowed from Mom, would induce the KPMG Peat Marwick suits in their late 20s to touch the 19-year-old daughter of Robert and Andrea Ordin.
The Peat Marwick guys weren't lawyers, but even pre-Google, everyone in the office knew who Mom was, and from there, it didn't take a lot of digging to find out that my father was a former federal bankruptcy judge with the nicknames Ordin the Ogre or the Bearded Bastard. I was practically a virgin (no sex at Westlake and two one-night-stands during my first term in college). And since I left Yale after a single semester, I thought the Christopher Commission staff was as good a dating pool as any.
It even struck me that (moderately) well-dressed lawyers and accountants–not typical nerdy CPAs if they were at Peat Marwick–in their late 20s were perfect.  At least they wore suits, drank in nice bars (I've never been a dive bar girl), and ate at good restaurants: this distinguished them from brilliant but slovenly Yales boy who drank beer from funnels and regarded Pepe's, Naples, or Sal's as an ideal venue for a date. I was too weight-conscious in college to eat pizza, so those famous New Haven institutions did nothing for me.
I was happy to go Dutch, but I wanted to eat in real restaurants with decent wines by the glass and vodka at least as good as Absolut. Having grown up eating in estaurants you could get a nice plate of pasta or grilled fish, Mamoun's (a falafel joint with a branch in the West Village by Caroline's comedy club) didn't cut it. If I had wanted this sort of date at Yale, I would have had to induce professors to hit on me. Or hang around boarding school kids, which I never did.  Most of my friends were either on financial aid and working a part-time job or on a tight budget. When I needed a break from dining hall food, I usually ate alone.
Alas, TAs weren't an option as they rarely dated (even precocious) undergrads, no doubt the result of tedious lectures about sexual harassment and professional self-destruction. I even thought that perhaps the breakdown and hiatus in my undergraduate career for psychoanalysis might have a silver lining: a semi-mature, young professional boyfriend.
But it was not to be. My parentage, which had always been (and continues to be) an asset, was the female equivalent of a cock blocker. Vagina blocker, I just learned, has made it into the Urban Dictionary, else I would try to trademark it.  Many of my Facebook friends now use Woo Woo, my pejorative synonym for New Age, though I took it from my lovable Woo Woo aunt who uses it sans prejudice. Another of my innovations–drinking a glass or two of wine before swimming, lifting weights, or walking briskly–seems to have caught on as well. A friend in Brooklyn posted a study on my wall just this week confirming the health benefits of alcohol pre-exercise.
I've met a lot of journalists in the past few years on Facebook. The newsroom of Fletch has more in common with the Washington Post of Woodward's and Bernstein's years than it does with any major paper today.  When Fletch's editor carps about expenses (novelty teeth, wigs, tickets), he's not kidding, but he's not exactly serious. And the itemized list is read after Fletch has broken the story of drug-dealing cops, so we know it's more like a parent moaning about the price of prom than someone facing foreclosure.
Yes, Fletch has to wrangle his ticket to Utah from the department simply referred to as "transportation," but one doesn't get a sense of financial urgency.  I can only imagine how tight money is now, in the post-Internet world of journalism, since even in finance the days of fat expense accounts, season tickets (to entertain clients), and corporate apartments are mostly things of the past.
Mention "corporate apartment" to any metro New Yorker in finance between 50 and 65: and you will hear great stories, narrated with an acute nostalgia for those free-wheeling days affairs didn't require hotels. (Come to think of it, this could make a good collection of stories. Too bad I don't write fiction.)
J is at the office and I'm going to swim at Carp when he gets his son for dinner. I've fallen in love with ocean swimming and haven't stopped kicking myself for living nearly 18 years in Santa Barbara and only now taking full advantage of the ocean. I thought the water was too cold to swim. Not true. Perhaps because I have become addicted to cold plunges in the city, where the 63rd Street Equinox in the former Barbizon Hotel has a 48 degree plunge in the basement spa, 65 degrees suits me just fine.
For no reason I can understand, 65 degrees feels colder in a pool than in the ocean. I would even be okay at 62, but probably when the temp dips to 60 or below, I will have to wear the spring suit I bought used on Craigslist for 50 bucks. It's currently at my tailor, Montecito's Perfect Fit, where the talented and wonderful second-generation dressmaker is chopping off the arms and making it into a de facto triathlete wetsuit.
I don't consider myself outdoorsy. I don't want to climb anything. And dust makes much hiking a non-starter. I also despise heat, so walking up a dusty mountain—no matter how stunning the ocean and mountain views at the top—is out of the question. Give me pavement on tree-lined streets with multi-million dollar homes (3 million about average in Montecito's Upper Village) and I can walk happily for two hours.
I don't mind sand, though now that I no longer use my Saab as a mobile closet and keep my car and trunk essentially vacant, I have to de-sand the mats more than I used to. But swimming in the ocean is my new joy. I'm surprised that so few Santa Barbarans swim on a regular basis. Only surfers, who wear wetsuits, and Ironman people, of whom there are many in Santa Barbara, regularly brave the 60-something degree water.
I'm didn't go out Saturday and don't plan to eat out for dinner Sunday, so I went to Vons to stock up on frozen meals (balsamic chicken, ravioli and the only Amy's entree I like, Paneek Palir) and stopped at Pressed Juicery for the Greens 1.5 (only 80 calories and 10 g sugar for the bottle because it's mostly veggies). The juice was free as it's my 10th purchase in however long.
I also went to Little Alex's and had two tacos raja for $1.79 each, along with a tiny guacamole and chips plus a diet Coke. I haven't kept soda in any residence I've been a dozen or more years, but occasionally with sushi or Mexican I like a diet Coke if not drinking alcohol. I'm saving for an unexpected trip I didn't plan for and thus imposing culinary austerity for the next week (drinking wine only at home saves a lot).
I never finished my blog about Carpinteria State Beach but I will, along with all the other half-finished blogs from my summer writing hiatus. I broke radio silence a few times, once to discuss body image and another to announce my plans for fall. The Keller Williams course is going well and the book Real Estate Principles amounts to a long, tedious glossary.
If you can memorize things about easements, escrow, and encumbrances, you're fine. The finance book, which I will read in November, is more challenging but not by much. It's finance for dummies.
My current schedule is more regimented but I love it: I arrive in LA on Tuesdays in time to take Dad to lunch, while Mom is teaching her land use law course at Pepperdine. Class is Tuesdays and Thursdays from 7PM to 8:45PM. Fridays, I cruise up to Santa Barbara around 2PM and stop for a swim at Carp before meeting J for dinner. This will be my schedule for September, November, and January during the real estate course.
Last week I was so happy to be in town for my friend's birthday (and celebration of a great semester).
She doesn't advertise her age as I do, but she's a youthful and vibrant not 20-something. Which reminds me: I must blog about Tom Junod's "42" piece in Esquire. It led a hysterical frenzy among insane Jezebel-types. Dame, Slate, Salon, and Gawker also weighed on what was not only a "fairly negligible" piece in the words of its author (with whom I am friends both on Facebook and Twitter) but also in my view resonant and true.
I am 42 (now closer to 43) and this has been the best year of my life. Every year life gets better. I have no doubt that 43 and 44 will be equally wonderful, but I'm not looking forward to 50 (or even 45, truth be told). 42 is great! Unless it's not, of course, but that's surely not Tom's fault.
Finally, I am still vaping and avoiding tobacco except when technology fails me or I have left my juice or coils somewhere and not near a store.  I've reached out to various people in the e-cig community about being a spokesperson or booth girl at conventions: a face and voice of happy vaping in middle-aged. Here's the Facebook album, Vaping with Class and Style.  Note the absence of ink and piercings. Not every e-cigarette user is a rebellious, counter-culture type.
Some vapers are quite traditional and even bourgeois in their tastes. It's essential to enlist non-vapers and non-smokers in the fight to preserve our rights (not to mention our health and our lives). Campaigns like "F*ck Big Tobacco" aren't the way to do that, at least not without a more mature approach geared to those who don't look like Occupiers or hipsters.
To this end, I have begun taking beach pictures with my Kangertech set-up. Yes, it's corny, but if a male middle-aged vaper with COPD is even tempted to try e-cigarettes, it's a good thing. I have never been a beach girl and I don't surf, but I've so enjoyed my swims at the beach (in spite of the gallon of goupy sunblock I have to slather on my neck and face).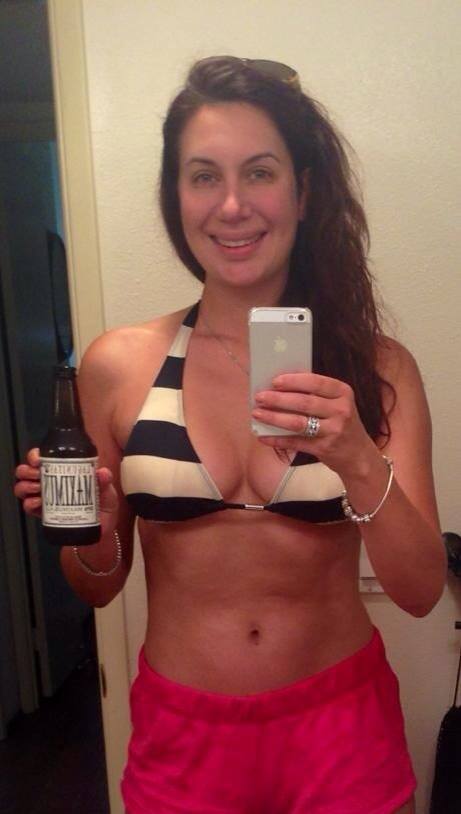 My suit was $20 from H and M (purchased when I forgot my lap suit before going to Hollywood's Voda, the premier spa in the area, along with Burke Williams), and the shorts were $15 at Nordstrom in the lingerie section. I wear them only at home and at the beach because I'm over 40 and understand the concept of "age-appropriate," at least when it comes to clothes.
There's a liquor store on Linden with good IPAs and wine. As I said, I prefer to have a glass or wine or a beer before a workout and as the water temps drop in the coming weeks, alcohol will help with the cold. My wetsuit is ready and I will see if chopping the arms gives me the mobility to swim freestyle. If not, vigorous treading in the ocean is enough of a workout.
Happy Sunday!
P.S. I went to Nordstrom this week to try on the Felicity and Coco maxi-dresses on sale for $46. All but one (which I will post later this week) are too sheer to wear out in public, but one makes a great house dress. Instead of writing in boxers and a t-shirt, I'm writing in this soft, comfortable and sexy dress.