A Facebook friend and Rockette-turned-artist I finally met in Hoboken this October noted that people were too exhausted on December 26th to wade through a long, rigorous blog about academic politics, the death of journalism, and aesthetic theory: "Today is the day after Christmas, and our brains are filled with sugarplums, cookies, candy canes and carbs. I Kant burn enough to think philosophically."
This in response to a status update in which I mocked my naiveté in believing I could write a short, fluffy Christmas blog after a 3.5 month blogging hiatus.
Taking my wise friend's counsel, I decided to wish my readers a belated Merry Christmas. Our family celebrated a day late because my brother and his teen daughters were in Miami, and since they're the only children in the family, we pushed Christmas back one day.
I'm a Christmas tree Jew, raised around minimally observant Reform Jews or secular half-Jews, so it didn't really matter what day we opened gifts. And actually, it worked out perfectly. I arose before 6AM, my body seemingly incapable of adjusting to Pacific Standard Time, and arrived at Montecito's Miramar Beach in antlers and a (used) mink opera jacket in time for the end of sunrise. 
I left my two overcoats with fur collars in the city and loaned my brown Giulana Teso from eBay ($49) to my LA friend, so it was this or the leather jacket on an unusually cool Christmas morning (51 degrees at 6AM).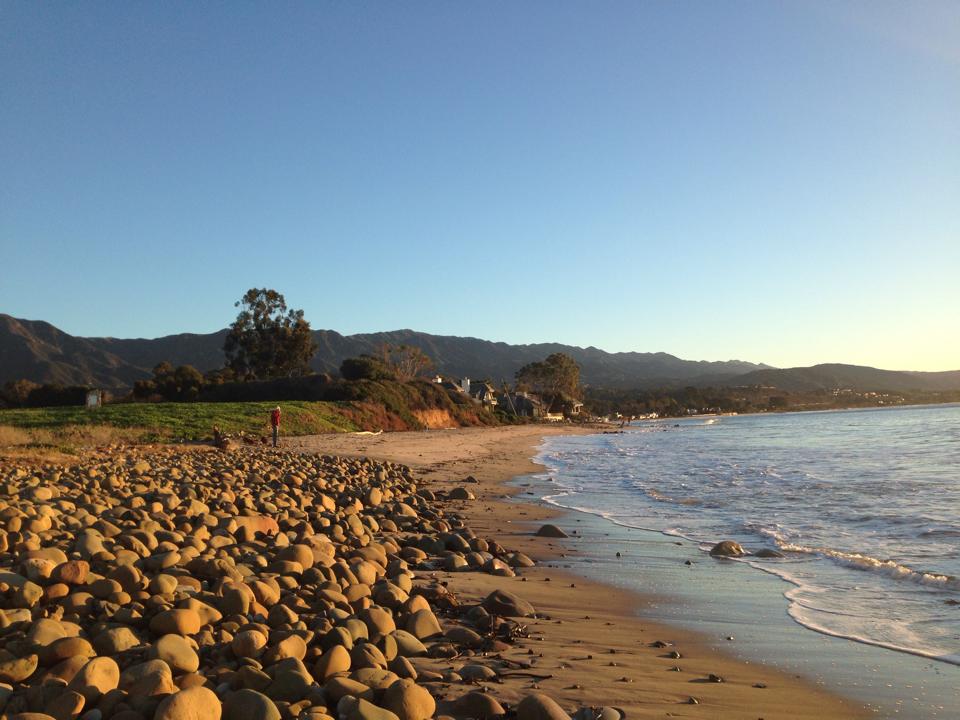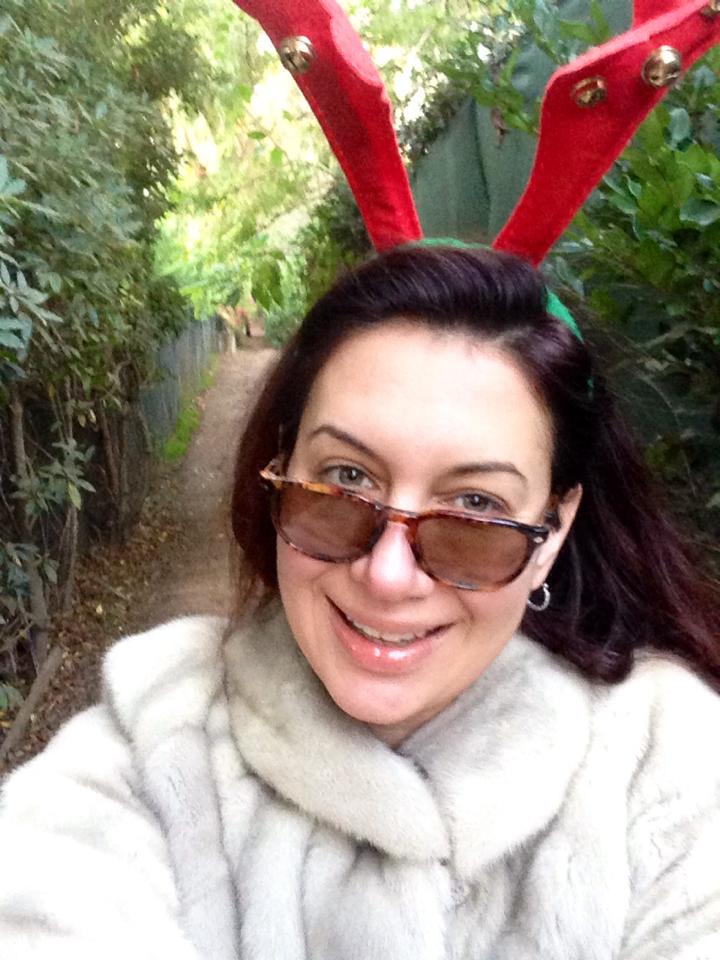 The tide was high at Miramar so I walked to Butterfly Beach, aka the Four Seasons beach, through the bougainvillea-lined lane which connects the two.
J and I had a quiet day with the animals and I finally got him to watch my favorite modern Christmas movie, The Ref, as we enjoyed our best tree ever.
J's son, now 11, always celebrates Christmas with his mother and half-brother at her parents' house in the Orange County (that's not a typo: I always use the definite article to signify my disdain for the Southern California county below LA).             We always have him on Thanksgiving, which we spent with J's parents in SB before they moved to Scottsdale. Now we drive with the kid and dog to their beautiful place near Troon Mountain and I get to shop at the best secondhand store in America, My Sister's Closet.
J's parents are real, not Christmas tree, Jews. They were raised Orthodox and kosher in Brooklyn and Queens, though they quit keeping kosher after medical school and no longer attend temple even on High Holidays. They light candles at home on various holidays, but are minimally observant and not at all religious. J and his sister had bar and bat mitzvahs in Houston, but neither is invested in Judaism or Jewish life.
Not, therefore, until marrying a sort of Catholic woman, did J have a Christmas tree in his home. Six months after his divorce became final, but nearly two years after she moved out of his house, J met me, who identifies as Jewish though I didn't have a bat mitzvah and I don't believe in God. This describes most of the girls I knew with secular Jewish fathers who married shiksas, either the first or second time around (Dad did both times).
Still, I'm the most Jewish girl he's dated or known in Santa Barbara, not exactly a hub of Jewish life. I recently discovered the Edgar Bronfman Center and still plan to attend their their monthly wine night and try the weekly Yiddish class when I'm in town. It's not formal language instruction, just a nice group of old ladies and a retired professor who reads and discusses a poem in Yiddish alongside an English translation. Earlier this year, I met a cool, smart, pretty, Jewish girl from Santa Barbara manning the desk at SBAC. She attended Smith on a full scholarship and they paid for her to study Hebrew in Israel for one year.
I was so happy to meet her, introduced by a member I really like who writes and sails now that he's retired from journalism. She's even a vaper! Northampton, MA had to have been a shock after SB. She didn't like it at first, but eventually fell in love with Smith and said it was tough to be back in SB (removed, I take it, from such intellectual intensity).
She worked at the Edgar Bronfman Center and though probably not more than 25, one of the cooler, smarter girls I've come across in SB, a notoriously difficult place for both men and women to meet interesting females.The Bronfman Center has wonderful youth and senior programs, including a group of Holocaust survivors in Santa Barbara who meet with at-risk kids with gang connections if not themselves gang members. They have a movie night for kids with pajamas at which I'd like to volunteer.
Eighteen years in this town, and I'd never heard of this organization until a religious Jewish friend in Jersey sent me a link. It turns out that Santa Barbara does have a Jewish community, but it's small and somehow hidden. I ran into a couple dozen Jews at Chaucer's Books a few years ago when Abe Foxman of the ADL signed copies of his book, Jews and Money: The History of a Stereotype.
I went directly to J's parents house afterward and joked I'd seen more Jews in one day than in ten years in Santa Barbara. There is a SB Jewish singles group, but J went once twenty years ago and said it was all guys. I went once or twice but wasn't impressed, perhaps because I was hoping to meet LA and New York Jews. I didn't.
Santa Barbara has a Reform temple tucked away on the San Marcos Pass (the 154 which takes you to wine country), which J's parents joined in 2006 when they moved from Houston and promptly un-joined because the people were so rude and unwelcoming. We have one Hebrew language temple I get the sense is pretty extreme and more political (Zionist) than religious or cultural in its emphases.
Except for religious studies graduate students or professors at the nationally-ranked UCSB department, I've never met anyone here who spoke or read Hebrew. That's it: a Reform temple J's parents couldn't stand and a tiny orthodox temple where people speak Hebrew. Part of why they left Santa Barbara was the inability to find friends–Jewish or not–in this socially impossible town.
So when I received my Humanities Predoctoral Fellowship for an M.A./Ph.D. in English after Yale graduation, Dad was of course proud of his little girl. He was also happy to be off the hook for five years of tuition after 12 years of private school plus Yale (though Grandma paid for part of college). He was beside himself about the $12,000 a year stipend for five years (1996-2001). Not only did he not have to pay for school; they were going to pay me! And the health insurance was so cheap, it was practically free. But his first response, beyond congratulations, was: "What the hell are you going to do up there? It's a place rich old goyim go to die [i.e. retire]." As I say, not a hub of Jewish life.
While culturally Jewish, I grew up with Santa and Christmas trees and carols, which I played on the piano out of the Fireside Christmas book. My parents stopped with the tree my first year of college. They still do lights, a fake wreath and poinsettias, but since buying the tree was a special mommy/daughter activity, my departure for college marked the end Christmas trees at the Ordin household.
Cut to 2011. I had been to New York in December, 2009, my first time in nine years. And after my first exposure in a decade to the magic that is Manhattan at Christmas, I resolved to get a tree the next year. I missed 2010, but got organized for 2011. I met J in August, 2010, and in 2011 invited a few people over to my rental to decorate. It was too early in the relationship to foist a tree on a man who not only had to endure a large, expensive tree in the house he bought for his wife and stepson, but who was expected to buy expensive ornaments (and Mauviel cookware, though neither can cook worth a damn).
Christmas was an especially miserable time in what was a generally miserable marriage, though I didn't know the extent of it at the time. But being the intuitive creature I am, I figured J might have Christmas PTSD from the nightmare shiksa he married, so I bought a sweet 5 foot tree for my rental where I still lived part-time.
It was a great little tree, in spite of the Grinch who stole all the ornaments my mother gave to me that Thanksgiving in a beautiful hat box she bought secondhand. These ornaments had sentimental, but not monetary, value.
As Victorian Chick readers know, my illustrious mother is frugal (some might say cheap) but only with herself; she's unflaggingly generous with others.  Mom's first non-Supercuts haircut in my lifetime was in 2012 at the age of 72, and only because a Brentwood salon ran a 50% off deal for first-time clients.  She loved the result so much, Mom now  pays full-price now at Juan Juan on San Vicente, though she still dyes her own hair with color bought at CVS. This in spite of the fact that my sister has done hair for a living since 1990 and could buy Mom Goldwell or the equivalent at Cosmoprof, a professional beauty supply which sells only to currently licensed cosmetologists.
So we never had expensive ornaments. There were a few robins and other birds with a wire rather that wrapped around branches, rather than hanging by a hook. I loved the wheelbarrows with Santa, though most were missing a wheel or two. There were a few Hummel-style figurines, but not the tacky kind Jeff Koons featured in one of his most famous and kitschy series I was invited to see on a private members tour of the Whitney a week before the closing party this past October.
(Months earlier the same friend invited me for a private tour of the new Whitney in the Highline, set to open in May of 2015. The closing of the Upper East Side museum was a milestone much covered and discussed in the city this October. And the Koons exhibit was fascinating, even if you think much of his work hideously ugly.
Had I been blogging at the time, I would have discussed Jed Perl's obnoxious, mean-spirited piece in the New York Review of Books, which entirely missed the point of the brilliantly-conceived exhibit. The curators' concise but detailed writing helped me understand what Koons was up to in each major phase of his career, which doesn't alter the fact that some pieces are godawful. Many weigh five to eight tons, which presents a serious engineering problem for those moving or placing them in an old building. That no one in his right mind wants a big Playdoh sculpture (created when Koons' Italian porn star and parliamentarian wife stole their son) in his living room is beside the point. Much Koons produced is not intended for placement in private homes, nor can it be measured by traditional aesthetic standards.))
Our ornaments, then, were a hodgepodge of much-loved and well-worn wooden, fabric, and plastic pieces, along with a few glass or crystal icicles or bulbs given to us over the years. I even made a few out of paper maiche, though I detested art class, particularly drawing, because the kids in my Hollywood elementary school were like miniature John Singer Sargents.
I had talent in the performing, not the fine arts, and dreaded art at St. Augustine.  Whatever the assignment, I would always draw a rose with a daisy and two pussy willows. It was my signature art project, and I was miffed to learn in 7th grade art at Westlake that  sweet, old, quirky Miss De Wine (who always said "What's the word?" instead of "Hello" or "Good morning") wanted me to draw something else. Printmaking wasn't so bad, but I was elated after that semester never to have to enter an art studio again.
The only stolen ornament Mom cared about was a straw angel with pinkish red hair, which we always put on top of the tree. Her beloved mother, a creative free spirit who died when I was six months old, was a red-haired bombshell raised in Mexico. That ornament was our Mama Toni angel, though my mother doesn't believe in angels–or God–any more than the rest of my secular family does.
Minutes after arriving with our family's ornaments at my Santa Barbara apartment, I got a phone call on my perpetually low battery flip phone and went inside to call the person on my landline. I had begun to unpack the car when the phone rang and left the hat box on the roof of my Saab, never imagining that anyone would steal it in just 40 minutes.  After all, I'd left my SUV unlocked for years, much of the time with a wallet in the glove compartment and a key under the seat.  For ten years I slept without incident alone in not one but two unlocked apartments because I lost the key and never bothered to approach the landlords for new ones.
After ranting on FB about the Asshole Grinch who stole my ornaments, I went to Michael's and bought 40 colored bulbs for $9.99 and CVS for another $15 dollars worth of cheap plastic Santas, reindeer and snowmen. But it was a nice tree and I loved everything about it. In fact, I loved it so much that I didn't take it down for a year. By that point, I had essentially moved in with J and by the time June rolled around, it got to be kind of a joke.
By 2012, I had proven to J that I was nothing like the ex-wife and that Christmastime could be fun, not thoroughgoing and protracted misery. We went together to Anthony's, a 60-year-old lot, and chose a bushy, 5 footer which was a cross between a Douglas and Frazier. I paid, feeling that it was enough to force a tree on the guy (who as the man would need to manage the stand), and that he shouldn't have to spend money on my goyishe tree fetish.
Much to his surprise, he enjoyed the tree almost as much as I did and we've had a tree  ever since (for which I still pay).  Since the great ornament heist of 2011, I've gradually assembled a collection of nicer, though still relatively inexpensive, ornaments. None is over $15.
This January, I bought half-price angels at the pop-up Montecito Christmas store near the post office. They're beautifully painted figures faintly evocative of of Pre-Raphaelite women–what I imagine Tennyson's Lady of Shalott might look like with wings.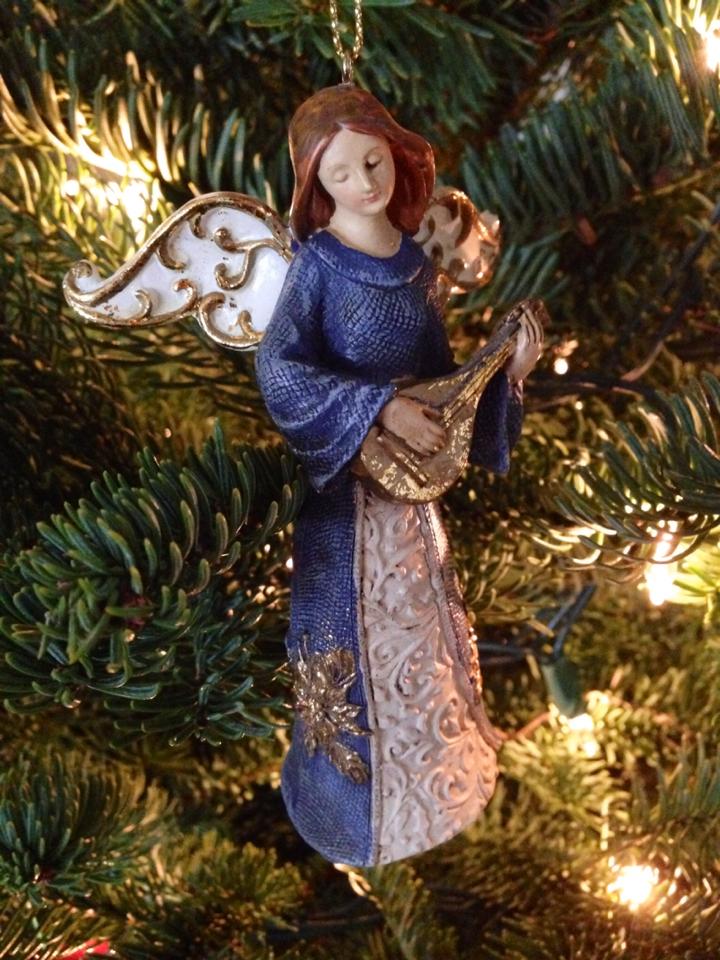 Every year, undoubtedly after Christmas when they fire sale all Christmas stuff, Mom buys me a few ornaments from the Metropolitan Museum of Art catalog.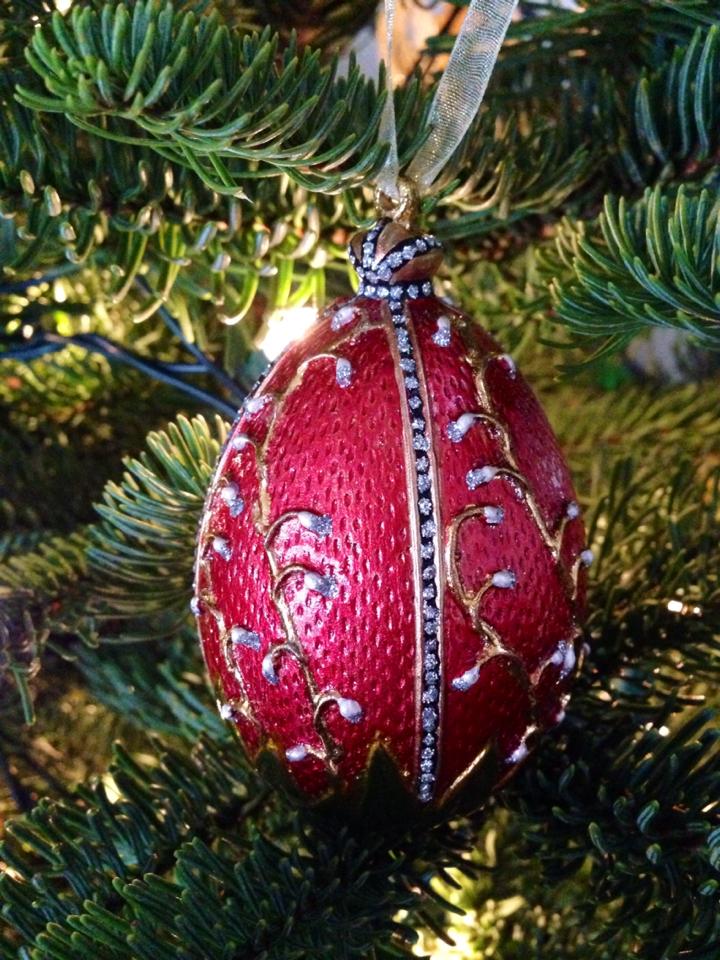 Last year she found the most breathtaking faberge egg replicas, one a lady bug.
This has a special meaning from childhood. I never had a pet because neither of my parents like animals and Dad is severely allergic to cats. Mom would have gone for a cat, but Dad blows up within 25 feet of a kitty.
Dogs were a nonstarter. We lived on a CT 54 ketch in the Marina on weekends and while some boaters had dogs, Dad wasn't going to be one of them. I knew he thought dog-owning sailors were "out of their minds" and I was too smart to ask for the impossible. (The ultimate self-regulating child, I always got what I wanted because I only asked for things to which they would assent.) Also Dad's mother had a beautiful Samoyed who died tragically and violently, when Tosca chewed a plastic bowl and bled to death while his parents were out one night.
Dad thinks dogs are like kids, expensive and troublesome: "Who needs that?"  He's also mildly afraid of dogs, having been attacked as a child and retaining some of that fear, though he liked my mom's best friend's Rotweilers. So he still gets annoyed when I pet a stranger's dog on the street: "Don't pet strangers' dogs. You never know when they'll snap." (Sometimes he thinks they have mange.) If he said this about a pit bull–a breed I happen to like but many fear–I'd understand. But Dad will say this even about a Golden or a Labrador.
Pet-deprived as this animal lover was, I sought substitutes in the form of stuffed animals (I was never into dolls) and ladybugs. I always liked ladybugs, eventually getting a pair of enamel ladybug studs for Christmas one year. One afternoon on the boat, my parents found me on the deck talking to a ladybug, which I tried to train: "Stay…no… yes… good." So that ornament is particularly meaningful. 
This past trip to the city, I went as usual to the Columbus Circle Christmas tents. They beefed up the food court with exotic fare all under ten dollars, and the jewelry is better than ever. Some earrings and necklaces were in the $150 range, but most well under $100.  I posted a public album on my personal Facebook page. At Christmas and the City, I picked up three new ornaments: 1) wine Santa, 2) gold/silver wreath, and 3) fairy angel. The wreath isn't a perfect tree topper, but it's an improvement over the silly moose in a dress I bought at CVS.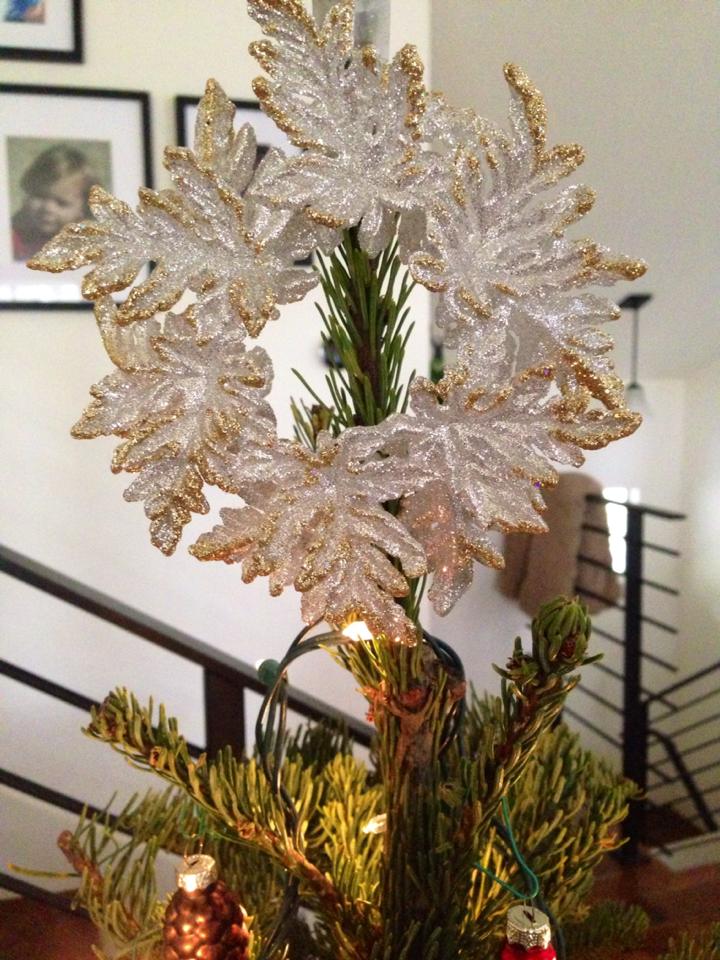 I spent ten Christmases alone during my depression. This marks the five-year anniversary of the total reconciliation with my parents as well as my fifth Christmas with J. (January, 2015 also marks my five-year anniversary off all medication: I take no anti-depressants, anti-anxiety meds or other psychotropic medication.)
After decades of hating the holidays, which truly do suck when you're estranged from family and without friends or a family of your own to replace your family of origin, I adore the weeks between Thanksgiving and New Years.  I am proof that you can turn your life around and that when you do, you can again enjoy the holidays (assuming you ever did).
My Christmases were wonderful until the end of high school. I love this picture of me holding court (!) in the West Hollywood house north of Doheny where I spent my first 22 months, at which point we moved to the Palisades. My father only ventures east of the 405 for an accountant upstairs from Boa by the Soho House and an optometrist and watch store by Pico and Beverly. He spent the day at the Omni the day my mother won the Shattuck-Price Award, the LA County Bar Association's highest honor.
But barring a special event downtown, Dad doesn't venture east of Century City. I was born at St. John's in Santa Monica, where all solvent Westside Jews go. Dad's view as one who spent his first 50 years considerably east of the 405 is that you don't cross the DMZ of LA if you can help it. And why go to Cedars when we have St. John's?
As J and I drove home from Moorpark, where my ex-sister-in-law lives in the house my brother and she lived when married, J said, "Christmas is always so chill at your family." Our Christmas is like no holiday he has experienced with his own family (and certainly not with that of his ex-wife).
That the Ordins would be a model of familial harmony is nothing short of miraculous. It wasn't always thus. Surely Newton wrote but didn't publish a law to the effect that any crazy family will be ten times crazier at the holidays. Along these lines, there must be a lost paragraph in Freud's vast oeuvre stating that families which are loving and free of conflict during the holidays have substantially overcome past trauma.
Our Christmas is chill in a more external sense as well. Some families make a big production of Christmas and feel stressed or frustrated if the house and meal fall short of Martha Stewart standards. Not the Ordins. No one spends hours cooking a prime rib or a roast (I don't know if anyone in our family knows how to make prime rib, come to think of it.) Thanksgiving it is not, which in any case is far simpler than the feasts I see on Facebook every year.
No one in our immediate family could be described as a great, or even very good, cook. Our Christmas brunch is lox and bagels, a fruit salad, two egg things (one with mushroom and one with sausage) and a hash brown au gratin of some sort. I don't know what the egg things are: a pseudo-casserole in a Pyrex pan that spent an unspecified amount of time in the oven, but is always cold by the time we arrive.  My ex-sister-in-law used to make a divine Jello mold with a graham cracker crust. Apparently I, with not a drop of Mormon blood, am the only one who liked it, so she doesn't make it anymore. I toy with getting the recipe, but I still haven't made the tuna casserole I promised to make months ago (with J doing a video for YouTube), so I don't bother.
Since it's brunch not dinner,  you might think someone is hard at work on Bloody Marys or mimosas. You would be wrong. Instead, there's always a bottle or two of red wine no one but me–the family's wino–drinks. My brother is 23 years sober and his ex-wife wife doesn't drink. My sister and brother-in-law aren't into wine, and Dad quit drinking hard liquor fifteen years ago when he was diagnosed with arrhythmia. He drinks only Prosecco when at a restaurant and a thimble of sherry at 5PM while he watches the BBC news.
Mom, who used to drink fairly impressive quantities of jug wine on the boat, became allergic to all wine about fifteen years ago. She drinks mostly gin on the rocks, though occasionally will order a Manhattan at Wilshire. Unlike her daughter, Mom, observes the 5PM rule, though in the era of two-martini lunches she used to have a glass of wine with the boys (her male colleagues at the DA's or AG's offices).
This year's red was Cline Zinfandel, which only caught my eye because it was the "premium" wine American Airlines served on my hellish two-leg plane ride back from the city. Leg one featured two obnoxious children, ages 3 and 4, speaking with outside voices nonstop for two hours while their hapless, beleaguered parents slept with earbuds, leaving the rest of us to endure the inane ramblings of their brats. (Not all 4-year-olds are as boring as the older child.)
Leg two featured a skinhead with Beats headphones and a red swastika on the back of his head, along with–as the 2014 Vassar grad next to me pointed out–the redundant tattoo of a skull on his skull. A skinhead listening to the headphones made by a company founded by one of the richest black businessmen in America: a First Amendment test for us all.
Cline is a Lodi Zin sold at Trader Joe's for 7.99. It's not awful, but there are much better 8 buck bottles of wine. I will bring my own next year, along with fresh squeezed grapefruit juice with a sparkling wine or champagne for mimosas. I think there was Tropicana or Minute Maid in the fridge.
Someone–I'm not involved in food preparation so I don't know where any of these dishes come from–makes a tray of Christmas cookies no one seems to eat. When I was in the bathroom, my sister told her husband and J that one looked like a cock. I'm sure this wasn't deliberate, as my 9th and 12th grade nieces (who probably baked them) are quite innocent.
Moorpark isn't even a suburb of LA, though it's at the northernmost edge of Los Angeles County. Some poor souls commute to work downtown, including the acting County Counsel of LA when Mom stepped down, and it's technically suburban living, but except for the weather, it might just as well be a Middle American suburb.
So the girls were exposed to city life in LA but in no sense raised in a city.  Neither bears any resemblance their degenerate Baby Boomer aunts (I count myself as an honorary Boomer with a sister 18, and a brother 11 years, older) or long-sober father in his wild youth. In short, there is no chance the girls deliberately made a few cock-shaped Christmas cookies.
I don't come from a foodie family, not if foodie connotes a love of cooking as well as restaurants.  But the simplicity of the meal, the absence of Bloody Marys and Mimosas, and the underwhelming wine never diminishes the joy of our family's Christmas. Gifts are modest–none of Dad's three children are exactly high earners–except for the checks from Santa, aka Mom and Dad.
Though most of our lives and interests are so remote, it's just nice to be together in a non-restaurant setting. This happens just twice a year. The half-brother of my half-siblings joins us and it's the only time we ever see him or his daughter, now five. My sister and her husband are rock musicians, so there's not that much for them to discuss with my father. We all vote more or less along the same lines, but politics rarely if ever comes up. No one is religious, except for the Oklahoma grandma, my ex-sister-in-law's mother, so there's nothing to discuss or fight about on that score. My ex-sister-in-law believes in God I've never heard a single reference to religion (or politics) in the 19 years I've known her.
My nieces are the undeniable highlights of Christmas.  Now 18 and 15 (in a week), they're such delightful young women. The eldest was was deferred early by Harvard and her Yale interview via Skype is tomorrow. She got to put me down as her aunt (but forgot that my name was then Maria and didn't know my residential college was Berkeley, so I told her to mention this to the 2007 Yale and Harvard Law grad).
An aunt is of course meaningless from a legacy standpoint, but it's nice that someone in the family was there before she was. I'm the only who went to college or lived on the East Coast, so I've answered questions as they've arisen. But no one asked me to review her college essays–even though I taught English in a university and tutored high school seniors–so I didn't push.  As for Harvard, she still has a shot. Twenty-five years ago, everyone who didn't get in early to an Ivy or small liberal arts school got deferred. Schools now reject 50%. Being white doesn't help, but being middle-class outside a city does.
The younger girl is stand-up comedy funny and a talented dancer who places at or wins every competition she enters. She also needles her big sister. The most recent conflagration centered not on scrunchies (which you can buy by the dozen for five or ten bucks at Target), but gum. They never argue in front of company, so you'd never think they had even a disagreement, and they fight far less than most siblings of the same sex.  Apparently the younger one took gum out of the older one's purse. In her impish defense, she said only: "It was [right] there for me!"  The younger one is equally smart but devoted to dance and talks about dance and theater programs. But who knows. It's a long way off.
I hope my readers had equally happy Christmas celebrations with family and friends. I am going to go lift and swim before dinner. Tomorrow I will finish the blog I paused to write what I thought would be a short Christmas blog. It wasn't short, but it wasn't Kant.
Merry Christmas Week! The sunsets have been breathtaking from J's condo all week. Christmas Eve was no exception. The storm while I was in New York took out a giant Eucalyptus and J's view just got about 15K better.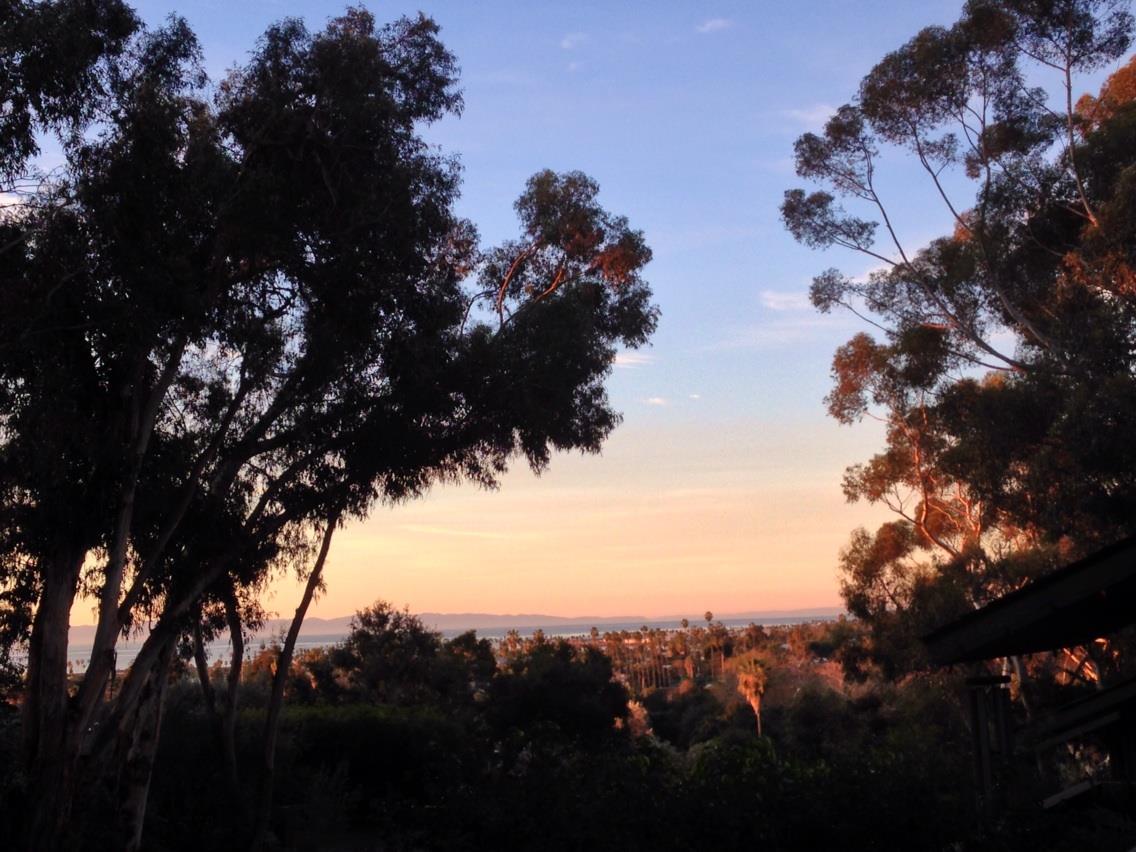 P.S. A note on Christmas tree Jews. I stole this phrase from a TV writer I knew at Yale and bumped into on FB many years later. I dislike the man intensely, though he's a very smart and talented guy. He went to Dartmouth and Tulane Law before coming to the Yale School of Drama for a degree in writing. Many observant Jews who have no problem with Christians celebrating the birth of their Savior with a tree and a bunch of lights, glass bulbs  and tinsel (optional), have a very big problem with secular Jews who have trees. I intended to discuss a book I started reading in New York and recommend wholeheartedly, The Battle for Christmas. But as the blog was already past the 4000 word mark, I chose to not to provide a synopsis of its first two chapters.
It's a serious work of cultural and social history nominated for a Pulitzer by a Wisconsin-trained historian who teaches as Amherst College. Nissenbaum's writing is graceful and compelling. A great read (though I've only read two chapters and skimmed three) for your cranky Jewish friends who object to Christmas trees as a sign of assimilation or cultural death. It's just a tree, folks.