Ed. Note: The Patriots have won the Super Bowl. I heard on the radio that people eat more on Super Bowl Sunday than Thanksgiving, so if you're feeling immobilized by whatever decadent food you've consumed, here's a way to atone. 
January has a been a big workout month for me. For various reasons I detail in the 5000 words blog I completed yesterday (my first since Christmas) but will post tomorrow,  I haven't been motivated to write. Working out is mindless, and it's not as though I'm short on time, so I've been spending hours a day at Santa Barbara Athletic Club, where I've been a member since 1998. They have WiFi, wine, beer, fresh juice (Earth Bar), cottage cheese, protein bars, hardboiled eggs, bananas and one edible sandwich.
During my years of crippling depression in a town I never belonged in a graduate program I mostly despised, SBAC was my salvation. I swam five or six nights a week; that hour or so  (plus the hour or so in and out of the tiny steam room) was my only pleasure in life. But I've been lifting weights on and off for a few years, and this year for the first time since 2000, I've been using the elliptical.
In college, I lived on my Nordictrack and spent countless hours on treadmills and elliptical machines in the the 1990s. By 1998, I was mostly swimming and walking outdoors (one of Santa Barbara's virtues is year-round walking and swimming weather). I did yoga seriously in the 1990s, going on retreats with teachers like Peter Sterios or taking workshops at Yogaworks on Montana with Australia's Marc Whitwell.
The current culture of yoga annoys me and I never found a studio or teacher I really loved in Santa Barbara, so that's no longer a part of my life. I can stretch on my own and you don't need yoga to do the splits or balance on one leg while you take a picture of yourself in a whatever this pose is called.
In 2009, I started doing weights with a trainer. I'm body-aware, so I only met with John Kovach (now athletic director of Cathedral Oaks Athletic Club, the sister club in Goleta that caters to families) ten or so times. John, a football player at Duke with a Masters in marine biology at UCSB, was terrific, but I don't need someone to push or monitor me. I just wanted to get up to speed on weights. I don't do all the special exercises he showed me, but I basically follow the routine he set forth.
Since fitness people are likely not interested in my preference for  for comedies of manners to stories about the downtrodden (The Grapes of Wrath), or my love of Noel Coward, I decided to extract the final part the blog I worked on for two days and post it as a freestanding piece.
I've written about dance, fitness and yoga before on Victorian Chick (search archives if you're interested). And I've always been a fit and slender girl. But I will be 43 in a few weeks and it's more work to stay skinny as you age, particularly if your social life revolves around restaurants, wine bars and happy hours.
Before I review my current cross-training regimen, let me offer a few general observations about getting–or staying–fit.
1. Rational Eating and Portion Control Are Key.

You can live at the gym, but if you eat too much (of the right or wrong things), it won't matter. Exercise is key to weight management, good sleep, cardiac health, bone density, and an overall sense of well-being. But if you lack portion control, you'll never look the way you want (unless you're content being radically larger than even the most relaxed definition of height-weight proportionate).
2. Eating Smaller Meals Throughout the Day Is Better than Fewer Large Meals.
Any reputable trainer or nutritionist will tell you that eating small meals more frequently is better than eating one or two large meals a day and going for hours without food. But if you hate to cook and work long hours in a profession with client dinners and late night drinks, this is easier said than done. I try to eat three times a day, but it doesn't always happen. Don't skip breakfast, and  if possible, get some protein in you not too long after you arise.
3. Drink Water.
In the 2000s, I drank unhealthy amounts of water. My organs might well have exploded. So we're not talking about 2 gallons a day (about what I drank on the average day in the mid-2000s). But a minimum of eight glasses (8 oz.) is good. It's also great for your skin. One reason I look as young as I do is that I avoided the sun entirely for a decade, during which time I neither smoked nor drank. And my mother is half-Mexican, so I lucked out genetically. But my dangerous water consumption had a felicitous effect on my skin. I get compliments on my skin daily, both in person and online.
4. Don't be Wacko like Gwyneth Paltrow.
Not being a wacko is generally sound advice. But steaming vaginas aside, Gwyneth's relationship with food is seriously weird. As my readers know, I went to elementary school with Gwyneth and after 6th grade, when the family moved to New York, I didn't see her until last May at the 30th reunion of our 6th grade graduation.
Gwyneth was gracious and solicitous, seemingly pleased that I care for my father and amazed that Hilma (the woman who cared for me when I was little) is still with us 37 years later. Most of us had  housekeepers if not nannies, or in my mother's egalitarian language, "caregivers." But only Hilma remains.
I left the reunion–at the home near Ronald Reagan's old place up the hill from the Riviera Country Club I spent so many Shabbat dinners and sleepovers–feeling much as I did this week when "Vaginagate" went viral. I cannot reconcile the woman with whom I chatted so pleasantly after 30 years, with the entity at the center of the media frenzy I've witnessed along with everyone else who didn't go to school with her for seven years.
Gwyneth is a movie star who has remained at the top of a notoriously treacherous industry for half her life (just over 20 years). Those who say her parents are responsible for her success clearly know nothing about Hollywood. Your parents may get your foot in the door, but they don't keep you there.
But FTLOG (my friend's acronym for For the Love of God), she needs to confine her remarks to acting. The blog by the Ob/Gyn was simply scathing. If she wants to co-write a cookbook, fine. But there's no percentage in discussing skin care from Paris, parenting, science, or medicine. "Write what you know" is always good counsel.
I've written about "the Gwyneth phenomenon" once or twice on Victorian Chick,  so I won't rehash. People don't seem fully to grasp how her father's death affected her. Bruce was everything to Gwyneth. His death in his early 60s when she was just 30 shook her. Gwyneth has said in interviews that she got into nutrition and fitness when Bruce was diagnosed with throat cancer, hoping to save him through a macrobiotic diet. I'm neither a scientist nor a doctor, just a pretty fit girl who seems to have figured out at way to eat and exercise that keeps me looking and feeling good. But clearly her approach is extreme.
You don't have to cut back to one glass a wine a day (why bother?) or excise hard liquor to stay slender and tight. Part of the point of having or making money is enjoying food and wine. Gwyneth's culinary life, apart from time-consuming and outrageously expensive ($300/day if the viral story last year is to be believed) is neurotic.
I'm sure the meals she prepares taste good, but I'm a restaurant/takeout/frozen dinner girl. I don't even brew coffee and thank the inventor of the Keurig daily for the miraculous contraption.
I love veggie juice, but I buy it at Pressed Juicery, Juice Generation or Trader Joe's. There is no way I'm going to schlep bags of carrots, spinach, kale, and beets into my kitchen and then fuck with a juicer.
5. Cardio Is Not Enough: You Must Build Muscle/Strength.
Some women find weights intimidating. I find them empowering and fun. You burn more calories when you're toned. Also, as a woman, bone density matters. A thin woman can contract osteoporosis (and diabetes). So you need to balance cardio with weights or strength training. I love upper body work. Not that I need an additional source of intimidation with what a friend calls my "verbal judo" black belt. But I love having defined arms and a strong core. I wouldn't begin to know how to punch someone, but I like the idea of that I could learn how.
6. Barring Allergies or Genuine Disorders, You Can Eat What You Want in Moderation.
I'm a carnivore. A life without steak, chicken, and burgers is no life I am interested in living. I've never been a big pork person, but a pork chop done right is a wonderful thing. Carnitas or panang curry with pork at our local Thai I also enjoy. I don't get America's bacon obsession, as I consider bacon a garnish on a Cobb salad or the occasional BLT. I take no position on macrobiotics, paleo diets or alternative cancer treatments. Those with auto-immune disorders and other complex health problems may need to avoid all kinds of things normal, healthy people consume. But you can eat, drink, and be merry and still rock a bikini or evening gown.
I don't eat burgers daily. I probably have two or three a month. I eat cheese almost daily but dairy is not a problem for me and I used to drink large amounts of nonfat milk. I don't anymore, just because I eat at home so little. I eat pasta, but I don't eat three cups of Mac 'n Cheese.
Last night I hit Whole Foods after the club and picked up some chicken for my boyfriend and some lemon cranberry quinoa, sautéed vegetables and small portion of macaroni and cheese for me. I eat rice at at Japanese, Thai, and Chinese restaurants, but I don't eat much more than a cup. Occasionally I eat a whole bagel, but mostly I stick to rye toast at home. At dinner, I will have a roll from the bread basket with butter. I love fresh sweet butter, but I mostly avoid fried food. Stealing fries from my boyfriend's doesn't count.
I eat dessert out only when it's part of a prix fixe. Occasionally I have a rainbow cookie or cupcake in New York. The Montecito bakery with the shortbread cookies closed its doors after three decades, so now I'm cookie-less in Santa Barbara. But other than panna cotta, I don't order dessert in restaurants, nor do I have a big sweet tooth. I like Greek yogurt bars and the Weight Watchers chocolate-covered raspberry popsicles. When in LA with my parents, I will have a bite of a macaroon or fruit tart.
I don't write much about body image because it's boring and intellectually lightweight. And my body image is fine. As a Ph.D. candidate from UCSB with an English degree from Yale and a Masters from UCSB, expending critical energy on body issues strikes me as a waste of time. But I'm aware that many women struggle with body image and fitness, and I'm having so much fun with fitness these days, I thought I would share my current three-part cross-training workout.
I. Elliptical: 20 to 35 minutes at 10 incline and 1 resistance.
I dislike most cardio rooms without windows or views. My Equinox at 63rd and Lex has spectacular views and was I think featured in You've Got Mail when Tom Hanks is talking to his friend on the treadmill. But I detest the SBAC cardio room, thought it's less claustrophobic than it used to be. Still, you get the hamster effect.
This was Denis Leary's objection in his career-making 1992 show, No Cure for Cancer: "Have we turned into gerbils, ladies and gentleman?… You wanna walk up and down stairs, move into a walkup on the Lower East Side. What's next, a Chairmaster? I stand up, I sit down. The Doormaster: I open the door, I close the door. Jesus Christ!"
Happily, SBAC has two Precor ellpiticals (one with arms and one without) which overlook the pool in the open-air weight room. My camera never captures the full majesty of the mountain view, but it's stunning and peaceful. It's never cold enough that you have to work out indoors, so I always use the armless outside Precor. I've never had to wait for the machine because I have an off-peak membership for just $127 a month and am barred from going between 4PM and 8PM Monday through Friday. I suspect these machines are less popular because they don't have a TV. I prefer to listen to music and take in the view than watch TV on a tiny screen.
As a side note, Swell Corporation's new enforcement of the primetime restriction is in my case absolute bullshit. Even my mild-mannered mother thinks so (though she wouldn't like me broadcasting her view in a blog because she doesn't like to "be mean": I'm a bitch by comparison and enjoy voicing my opinions sharply and loudly).
I've been a member 16 years, the first 11 of which I rare set foot in the club before 8PM. No one told me about the off-peak option, and due to my Satan landlord's restriction on showering after 10PM, I didn't even go to the club for two years. I was ill and forgot to freeze. So from 1998 to 2009, I overpaid some $30/month, which comes to well over $4000. Since 2011, I have lived in Santa Barbara only 6.5 months a year, so I'm giving Swell Corporation 12 months of dues for 6 months of usage.
I more than make up for the slight break on dues in juice, wine, beer, cottage cheese, and protein bars, spending at least $150 per month on snacks and booze during my SB months.
I figure a little ball-busting in social media can't hurt. Since joining Instagram three weeks ago, I've become an unofficial over-40 face of the club (no one over 40 posts or tags SBAC in social media). And I've long maintained that it's the only civilized option in a town with an overpriced, worthless Spectrum and the unthinkable 24 Fitness.
If they don't relax the policy in my case on the rare days I want to be there at prime-time, I can at least derive pleasure from speaking my mind (or as my boyfriend says, "going on").
In this vein, see my blog about the pleasures of complaining (which, appropriately, includes a link to my hourlong podcast on Click! Bang! to discuss e-cigs and my dismissal from the Huffington Post). The New Age nitwits have it all wrong: done right, complaining is immensely gratifying. Complaining badly, or to excess, is like anything not done well or in moderation. I suspect that few among the anti-complaining crowd are Jewish (and their Jew cards should most certainly be revoked). Rare is the Jew who doesn't understand the pleasures of moderate kvetching.
While generous with my praise on and off Yelp, I don't pull punches. I don't think Instagram was thinking of someone like Victorian Chick when it failed to set a character limit on captions, a la Twitter: my nickname at Westlake was "the electric arm" due to my need from 7th grade on for two blue books for final exams.  Here is my rant about the Silvergreens sandwiches which replaced the heavenly and pricey-but-worth-it Santa Barbara Unified School District sandwiches and salads.
My boyfriend calls this tendency of mine, inherited from my father, "Victoria makin' friends." People on Facebook have taken to using it, often in a hashtag in comments. Dad said I should try to suppress this trait, but I don't. I have next to no filter, nor do I plan on acquiring one.
I don't seek confrontation, and my wall is one of the happiest I know of on FB (particularly given the great ideological, geographical, religious, cultural and socioeconomic diversity on my wall). But neither do I shy away from an argument when someone goes after me. I have a manner of expression which frequently elicits the following responses: "Tell us how you really feel!" or "Don't sugarcoat it, Victoria!" I am an acquired taste and I'm good with that. This is one of the gifts of being over 40.
I don't know quite how to calculate my speed on the elliptical, but if I go at my normal rate for 35 minutes, I get to 2.75 miles. I'm skeptical about computers on these machines readouts vary from one brand to another. But my heart rate is high, I sweat like a pig, and my legs get strong and lean. No girl should want thunder thighs, and while some spinners are lean (in my experience the ones who also do Pilates or yoga), I've seen a lot of girls who spin or ride stationary bikes with bulky, unfeminine legs. If I rode a stationary bike (the only kind possible given I don't know how to ride a real bike), my legs would be like tree trunks. Eew.
II. Weights (Machines/Free Weights/Planks).
If I'm not in a workout mood, I start with weights and then do the elliptical. Weights are generally the most mindless and easy part of my workout. It's rare that I'm not in the mood for muscle work.
In general, this is my take on weights: it's better to increase reps of lower weight as a women seeking definition, than to load up on weight and do fewer reps. From the standpoint of bone density and prevention of osteoporosis, more reps at lower weight is sufficient is sufficient. I've slightly increased the weight on lower body machines, but kept the upper body machines stable.
A. Legs/Lower Body.
1. Abductor: 3 sets of 15-20 (30 or 35 pounds).
2. Adductor: 3 sets of 15-20 (30 pounds).
3. Gluts: 2 sets of 15 at 62.5 or 70 pounds (62.5-75 pounds, each side).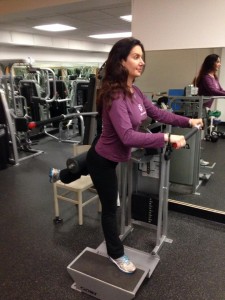 4. Quads: 3 sets of 20 (70-75 pounds).
I do not and will not do squats. As a teacher of stretch and tone (precursor to body sculpting), I did thousands. At 43 in a few weeks, my days of squats are over. My ankle can't tolerate the pressure. If I did them on the leg with the good ankle only, I'd be unbalanced. You can be fit and strong without squats and I've known professional dancers who never did a single squat. This is a trendy modern obsession I refuse to buy into. 

B. Upper Body/Arms
1. Lats: 2 sets of 15 at 15 pounds.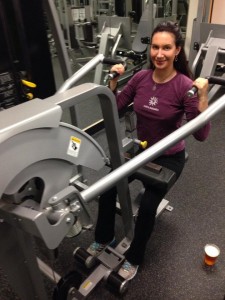 2. Triceps: 3 sets of 15 at 10 or 12.5 pounds. (Machines vary and the numerical values differ according to brand).
3. Tricep/lats. 2 sets of 15 at 15 to 18 pounds.
4. Bicep curls: 2 sets of 15 at 10 pounds.
*5. Free weight bicep curls (front and side): 1 set of 15. So a total of 30 curls.  weights. (I work my biceps on alternate sessions differently: bicep curls on machine one day, free weights on another).
* 6. Rowing pulls: I substitute these for 1
7. Abs: I do about 30 pounds on the vertical machine with the slings. I also do sit-ups and various routines for abs. There are a million videos on abs. Any one will do. This isn't rocket science; you just need to strength your upper and lower abs (leg lifts work) and work your obliques.
III. Laps
If I've done a mile only on the elliptical, I always swim 1/2 mile (34 lengths) and sometimes tread water with gloves for another ten of fifteen minutes. If I get involved in a conversation with another swimmer treading that day, I might stay in longer.
This is my 1/2 mile routine:
1. 6 crawl
2. 4 kick (on stomach)
3. 6 crawl
4. 4 kick.
5. 6 breast
6. 4 kick (on back)
7. 4 crawl.
I don't think in terms of meters or yards and I find that counting each length out works best. It's nice to swim in a 25 meter pool. The 63rd Street Equinox pool is "long" by city standards, but it's tiny to a CA girl. A mile is 90, not 68, lengths, which makes for a disjunctive and not very pleasant swim.
Add to this that except for triathletes, New York swimmers mostly suck: they're slow, they weave, and leave behind them a wake for this ex-sailing girl conjures up a Boston Whaler.  So it's not optimal but it's the only game in town unless you're a member of a real–not health–club like the University, Colony, or Metropolitan. (If you have a penis, a lot of money and big time connections, you can swim at the New York Racquet and Tennis Club or the Brook: they have wonderful pools.)
So that's it.
Final note: If you can't get to the gym to lift, swim and do the elliptical, it doesn't mean you can't work out at all. Walking 30 to 60 minutes is fine. Planks are efficient but if you're weak, you can hurt yourself. All you need is a yoga mat or carpet and a body sculpting DVD. Working your heart and strengthening your muscles 4-5 times a week doesn't require a gym membership. A piece of equipment in the basement or walk around your neighborhood will suffice, though it's good to mix up your cardio workouts. Those in good climates have no excuse for not walking. If you have time for Facebook, Twitter or Instagram (which in any case you can do while you walk around the blow a few times), you have time to work out.
P.S. Here is my Instagram. Follow me if you used to follow Facebook Victorian Chick. That page barely makes it into the feed. Only promoted posts get seen. All the activity is on my personal Victoria Ordin account, which I don't want to grow.