I. Dad's Death, the 20th Yale Reunion, and Leaving Santa Barbara
I haven't written since the Patriots won the Super Bowl. A lifetime ago. I am in the Palisades with Mom now seven months and New York five, rather than three, months a year.  My father died on March 24th at 90. He wasn't ill, really. After entering Saint John's on Sunday the 22nd with a flareup of pancreatitis–the first in three years post-gall bladder removal–he died 36 hours later of a heart attack. It's been over five months since he died and I wrote about the experience at length on Facebook. I will write a blog on the 6-month anniversary. In the meantime, here is  his obituary in the Los Angeles Times
Since the Super Bowl, I have been to New York three times, each trip more wondrous than the last. My friend Edward Haynsworth, a talented New York photographer currently on long trip to Thailand and Burma, captured some wonderful moments at a gathering of six Facebook friends in February.  (Ed also shot many interesting, beautiful both in color and black and white in Central Park last fall, one of which I use as my picture for my Cabaret Scenes, and updated Author page for Victorian Chick.)
I reconciled with my parents in 2009 after a decade-long estrangement. In the fall of 2011, after chauffeuring them to the 9th Circuit conference near San Diego, Dad made me promise not to move to the city until he was dead. I happily agreed and regret nothing. But for some time, I had been idling socially and professionally in a college and resort town I never belonged in the first place, a town about which I have written much on Victorian Chick in connection with my nightmarish graduate school experience at UCSB after Yale.
Memorial Day was my 20th Yale reunion. It exceeded even the high expectations I had for it based on the fun I had at the 15th in 2010. One highlight was meeting my long lost Korean (and since 1998, Jewish) twin, the journalist and author Euny Hong. (Buy her Birth of the Korean Cool right now!) I've kept up with others I met there for the first time. Like the 15th, the 20th was a kind of do-over for me, a chance to socialize in ways I never did as a "dark and twisty" student often in New York and living off-campus at the Taft after three semesters. I wish Yale would follow the lead of Princeton in one (and only one!) way: annual reunions attended by those not in the designated classes.
I can't believe that the blissful four days with dreamlike weather just three months ago. Silliman College was, well, let's just say I had to move rooms after the first night because the street noise ruled out sleep sans sedatives. Most of us snuck into our old rooms, and while Berkeley's singles were teeny, I am glad I was in a quiet, centrally located residential college. The views of Cross Campus, the Hall of Graduate Studies, and Harkness Tower from BK 646, a 4th floor single, take your breath away. And Yale rooms centuries old have so much more character than larger, nicer dorm rooms in new buildings at younger schools. After my weekend in Silliman in a viewless room, I felt blessed to have been assigned to Berkeley.
I posted an album of Yale in all its springtime glory on my now mostly inactive Victorian Chick Facebook page.  If you're new to my blog and want to review my bicoastal adventures over the past few years, all the albums are still there. As always, I try to be an classy ambassador for vaping (no ink, no piercings, no crazy hair), so posted this picture from the Silliman bathroom. I adore my mod: an iStick with a Nautilus Aspire tank. It holds a charge for 1-2 days depending upon usage and the charging cable isn't proprietary so if you lose one, it's a quick stop at CVS or Duane Reade for another.
Since then I bought a more decorative casing which protects the glass from my accident-prone self. The picture is one of many in my #pottyvaper series on Instagram, a hashtag which (like #NewYorkerFromLA and #YaleRealtor) seems still to be all mine. I gave up on Twitter (more precisely, I gave up on finding my old password), but my IG handle is @victorian_chick, where I post mainly food, pets, pretty buildings, sunsets and designer resale finds.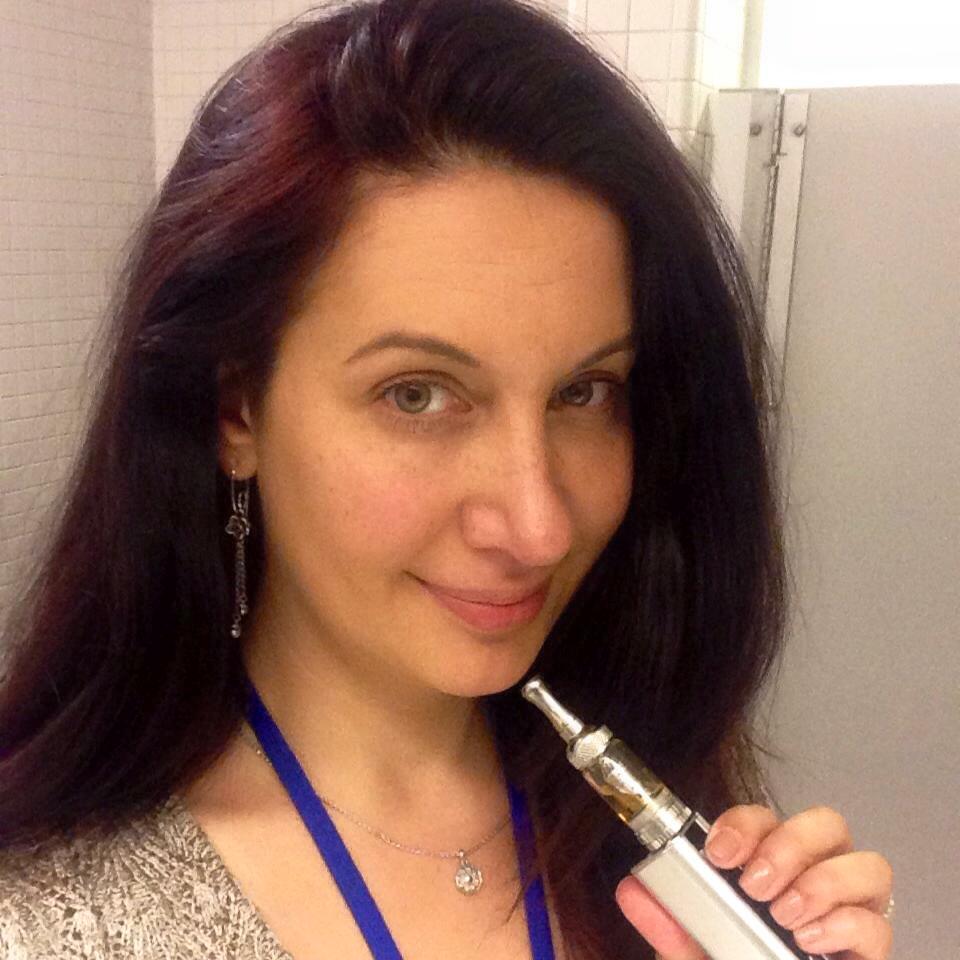 I kept the May trip short because I didn't want to leave Mom too long so soon after Dad's unexpected death. My July trip was three weeks of dinners, parties, and music, with just a handful of disgustingly hot, humid days. My birthday trip in February was also very special in spite of Polar Vortex Redux. The cold plunges at the 63rd Equinox and Hollywood's Voda Spa seem to have reset my body's internal temperature: I handle even 10 or 15 degrees more cheerfully, and I loathe heat more than ever. The wind chill at JFK when I arrived that trip was -7. I didn't like it, but I wasn't nearly as grumpy in single digits as I am at 90 degrees with 80% humidity (which means 100 degrees in the subway). Snow gets old, but unless you live in the suburbs, it's not the end of the world. (Of course some diehard city people think that's the end of the world but I'm not a hater; I understand the charms of a house with a lawn large enough for two big dogs.)
Having bid farewell to Santa Barbara and my athletic club of 18 years (SBAC), I upgraded to the Destination Equinox membership from All Access. I'm a swimmer and need a jacuzzi with nuclear jets. The only Equinox clubs in LA with both require the premium membership, so there was no alternative to the $75 hit per month. I'm still saving 40 after freezing the SBAC membership, but it's slightly annoying.
I will return to Santa Barbara in January to find a roommate for the rental I kept but didn't reside  during a five-year relationship now over.  I can't sublet (don't get me started on that situation), and I need the place to write the memoir I will begin writing in earnest in 2017. When the book is finished, I will give up the rental I've had since 2006 and return not more than once or twice a year to stop at Jessica's Consignment and see a few people who rarely venture south two hours.
Moving back to LA has been a homecoming on so many levels. I am falling in love with my hometown and spending time with friends I had little time for between Dad and my Santa Barbara commitments. As you can see from my Yelp review, I'm in heaven at the West LA Equinox (formerly SLCA, the original location of the gym bought out by Equinox.) In 12th grade, I swam and took some classes with my best friend, a charter member, at the glitzy, celebrity club on Sepulveda. I also swam when with a Santa Monica guy I kinda dated from November, 1999 to April, 2000 before the dawn of the 8.5-year celibacy that accompanied the catastrophic depression I've discussed at length on this blog.
In short, Santa Barbara was always a bad fit for this Palisades girl who fell in love with Manhattan during her New Haven years. I'm a city girl, too young, as an ex-editor once put it, "to retreat into semi-domesticity" to a town often described as catering to the "newlywed and nearly dead." As an LA girl, I knew Santa Barbara was sleepy. (To be fair, it's a lot better in 2015 than it was in 1996, when it really was a cowtown or backwater to anyone from a city.) My parents and their friends would never dream of spending over three days there (and that might be pushing it). But UCSB lured me with the prestigious Humanities Predoctoral Fellowship–I paid not a cent for grad school and they even threw $12,000 a year at me for nothing two of the five years–so I chose it over my next best option, Rutgers.
While highly regarded with many big names (some in my specialty), UCSB's English department was the worst well-respected place in America I could have ended up, short of the commie department at UC Santa Cruz, with the tyrannical feminist and cyborg-fixated Donna Haraway at the helm. People say you shouldn't speak ill of the dead. Why not? Does death magically transform an odious human being into a noble one? Not in my view, though it definitely reduces his or her capacity to irritate you. Haraway was horrid, and after hearing stories about her treatment of visiting philosophers during the American Philosophical Association's 2011 Pacific Division conference in San Diego, I thought even less of her.
I don't hold grudges as a matter of course, but I still resent having to read that cyborg book of hers for literary theory my first quarter at UCSB. As if the culture shock weren't brutal enough, I had to endure Haraway. Only Lyotard's Postmodern Condition, and whatever I had to read of Deleuze, were bigger chores. But at least they were on the General Theory field list for my Master's qualifying exam in 1998. So it wasn't like I had to cope with the grief of leaving Yale, New York, and the East Coast, for a college town populated by surfers, Woo Woo, and wealthy retirees as I read those tedious Frenchmen.
(In later years, the wealthy retirees in Montecito became my social and intellectual salvation. Many hail from New York, but almost all come from big cities and furnish opportunities for conversation I rarely found among people my age. I was so sorry when an 80-year-old swimmer at the club from Huntington, NY (Long Island) moved to DC to be with her grandkids. She received her Ph.D. in Chinese at Yale in 1965 and adored opera, the symphony, British literature, ballet, and all manner of wonderful things in life. Her second husband was a physicist at UCLA and her first husband a doctor based in Hartford. We came from the same world and spoke the same language.)
To be clear, I'm not hostile to all French theorists. In spite of Paul de Man's repellent nature and fascist sympathies, he was a brilliant literary critic and aesthetic theorist. This isn't the place to enter into a defense of De Man's work apart from his life and politics. But while I do regard the French feminists as partly responsible for the mess that is academic feminism in America, I don't condemn French critical theory en masse.
And you can't blame those dead ladies for the situation described in last year's widely-read Nation piece, "Twitter's Toxic Feminisms." Of course a lot of that mess is racial: white feminists are, well, white, so they aren't allowed to say anything about anything. Their whiteness, "heternormativity," and so-called "privilege" (even if they're from Cherry Hill, New Jersey, which ain't exactly Scarsdale on the privilege scale), disqualifies them as spokeswomen for "the cause" against patriarchy. The very word triggers my grad school PTSD. Thank God I got out before the advent of "cisgender." From what I can tell,  I am cisgendernormative and proud of it.
But I love Derrida because as his later critics pointed out, his method of reading took the text as central. Emmanuel Levinas and his followers took Derrida and the Yale School Critics to task for ignoring or downplaying history and politics (so in that sense no better than the New Critics). This is a large topic–and I don't think the critique is entirely fair–but in any event, Derridean readings do privilege what's in the text over what lies beyond it, and that's why they appeal to me. Close reading is a lost art in an age where talk of "the aesthetic" or "form" marks you as a relic indifferent to injustice (or just a fascist, which comes to the same thing in today's academy ruled by PC).
II. Cabaret Scenes, New York, and Future Projects. 
On March 4th, I bought a VIP ticket for the 30th Bistro World Awards at Gotham Comedy Club. It was just $50 more than the regular ticket but it helps support the organization and gets you in to the pre-show cocktail reception and party afterward. Much to my surprise, it also got my name listed as a "supporter." Much more important, it introduced me to Peter Leavy, the publisher of Cabaret Scenes and my table companion for the spectacular evening. (John Fugelsang killed it; many don't know the political satirist began his career as a singer in cabaret.)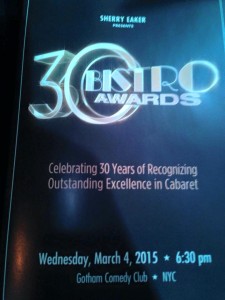 The show was in March, but it felt more like February. Many were late due to a water main break or some comparable catastrophe in Chelsea which blocked off much of 8th Avenue. When I ordered a Ketel One martini up with a twist (no olive!), Peter asked what kind of martini it was.  Vodka, I said, to which he replied "That's not a martini. A martini is made with gin!" "That's what my father always says," I told him. "Your father sounds like a very smart man."
We proceeded to chat throughout the night and when he found out I write, he gave me his card. I sent him a bio and picture when back in LA, in the hopes of reviewing some CDs or writing about shows in Palm Springs, which has a huge ex-Broadway and cabaret community (much larger than LA, in fact).  I flew home on the 6th. Dad was dead 18 days later. I never even told him that I would be writing for the only publication devoted to cabaret, though as I note in my bio, much of why I love musicals and standards is his doing.
For several years, I've been seeing shows at 54 Below, the Metropolitan Room, the Laurie Beechman, Don't Tell Mama, and when possible, my friend Colleen Harris' recently closed Monday night cabaret at the Green Room (downstairs from New World Stages). It's part of what I love most about the city. And since I haven't danced for two years due to an old ankle injury, the music and community of cabaret lets me feel connected to the performing arts. As Victorian Chick readers know, I was immersed in the performing arts in elementary school, where industry elites sent their children to read, write, act, dance, and sing. They weren't turning out engineers and doctors at that school; STEM would have been regarded as a nuisance had the term existed in the 1970s.
Going to Westlake School for Girls in 7th grade rather than Crossroads School for the Arts and Sciences (the continuation of St. Augustine) meant that academics, rather than the arts, would be my focus. But I studied jazz dance seriously out of school, and only after speaking at my father's celebration of life at UCLA's Faculty Club a month after he died did I remember how torn I once was a life of performance and a life of the mind.
I'd never spoken into a microphone from a podium in front of 130 or so people. Oddly (given the circumstances), it was perhaps the biggest rush of its kind since  my debate and public speaking days in high school or my one professional conference during graduate school, at which I delivered a paper about the Restoration poet, Katherine Philips (a Neoclassical poet in the tradition of John Donne).
I just love being onstage. I don't understand stage fright. I loved every minute of it and didn't want it to end. The high lasted longer than any bottle of wine, passing only when it dawned on me that I had no reason ever to be miked in front of a largish audience. I've always been a blabbermouth: Dad said I "came out of the womb jabbering and never shut up." And my dear friend and FB mom says I "talk the ear off unsuspecting strangers at bars." I don't think they mind, though, as they usually give me their cards (whether male or female), and often ask if I do standup.  One of the few parts of graduate school I mostly enjoyed was teaching. I so enjoyed being in front of a classroom with 20 or 25 talking about literature. Dancing is a rush, but it's a different–and wordless–one. And I am at bottom a language being.
I never had much of a singing voice, but I went to an intensive theater camp two summers in a row and might well have followed my peers into the risky, often demoralizing, but potentially fulfilling world of the performing arts. (And even in my years, academia was hardly a stable way to make a living. Of course now it's a path to penury, with just 25% of graduating Ph.D.s being offered tenure-track positions according to a widely-read piece in the Atlantic a year or two ago. The rest make less than a charismatic bartender at a nice restaurant, and vastly less than a decent plumber or electrician.)
For years, I've loved the cabaret scene in the city because it allowed me to feel part of a community of artists though I am not myself a performer.  And now I get to write about this wonderful world! When I announced the new gig on Facebook, a writer friend of mine in Sacramento commented, "Don't get fired!" This is of course a reference to my dismissal from the Huffington Post over vaping (another job that didn't pay or offer anything in return except for frustration, disrespect, and censorship).
Saturday I'm off to New York until the 25th, where I will meet Mom to attend the wedding of her dear friend and ex-colleague's daughter. I just received three CDs to review for the next issue and will also review three shows: 1) Yale/Harvard Cantata (54 Below), 2) Nicholas Guest (54 Below), and 3) Broadway Sessions (Laurie Beechman Theater).
I'd wanted to stay longer but Mom's 50th UCLA Law reunion is Sunday the 27th and I want to go with her.  October is busy with a three-day trip to Scottsdale for Mom's ex-US Attorney conference (NAFUSA, the National Association of Former US Attorneys) and a ten-day visit to Atlanta to visit with two dear mom friends I met on Facebook. Mom is going to my niece's first parents'  weekend at Emory and then flying home. I hope also to see the wife of a 1990 Yale grad in Birmingham, Alabama, just two hours away, whom I met through Instagram post-reunion.
If you want to follow my various comings and goings, find me on Instagram (@victorian_chick). I quit posting on my public FB page, Victorian Chick, but will be popping in here now and then. I hope to start work on my mother's legal memoir in early 2016 and my own story in 2017. Meanwhile, I'm pitching to various other outlets and just so, so happy to be in LA seven months a year and New York for five. Of course I miss Dad, but his death opened up a whole new world for me. I just wish he could see how happy his little girl is.
See you on Cabaret Scenes and Instagram!
P.S. Just before I left Santa Barbara, I found two wonderful dresses at Jessica's Consignment. Voted by the Independent as "best consignment" for nearly two decades, I only learned of it through Instagram. The Nicole Miller was 78 and the Nanette Lepore 75. I also bought cheap earrings I left in my SB rental, cute beaded earth tone 1.5 inch drops, for just 12.